zzzahara's Zahara Jaime dives into their nostalgia-laced debut album 'liminal spaces,' a driving and dreamy indie rock haze dwelling in the vulnerable depths of life and love, past and present.
Stream: "get out of la" – zzzahara
---
There's nothing as moving, as magical, or as triggering as nostalgia. The bittersweet, comforting walks down memory lane; the heartache and longing for another time and another place; the cozy warmth of a life we've already lived, and a past we can never quite get back. Nostalgia is inherently distant and intimate all at once; it's right there in front of us, but we can never quite reach it, and on zzzahara's debut album, the artist creates a space for listeners to bask in that cathartic, up-close yet faraway glow. A driving and dreamy indie rock haze, the nostalgia-laced liminal spaces dwells in the vulnerable depths of life and love as zzzahara reckons in-between their past and present.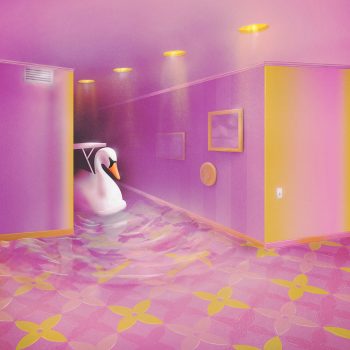 Good, goodbye
I'll see you in another life
You're just dead to me
You're a ghost to me
I don't owe you anything
Gave you every bone in my body
Starved out the heart til it's rotten
You came from nowhere just asking for something
That I couldn't give you
Cause my life's moving on
I don't know your name
Something's never change
You are all the same
Get out of LA
I don't know your name
Something's never change
You are all the same
Get out of LA
Released October 21, 2022 via Lex Records, zzzahara's liminal spaces is, true to its name, a record of transition and periphery channeled through a captivating, multi-modal indie rock lens. Hints of post-punk, grunge, shoegaze, dream pop, surf rock, and more coalesce within Zahara Jaime's solo artistry as the LA-based singer/songwriter and guitarist (of Eyedress / Simps fame) shares their full, true, and unabridged self.
"Going into this record I just had nostalgia over… good records," Jaime tells Atwood Magazine. I just envisioned something that was different, but still catchy. Just mixing all the styles of rock that I loved. I stuck to my vision the entire time; I was pretty sure of what I wanted for this record. I think it introduces me as someone who can write a solid song and captures me as an artist who has versatility."
zzzahara first introduced themselves through the song "On a Grave Day" in the spring of 2019, and released the debut EP Simp.Wav in October 2020. In conversation with Atwood last year, Jaime explained, "I started zzzahara, solely, because I was tired of playing in bands. I always felt like my goals were different from other band members. I was tired of playing post-punk and wanted to branch out and explore more into different genres."
"zzzahara is different from anything else I have ever made or been a part of. I love mixing various genres together but still keeping it under the "rock," umbrella. I really sit with my songs for a while, instead of rushing them, like I used to. I think with zzzahara I am a lot more critical of myself and what I choose to release on a record label. I really tried to make it relatable and easy to digest for listeners but still try to keep it exciting."
---
liminal spaces is a long time coming for Jaime, and the undeniable result of an artistry in bloom:
A culmination of songs new and old, each of which shines with its own charismatic, unique textures and entrancing sonic light. Notwithstanding the true melting pot of styles and indie rock sub-genres presented here, certain things hold true throughout liminal spaces; as a whole, this album is direct, honest, and unapologetic. Jaime creates moments of uncompromising intimacy and heartfelt truth against a mesmerizing backdrop of psychedelic, effected guitars and shuffling drums. While nostalgia itself may present a certain kind of distance, zzzahara's music is nothing, if not intimate and vulnerable: Every song feels uncompromisingly personal not only lyrically, but also from a performance perspective.
Of the name, Jaime explains, "LA felt like it was getting small. I'm a hopeless romantic, so it felt like I had shared so many of my favorite places with people I had dated. Whenever I would go on dates I knew I wasn't ready to move on, but I was stuck in an emotional liminal space that was often triggered by the environment I was in, because I frequented the same places."
Picking favorite songs is often like asking a parent to choose amongst their children, but Jaime is quick to highlight a few tracks. "My favorites from this record are 'julia,' 'it will get better,' 'they don't know,' 'get out of la,' and 'bulletproof,'" they note, going on to share a few favorite lyrics:
"Searching high and low for all your loving
Posting up with him when I know your fronting
It's everything you wanted to see on"
– "they don't know"
"Gave you every bone in my body
Starved out the heart til it's rotten"
– "get out of la"
"But for now we're just dreaming
If I could wish on a star
I'd wish the world for you
But for now
We're just dreaming"
– "it will get better"
---
From end to end, liminal spaces invites us all to dwell in the transient world between then and now.
Driving album opener "gurl" and the fuzzy, sonically charged Stranger Things-esque rocker "they don't know" set the stage with plenty of musical churn and emotional haze. "bulletproof," featuring Los Angeles-based musician and producer Mareux, is a dark, bustling standout, as are the heated "get out of la" and the rip-roaring "cupid's out tonight." By the time zzzahara concludes with the dreamy, sticky, and brooding "it will get better," our ears are thoroughly dazzled, our minds enchanted.
In this life, there is no forever
But with this heart, I am bulletproof
Where the white light leads, touch the embers
Down below, soon I'll be meeting you
And everything will burn brighter
In the sky, here I am missing you
Rewind the years, I want to relive tomorrow
To see you in my life sometime
– "bulletproof," zzzahara
"I hope listeners find at least one track they can relate to," zzzahara shares. "I realized that I have a lot of potential to grow as a person and a musician at the same time. I also realized every song is a life lesson that I have learned or tried to make the best out of."
Experience the full record via our below stream, and peek inside zzzahara's liminal spaces with Atwood Magazine as the artist goes track-by-track through the music and lyrics of their solo debut!
— —
Stream: 'liminal spaces' – zzzahara
:: Inside liminal spaces ::
— —
gurl
Fell in love with a girl a couple months shy of the pandemic lockdown ending. Felt like a breeze. This song feels like a cool breeze passing you by, the kind that makes you smile when it's really hot out and not expected. g(url), the "url" stands for " u r life."
they don't know
This was one of the first songs I wrote for the album and immediately thought, "It's going on the album." I had Irish goodbye'd a party and just felt this anxiousness to record music. I felt like I was going through a similar situation that I had went through in high school… with a girl who wasn't really sure if she wanted to date a girl. I experienced that same feeling of her "hiding," me that I had experienced in high school. It felt horrible! Hence, "they don't know about us."
bulletproof
"Perfect Girl," by Mareux and his EP "Predestiny," had been stuck in my head all year. I reached out to Aryan and asked if he would like to hit the studio. It happened so quick! We went to Stones Throw to record "bulletproof," and had a track in 2 days. The chemistry I had with Aryan was instant. We're both from LA with degrees in the health sciences.
get out of la
Growing up in Highland Park and watching how fast gentrification had happened is what motivated me to write this song. It's also based on how cringed out I got from people who move here and immediately step on everyone to make it to the top. I got respect for the hustle but not when it involves hurting people.
l(us)t
Tinder! I hated going on Tinder after ending a 5 – year relationship, I felt lost. I forgot how to date and I just wanted affection to soften the blow of a heartbreak. I ran into some cold women and it taught me how to not romanticize certain situations I put myself in.
cupid's out tonight
There were so many Valentine's Day ads and I was still mending from a broken heart. I think I was just pissed and thought of Cupid as being evil. Felt like evil Cupid had shot me with a cursed arrow. Even worse I think I had lurked my ex on instagram and saw she had already moved on from our 5 – year relationship. She was posting lovey photos with her new partner, I hated that, and I hated valentine's day!
possessive
I was dealing with heavy insecurity and jealousy issues. I don't think this has happened to me in such depth…I really blame it on hanging with an insecure and paranoid friend's group at the time. This friend's group had heavy misogynistic vibes and would judge the girl I was dating at the time. I felt like I was doing something wrong with dating someone who was a free spirit. This is one of those songs where I just felt vulnerable and laid it all down. Although this song is catchy I'm pretty cringed out about it.
julia
This track is near and dear to my heart. I wrote it when I was 16 – years – old. It's based off this girl, who's middle name is Julia. I would always tease her and call her by her middle name haha. My high school was on a track system, I was in B track and she was in A track so we would only see each other for 3 months out of the year. Some days she liked me and some days she was so annoyed of me. I couldn't really catch her vibe. I wrote this song to perform at our school's battle of the bands. It's some sort of diss / love track. She walked out when I said sang the first lyrics which is her name….haha
girl you know
I'd never broken up with a girl before, I think I was scared. I was in a fling that turned into a relationship. "Girl you know you'd lose me all alooong," are the lyrics I sing. It was sad and I don't think I ever met someone who handled a break up "maturely," before. She's now one of my best friends.
coldish
One of the first songs I had ever put on SoundCloud…I really wanted to move on from being a garage rocker so I experimented with a different style of music. The song went through a few changes but is similar to the SoundCloud version.
it will get better
This song grew to be my favorite on the album. I get really emotional listening back to this track. Me and my gf at the time were struggling during the pandemic. She was having trouble finding a job and all I wanted to do was help her. We would lend each other money to make things work and I just dreamed about one day being able to give her the world. I just longed for stability at the time for the both of us. "Babe I want to give, I want to give you the world. Anything that you want, all the diamonds and pearls."
— —
— — — —
? © Melissa Crumby
:: Stream zzzahara ::
---