It feels only fitting that Cold War Kids' uplifting protest anthem "1 x 1" (ft. The Lumineers' Wesley Schultz), originally inspired by family separation, now serves as a rallying cry during COVID-19 quarantine.
Stream: "1 x 1" – Cold War Kids ft. Wesley Schultz
---
One by one, we will come, you make me wait, countin' my mistakes…
Coronavirus may be the present moment's crisis, and while it is certainly the most far-reaching and consequential calamity in our lifetime, it is unfortunately far from the first tragedy or disaster our society has seen in recent years. Mere months ago, our attention was focused on the Australian bushfires; before that it was Myanmar's treatment of the Rohingya Muslim population, and some seemingly long, yet unfathomably short time before that, we were raising our voices in anger, disgust, sadness, and pain at Trump administration's family separation policy at the US/Mexico border.
American indie rock band Cold War Kids have long been an anchor of wisdom ad strength in dark times, making music that speaks both to and far beyond the present. It feels only fitting that their uplifting protest anthem "1 x 1," originally inspired by family separation, now serves as a rallying cry during COVID-19 quarantine.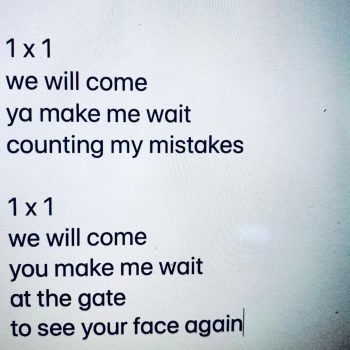 In a flash of sleep
The dreamin' broke my heart
There were no borderlines
Keepin' us apart
But then I wake up
To the sound of cryin' kids
No mothers here to hold
We can only wish
Released May 6, 2020, "1 x 1" arrives as Cold War Kids' second release of 2020, following February's feverish rock n' roller "Who's Gonna Love Me Now." A single separate from their upcoming eighth album New Age Norms 2 (which itself follows 2019's New Age Norms 1), "1 x 1" was co-written by OneRepublic's Brent Kutzle and features The Lumineers' Wesley Schultz on vocals.
Fueled by passion and driven with direct intent, "1 x 1" meets the moment as an inspiring rallying cry to come together, despite the distance between us.
It's a song for uniting in the face of separation, and one that extends far beyond political, social, and cultural boundaries. Undergirded by a lone acoustic guitar, Cold War Kids' Nathan Willett pours himself out – music is, after all, therapy – and soon enough, we hear Schultz doing the same. They sing about broken hearts and dreams without "borderlines keepin' us apart" – Willett acknowledges his helplessness in this situation, aside from using what resources he has to be a voice for the voiceless:
So I'll sing you a song
To show you my mind
It's all that I can do
To help us pass the time
Willett's soulful, aching tones have long been a Cold War Kids trademark: His emotions never fail to arrest the senses, and they go far in bringing his own painful feelings about family separation to life for all who listen. Singing back and forth, and ultimately together with Wesley Schultz, Willett evokes side-by-side feelings of pain and anguish, unity and community.
Another staple of the modern American diet for ten years now, Schultz's songs with The Lumineers have long conveyed messages of hope and the human spirit.
Speaking to Atwood Magazine just a few months ago, the frontman shared how he felt songwriting to be the best vehicle "for cracking the door open just a little bit in someone's mind to being open to something."
"… You're not going to beat them into submission and make them feel different, or bully them, so I think music is that amazing tool of protest," Schultz explained. "It's a little more subtle way that tends to grab people or root in them somehow and be more substantial than someone just yelling at you that you're an idiot for believing in what you believe in."
Together, the two celebrated frontmen tap into deep feelings that go far beyond the mere ideas of family separation and the current administration's treatment of migrants, addressing the promise of freedom and the notion of liberty – these core principles that not only lie at the heart of the Constitution, but are also woven into the very fabric of the American Dream. They unravel them slowly, thoughtfully, and emotionally – rising together in an anthemic chorus:
One by one
We will come, you make me wait
Countin' my mistakes
One by one
We will come, you make me wait
At the gates
To see your face again
"This song was inspired by the stories of child migrants separated from their families at the border," Willett says. "Now that we are all quarantined, it has taken on an extra meaning…One by one each of us are staying apart to help the whole of us."
Cold War Kids denied Atwood Magazine's request to interview around this project. Thankfully, "1 x 1" largely speaks for itself – simultaneously expressing pain and frustration about the present, whilst committing to improving every day for a brighter tomorrow. We can do better, and better starts now.
Walked a thousand miles to this promise land
But little did we know, we were already there
How can I find sleep when they won't turn off the light?
My stomach's rumblin', no more dreams tonight
I'll sing you a song, 'cause our soul feel down
The hardest to do is make a joyful sound
One by one
We will come, you make me wait
Countin' my mistakes
One by one (One by one)
We will come, you make me wait
At the gates
To see your face again
— —
Stream: "1 x 1" – Cold War Kids ft. Wesley Schultz
— — — —
? © Cold War Kids
---
:: Stream Cold War Kids ::
---