Atwood Magazine is excited to share our Editor's Picks column, written and curated by Editor-in-Chief Mitch Mosk. Every week, Mitch will share a collection of songs, albums, and artists who have caught his ears, eyes, and heart. There is so much incredible music out there just waiting to be heard, and all it takes from us is an open mind and a willingness to listen. Through our Editor's Picks, we hope to shine a light on our own music discoveries and showcase a diverse array of new and recent releases. This week's Editor's Picks features mxmtoon, Hazlett, The Red Pears, Thea, Aunty Social, and TANDM!
— —
If there's one song I'd want to start every one of morning commutes this week, it's mxmtoon's fever dream. Her first single of 2020 is a deepest breath of fresh air filled with passion and a perseverant spirit. "fever dream" finds the nineteen-year-old artist (pronounced em-ex-em-toon) reveling in the joys of risk-taking – not for the thrill of it, but for the world of opportunity and possibility one opens by simply taking chances and trying new things.
Life's a losing game when you don't play
Don't hold your cards too close is what they say
Now, love is just another leap of faith
But I jump right in
The West Coast singer/songwriter, who shot to prominence in recent years, saw her success reach an all-time peak around the release of her debut album the masquerade last Fall. mxmtoon's first song since putting out her debut album, "fever dream" arrives as the lead single of the first of two EPs due out this year. Featuring a brightly colored soundscape, the track captures the kind of excitement that accompanies the new and untethered: Light, lilting strings surround the artist's shining voice as she revels in her own drive and lust for life. Her music channels hope and desire, tapping into that deep need each of us has for contentment, satisfaction, and joy in our lives.
I took the train, I took the call
I didn't know just where I'd fall
Or where it'd take me
Another step, another stair
I'll never know if I'll get there
But just maybe
I want something more than
More than restless mornings
Getting by's so boring
Ah-ooh, ah-ooh
And yet, "fever dream" doesn't sound like any fever dream I've ever felt; it's youthful and hypnotizing in an innocent, graceful, and enthusiastic way. mxmtoon pours honesty and love into her first song of 2020, offering a note to herself and everyone who listens that she's got a long and beautiful journey ahead — one where the twists and turns will come as unexpectedly as the ups and downs — and she's committed to it 100%. The opposite of movement is stagnation, and in 2020, mxmtoon is bound to be anything but still.
I knew, from the moment we premiered Hazlett's music video two weeks ago, that "Monsters" would eventually end up on my Editor's Picks playlist. The Australian singer/songwriter's latest release is a chillingly beautiful affirmation of our shared human condition: One that is mired in mistakes, self-doubt, regret, and more. In said premiere, I described the track as a "heartwarmingly intimate song that says it's okay to not know where we're going; we can just be, and that's okay." Further to that, "Monsters" allows us to fail and get back up again. It gives us the permission we need to err, which is something we so rarely receive from society these days.
Nobody's perfect; it's that simple. Armed with his trusted guitar and a full band's sweeping magnificence, Hazlett injects a somber, yet uplifting energy into his surroundings. He sings softly and quaintly.c as if weaving together a lullaby for a young child. His chord shifts are easy and smooth, moving to a beat that grooves with touching emotional intent.
In short, "Monsters" owns its heartfelt message of empathy and understanding, acknowledging the growing pains necessary for us to flourish as the beautiful individuals we all are.
I can't deny how much The Red Pears sound like The Strokes – that exactly why I stayed and listened to them the first time around, and part of the reason they've ended up on this Editor's Picks list. It's not easy to make raw, caressing indie rock, but the El Monte, California trio of Henry Vargas, Jose Corona, and Patrick Juarez make it seem not only second nature, but also effortless. A quick listen to the band's previous two records – both of which sound like lo-fi garage rock demos – show them progressing through the familiar stages that many groups of musically-inclined friends go through as they slowly uncover that which will eventually come to define them — their sound.
In The Red Pears' case, December 2019's Alicia EP – sweetly dedicated to their mothers – appears to be their coming-of-age ascension. From the laid-back, stripped down honesty of "One by One," to the driving electric guitars at the heart of "Dreams" and "Somehow," to Henry Vargas' raw vocal howls on "Shores," to the moody, thoughtful lyrics in "Flowers," everything on this EP seems to sync up as one. The Red Pears sound fun – their live act is surely invigorating – but the mere fact that they had the wherewithal to tame their wilder instincts, embracing silence and more melodic runs, shows tremendous promise and exciting potential. From a personal standpoint, I can't help but fawn over EP opener "One by One": Slow, but not soft, emotional, but not overwhelming, this song put me in a reflective mood.
I can't protect this band from copycat comparisons, but what I can say is that they are definitely developing, growing, and coming into their own as an indie rock act-to-watch.
A recent Brit School graduate, Thea Morgan-Murrell's 2020 debut finds the young singer/songwriter introducing herself through soulful vocals, intimately sweet lyrics, and a heart full of love and sincerity. "TwentyTwo" is both catchy and unassuming – the immersive reflection of an artist coming into her own, fully aware of how incredibly unknown her future is.
I know you're scared
But I am scared too
Life is unpredictable
We're barely twenty-two
I heard you'll cry
But you'll hear mine too
After all, we're only kids
And this feeling is so new
So let us love without any thought
Let us love without thinking it over

"I hope people can be reassured that things they feel in their own relationships are what we all go through and that, by planning, analysing and stressing over every detail, you can easily miss what's important in the here and now," Thea shared upon her song's release. "Nobody ever knows what the future holds."
In some ways, this song is about making peace with the moment: Later in the song, Thea sings, "There's nothing really wrong with the master plan, but you don't really need one to be a happy man. We're just young in love; why would we give up?" Her words fall heavily on the ears, an acceptance of our very transient, fleeting youth. It's okay to be scared and wary, but that shouldn't keep us from living our life to the fullest right now. If there's one thing age teaches us, it's that life gets busier and busier with every passing year. We might as well bask in whatever freedoms we have right now, and embrace the quiet days, the special intimate moments together, and all those otherwise unnoticeable in-betweens.
Keeping that in mind, "TwentyTwo" is a beautiful soundtrack not just to youth, but to being present and real – our most authentic selves.
Aunty Social is most certainly up in her head on her new song, but "Cortex" turns out to be an incredibly fun, freeing four minutes. An intentional speck of sonic sunshine surrounding lyrics full of anxiety and personal outpouring, "Cortex" serves as a fun, spirited introduction to Toronto bedroom pop artist Aunty Social and her upcoming debut EP The Day My Brain Broke (out March 6th via Nettwerk).
"I decided to imagine the person who caused a lot of trauma in my life as the fictional enemy of Crash Bandicoot named Cortex," the artist shared. "When I was a child, I was so encompassed by the game that I would imagine all my peers as characters from the video game. My best friend would be imagined as CoCo Bandicoot and anyone that did me harm would be Cortex. The song is bright and uplifting so I decided to challenge that by masking the negative subject matter with childlike innocence."
Bright synths and a glittering soundscape buoy goodness our way as Aunty Social, real name Daniela Gitto, sings an emotional story of pain, loss, and change. Her voice grows from soft statement up into a full-blown cutting roar, full of dynamic energy and unnerved strength. "Why? I left it all for you!" she repeats to her unnamed subject, asserting herself in a glorious expression of self-worth. "Cortex" plays like it comes from a place of deep, deep personal meaning for the artist: It's the kind of song that had to come out of her, in order for her to move on. This, along with Aunty Social's hypnotic melodies and unapologetic vocals, make "Cortex" worth keeping around for quite some time.
https://www.youtube.com/watch?v=-IXo882-LuI&feature=youtu.be
A spot on the weekly roundup simply wasn't enough for TANDM. "Earthworm," the Toronto indie pop duo's first song of 2020 is a fun, energetic, fast-paced jam all about the band's steadfast dedication to their craft. It's cute indie pop with just the right amount of garage rock spunk; it's edging toward lo-fi, but in a charming DIY way that lends every raw guitar riff and lilting vocal inflection that much more of an authentic, we-made-this-at-home feeling.
I wish I could read your thoughts
and you could read mine
maybe then you'd know
what's really driving me wild
I wish I could tel you something
that's worth your time
But then again we'd just
pretend that it's not your style
In a time so full of cynical newscasts and dark stories, "Earthworm" shines as a simple ray of light. The duo of vocalist/guitarist Maxine Beck-Sinderby and Thomas Franklin, TANDM met in high school, and spent years honing their sound before ever releasing a single song. Such care and dedication are immediately evident in "Earthworm," whose effortless balance of tension and release shows a refined act well on their way to underground notoriety. If I were in Ontario right now, I'd be cheering on TANDM as new hometown heroes: As they tell us quite clearly in "Earthworm," they're not going anywhere but up.
— — — —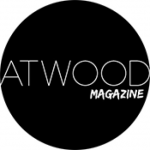 ---