Charleston indie Beach Tiger take their sweet time in releasing songs, but their music is worth the wait. The band recently broke a seven-month quiet streak with their fourth – and possibly most spectacular – single yet, "Dead of Night." A brooding ode to the midnight hour, "Dead of Night" is a warm and intimate ballad that brings us closer to Beach Tiger than ever before.
I can hear you breathe in the dead of night
Whisper slow, air's coming through
I fell in love in the dead of night
A low hum of cars passing through
Listen: "Dead of Night" – Beach Tiger
---
Good songs build off a catchy melodic theme or a nuanced idea. Great songs integrate both: "Dead of Night" excels through an intoxicating combination of warm, evocative motifs and a relatable, heartfelt message that transcends the lyrics.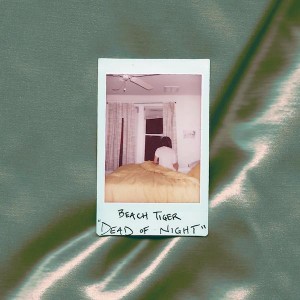 A synth riff kicks off Beach Tiger's return, luring us in with a high, sheer sound that stands out against the band's rosy, lower-toned landscape. "I can hear you breathe in the dead of night," sings Taylor McCleskey, immediately bringing us deep into the quiet world of 2-4 a.m. There's something intrinsically calming about the "dead" hours of night: The "witching" hour is so quiet that you can hear a pin drop and a bird's wings flutter from far away. Nothing's moving outside as life hits the reset button and prepares to start anew, but our focus lies with Beach Tiger, inside the room with a wistful, doting McCleskey.
"Dead of Night" is as much a love song to McCleskey's wife as it is a love song about that special time of the night. His lyrics address his love, expressing the depth and extent of his feelings toward her:
I don't think I'll ever fall in love again
If this is how it feels to be complete
Cold knows I'll keep you warm
Below this intense poetry, there lies a deeper acknowledgement of that special time. Beach Tiger recognizes a unique relationship to the latest hours. "This song is realizing how much of my life actually happens… in the dead of night," says McCleskey. "I realized how strange this was as I began to compare my waking hours to my wife's. She's a kindergarten teacher who has her big life moments from 5am – 9pm; where I'm the complete opposite. I feel like most of my memories are made from 9pm – 5am. That's just a fun side note but at its core is the realization of once you find that someone that completes your life, more than anything else, fear sets in, because if you ever lost that, you'll just be a broken puzzle:
I don't think I'll ever fall in love again / If this is how it feels to be complete
"Dead of Night" works on multiple levels, lending it a universality that breaches our personal space and enters our homes – in fact, our lives. If you've been in love with someone long enough, then you've had that moment, awake while your love is asleep, when you look over at that sleeping silhouette and thank any and all the gods who brought the two of you together:
All I wanna do is get close to you
Beach Tiger welcome us into their life in their most personal, most intense release yet. Appropriately enough, "Dead of Night" began in the dead of night: "This song, just like the other singles, began in a bedroom studio. Funny enough, I had sold my audio interface before making this demo so I had no way to hook up a microphone. So there I was at 3 in the morning with my head on my desk singing into the side of the laptop to get it done. After that our producer, Kyle Patrick, was flown down from New York and we spent a few days in Charleston getting all the parts tracked with our pal, Wolfgang Zimmerman."
Beach Tiger recently surpassed one million streams on Spotify, thanks in large part to the immense popularity of their last two singles "Companion" (6/29/2016) and "Mind Make" (2/2016), the latter of which Atwood Magazine previously described as "the quintessence of summer." Beach Tiger's journey continues to delve deeper into the human experience as the band fills out their warm, vibing sound with new rhythmic and tonal elements. "This track was fun for us because we deviated from the alt-rock feel and went more for the vibey, chillwave-pop, using some trap kit software sounds and synth basses," muses McCleskey. "I think our 'beachy' vibes are subconscious, but I know they're there because we can't not write a mid-tempo song that could easily have waves crashing in the background."
"Dead of Night" has been a sleeper single thus far, but it won't be long before Beach Tiger's latest release is featured on the warm, chill energy playlists that color our 9 o' clock Spotify and Apple Music screens. It took them far too long, but Beach Tiger continue to captivate audiences with mesmerizing music dripping with big, anthemic choruses and bold, seductive flourishes. Let's hope a 2017 EP is on the way.
 — — — —