Santa Ana based singer/songwriter Ali Coyle discusses her debut EP 'Songs for My Therapist', her distinctive indie folk sound, and her Irish roots.
— —
A first generation Irish-American artist, Ali Coyle creates poetic and moody music that speaks to your soul.
The queer singer/songwriter is on a powerful path to mending her wounds, and her debut EP Songs for My Therapist (out June 30, 2021 via Sub Divo Studio) is a beautiful body of work showcasing that curative catharsis. Her offering exudes sentiments of immense anguish, yet also positive forward progression as she digs for a stronger purpose. Fusing indie folk, rock, and pop, the EP is an eclectic six-track collection filling the listener with a myriad of deep feelings.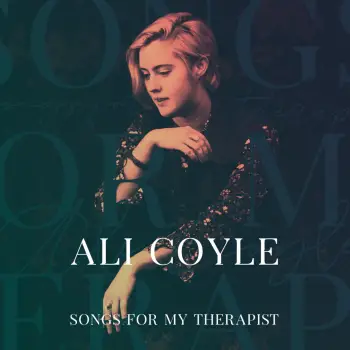 There is her delicate and dreamy track "Trust Me," paying homage to new love. The haunting and emotive "On My Way Again" is a striking standout. She concludes with the soft and soothing track "The Center." Each release takes the listener on a profound, eye-opening journey. With captivating sounds and a bold display of self-reflection, you feel comforted by her road to resurgence. 
I'm on my way again
On my way what do I say again
I'm always on my way
Birds singing in my ears
Songs that my therapist might only hear
Coyle's songs take influence from human experience, touching on relatable subjects such as self-doubt, forgiveness, and finding your true identity. Her innate ability to connect so strongly with others has made her music truly shine. After moving to Los Angeles and playing with different bands while residing in an artist warehouse, that community eventually separated. Feeling dejected, she moved to Santa Ana and began to question everything. Through bravely sharing her struggle, she has really bonded with fans.
— —
Stream: 'Songs For My Therapist' – Ali Coyle
A CONVERSATION WITH ALI COYLE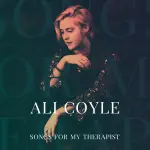 Atwood Magazine: I love the title of your EP, Songs For My Therapist, and I know creating it must have been a very cathartic release. What inspired this profound journey of self-discovery and healing?
Ali Coyle: I always felt very secure in my journey as a musician. It was the one thing that was constant and that I always fought for no matter what. This album came about during a time where I lost touch with myself and started questioning my own identity, my relationships, and my music. I ended up in a place where there was no way out, other than through. I reached out to a therapist, and I shared some of my music with her, and that helped me begin to uncover the truth within it. I didn't realize how cathartic the process would be, and I'm thankful for what I learned.
The introspective songs blend infectious indie-folk and rock to create highly captivating tunes. How did you develop your distinct sound?
Ali Coyle: I have a respect and love for both classical music and folk because my first instrument was the violin. I think this has made me really passionate about emotional power and beauty in harmony, and melodic themes. I love mixing percussive textures, and layering instruments, and I'm a sucker for a lovely melody. All of the songs were written on a 1964 Fender duo sonic that I fell in love with. It inspired me to play in fingerpicking styles that were new to me, and that guitar was sewn throughout the record.
The EP opens with the warm and wistful "Trust Me," narrating the risks we take for love. Can you explain the track's message in more detail?
Ali Coyle: This song was written about my experience living in a warehouse along the LA river. I left Orange County in search of a more accepting community where I could thrive as a musician and as an openly queer woman. I lived in a big building with about 20 artists, and we would put on all sorts of shows. It was wild and creative and everything I was looking for. It was gritty, and the summers were absolutely brutal, but none of that mattered because we were just blinded by the love we felt for this place. This song is about having high hopes, and falling in love, and taking a chance on a new life. It's about not looking back, even if the mystery of it makes you feel a little uneasy.
"On My Way Again" is a bluesy offering about getting through those dark times and coming out the other end that much stronger. Do you have any advice for those dealing with hardships that seem impossible to navigate?
Ali Coyle: When I left LA and moved to Santa Ana, I was desperately trying to hold on to my past. I would drive back and forth regularly trying to live two lives. I would end my shift working as a sommelier at my family restaurant, and jump in the car to play a show in LA by midnight. This song is about losing touch with both of my passions, and living in a never-ending cycle. I was lost and spread too thin to realize that I was not taking care of myself. I was searching every corner to find something that was missing, but I wasn't asking myself the difficult questions. My advice is to take the time to notice the negative patterns in your life, and if you feel like you need help to find the courage to seek it out. There is no step too small.
With "Clear Water" you utilized a unique technique to bring out the bold emotion of the piece. How was the track concocted sonically?
Ali Coyle: "Clear Water" was written after an epiphany like dream I had about a house slowly filling up with water, and it was important to me that the imagery was felt within the song. Most of the instrumentation was created with my guitar, a handful of pedals, and a looper. I used the Dunlop UniVibe in the opening guitar theme to create a somber "submerged under water," like feeling, and a delay that reminded me of water drops rippling. In the build-up, I looped individual notes with heavy velcro-like fuzz to create a "horn section." Those sounds were then reversed and doused in reverb to create a "string" like section. I really wanted the swells to sound like waves crashing until, ultimately, they broke, and I was safe to be sincere with my lyrics. My friend, Tom Rasulo, connected deeply with the dream and message of the song, and helped me bring the concept to life with his production.
The EP focuses on your struggle to unearth your most authentic self, which you ultimately do. What is an important lesson you've learned through the road to acceptance?
Ali Coyle: When I woke up from the dream that inspired me to write "Clear Water," I realized that I was ready to let go. I think that was the most important lesson. I didn't so much need to find out who I was, but I needed to let go of who I wasn't. I learned to trust my instincts, and not give in to the pressures of someone else's idea of me. Digging deep and asking yourself tough questions is painful, but we don't need to live in that pain. I once heard someone say, "you can't dress rehearse tragedy," and I love that. We can grow and create and love and give in whatever capacity we desire.
You grew up as a first generation Irish-American in Orange County. How has your heritage and upbringing shaped your music?
Ali Coyle: Ireland is such a special place filled with people who have a uniquely friendly and genuine spirit. Anywhere you go, you will be asked where you are from and what your story is. Irish music celebrates the good times, and sinks into the sorrowful ones. It personifies the magic and pain in its history, and those stories live on whether it's through an old folk song or an epic modern rock and roll band. Spending time there throughout my childhood was very impactful in the way that I view our connections as people. My music is all about what I'm feeling, and connecting with what others are feeling.
At 17, you took a trip abroad to Ireland. In what ways did that experience change your life view?
Ali Coyle: I was encouraged to find my voice by my friend and travel buddy, Wesley. Together, we wrote a handful of songs with his acoustic guitar and my three-stringed violin. We recorded them on his laptop as we traveled around the country, and when we returned home to California we had a pretty decent following on MySpace! This is when I realized that maybe I had what it took to pursue songwriting and singing as a career. From there we started a folk rock band called Oliver Jane, which had been two aliases we created one night at the pub. My songwriting style developed a lot over this time, and is a big part of who I am as an artist.
Finally, any artists on your current playlist you can recommend to our readers?
Ali Coyle: Islands, Nick Hakim, Blake Mills, Chicano Batman, Soda Blonde, M. Craft, Bonobo, Ratatat, Frameworks, Rhye, Lianne La Havas, Hozier, and Michael Kiwanuka.
— — — —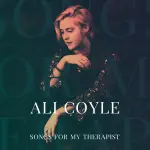 ? © Sarah Vargas
:: Stream Ali Coyle ::