The hot girl 2021 summer album is finally here in the form of Laura Mvula's third LP, 'Pink Noise.'
Stream: 'Pink Noise' – Laura Mvula
---
I thought for a long time about how to define Laura Mvula's new album, Pink Noise. Let me tell you, I could only come up with one concept: it feels like living your best hot girl summer. That's it. Of course, I'm about to explain myself better, but that's about it. Let's start with one thing: Laura couldn't have chosen a better time to release this record.
It tastes of rebirth, of wanting to dance and flirt until 4am without thinking that a few hours later you have to go to work. To pack your bags and leave for that place you've always dreamed of visiting, take a day off and spend it dancing (listening to Pink Noise, of course, while we're at it). Living without worries, giving your best in every second as if it all had to end at any moment.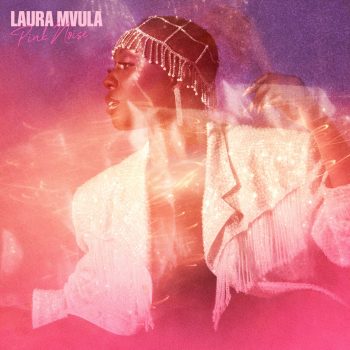 As its name suggests, Pink Noise is an explosion of bright pink sounds: it's pure energy, comfort, sensuality, self-discovery. Laura Mvula has dared to give her best, and the result is a record that takes inspiration from the '80s but keeps that touch of neo-soul innovation that reminds us all that we still need Laura Mvula – and surely, after an album like this, we don't want to let her get away.
The artist has now freed herself from her shackles, toxic relationships and insecurities, and seeing her shine is a joy to our eyes – but more importantly to our ears. She no longer dances with the devil on her back, because she has now merged with her soul, the deepest part of her creativity.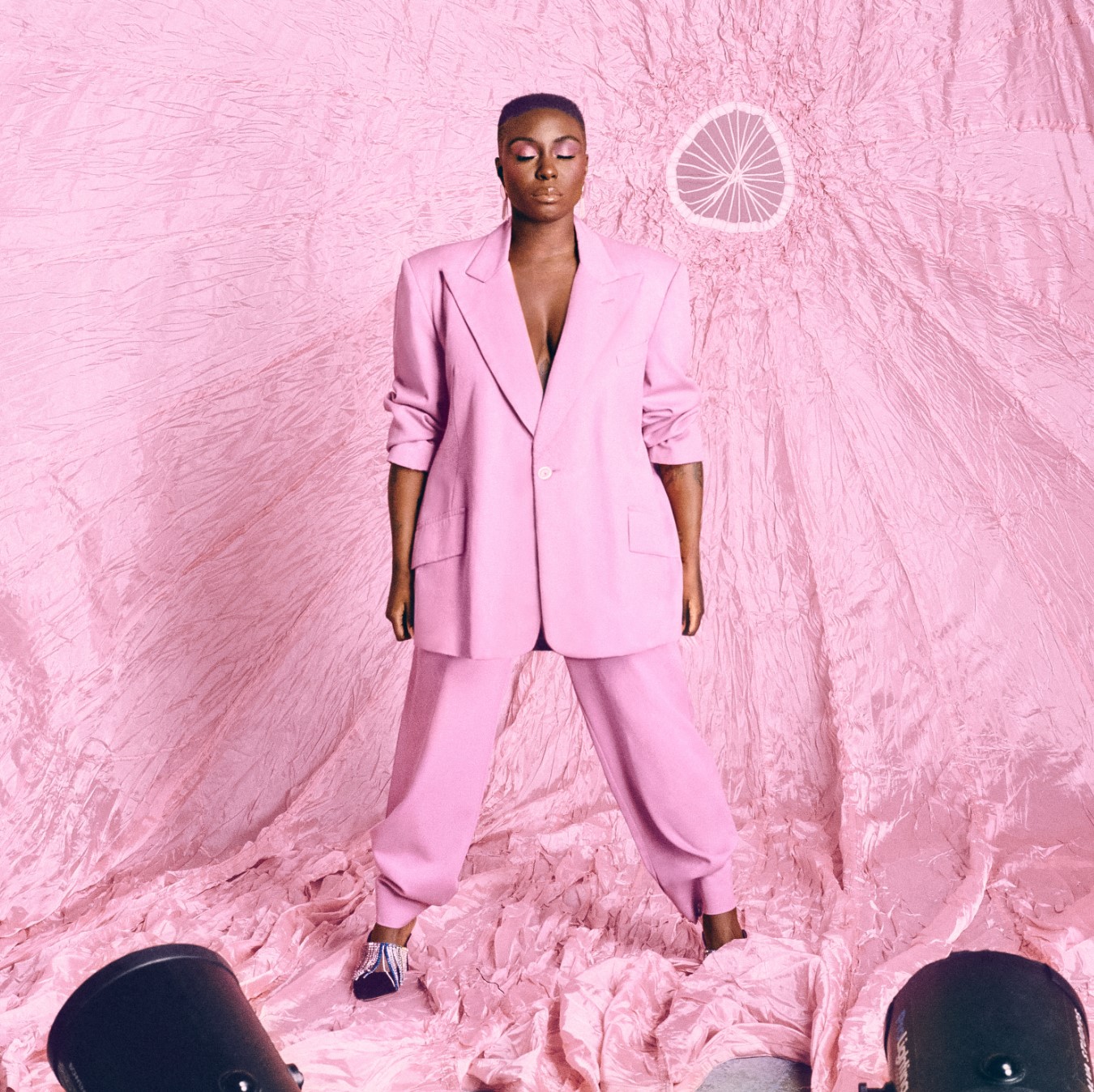 A splendid soul, made of pure art.
Pink Noise is the pop album we've all been waiting for, reminding us that it's never too late to do what you really want to do – regardless of other people's thoughts. It's an ode to artistic and personal freedom, a warm welcome to the world of Laura Mvula, which we're honored to become a part of. And once it happens, be prepared: you can't get out of it, each track is more vibey, funky and catchy than the last. You think "Church Girl" is your favorite track but then you discover "Pink Noise" – and what about "Conditional" or "Got Me"? The love and passion this album make you feel are truly one of a kind.
and it's no denyin…
there's somethin between us and you can't deny it
i know that you feel it
you can't deny it
take all of me
i wanna fall into a synergy
give into the feelin
you know there's nowhere esle you'd rather be
i'll take the lead and baby you can follow don't be afraid of me
get comfortable with the shape of my body do whatever you wanna do
what do you wanna do?
– "Pink Noise"
Atwood Magazine had the honor of talking with Laura Mvula about Earth, Wind & Fire, colors, and, of course, Pink Noise.
Watch: "Church Girl" – Laura Mvula
---
A CONVERSATION WITH LAURA MVULA
Atwood Magazine: ''YOUR KISSES TAKE ME ON SOME HEAVENLY RIDE'' (FROM 'GOT ME'): HOW WOULD YOU DESCRIBE THE RIDE YOU'RE TAKING US ON IN PINK NOISE?
Mvula: My hope and prayer is similar to what I used to dream about when I was a kid. There are two songs called "Fantasy" and "September" by Earth, Wind & Fire.  When I was allowed to borrow my dad's Earth, Wind & Fire CD – which eventually I destroyed, 'cause I was not very good at taking care of things – I remember I used to play these two songs back to back, especially on long walks. I remember feeling like I wanted to create this feeling someday sometime in my life in music. There was something that they captured that I knew I wanted to find a way to emulate. You think about a song like "September", the most joyous and soulful sexy sad nostalgic anthem.
I can listen to it hundred times now, literally today, and I wouldn't get bored. I think that kind of feeling has stayed with me since I was a teenager, so Pink Noise is an effort of mine to try to capture people's hearts through soul music and this particular beautiful black expression that I'm so glad my dad particularly was so invested in me spending time listening and learning and enjoying. He was so free with that, you know. I don't think I would give my child any of my CDs to destroy (laughs). So, I hope that Pink Noise is this album that makes people feel how I felt when I was a kid.
YOU SAID YOU'RE FINALLY ''BASKING IN THE LIGHT OF KNOWING YOUR TRUE SELF, THE DEEPER YOU''.
WHAT'S THE SONG THAT REPRESENTS YOUR TRUE SELF THE MOST?
Mvula: I'm gonna pick one from Pink Noise, because it's this moment. I would say "Safe Passage". With each album so far I had these moments in which I was struggling to make something and then the song would come but it's not even particularly clear how it came to be. It wasn't by some method or order. There was some scratching, some searching, struggling, like bashing the keyboard and sitting on the floor – and then other less dramatic moments of just staring into the abyss.
Then these small elements come together and somehow the puzzle fits. I feel like "Safe Passage" is the song that came about because I was so desperate for it, not just because I was making an album. I wanted to make a particular sound and I feel like that best describes who I am. I'm a person that strives a lot, I work really really hard – sometimes too hard. I overthink a lot of things and often the point of peace comes just when one thing clicks into place. I have no idea how, it's just a timing thing, maybe?
Stream: "Got Me" – Laura Mvula
HOW DID YOU FEEL LISTENING TO PINK NOISE WHEN IT WAS DONE?
Mvula: I'm still experiencing that! Sometimes I read about these everlasting orgasms – I don't know if they really exist, but I think it's really funny that something like that can be quite taboo. It's like "wow, I wonder if this really exists, how does it feel like?". I imagine it's not too dissimilar (metaphorically, of course) but it's this everlasting bliss. my sister laughed at me because I listen to my album constantly. She thinks it's hilarious, she says there is no one that listens to Laura's music more than Laura herself – and she's right! I will listen to it in the gym, when I'm moving about, when I'm just at home. Partly because I can't believe it, it feels unreal to me. I remember I saw a video interview with Michael Kiwanuka years ago. I think he was trying to finish his album – I don't remember it well.
With the most amazing vulnerability, he said "I didn't think I could do this". For some reason I believed him in that moment as he said that, I was like "fuck yeah, I know how that feels like". I can't tell you how much this time around I genuinely didn't believe that I would have something to offer, let alone have something that feels more precious to me than anything I've made before. So, right now and at the moment of completion it's just like one long exhale.
I ENJOY ASSOCIATING MUSIC WITH COLOURS. WHAT IF YOU HAD TO DO THE SAME WITH YOUR OLDER WORKS? WHAT COLOURS WOULD BE THEY?
Mvula: I'd say Sing To The Moon is probably green. I remember Donald Glover (Childish Gambino) once said to me he expected me to be earthy when he met me – like an earthy kind of girl. I think Sing To The Moon presents this very earthy material – maybe because I'm singing about singing to the moon, morning dew on the grass and green gardens. That's just where I was at that time. I think The Dreaming Room is blue because it was ignored, but it was some real craftsmanship that went into that record.
I think about the collaborations, like Nile Rodgers and also John Scofield, who played with Miles Davis on a couple of songs. Also the London Symphony Orchestra is on The Dreaming Room. I don't know, this record – maybe just in its reception – it makes me feel like it's blue, which makes Pink Noise even pinker.
IF YOU COULD DUET WITH AN ICON FROM THE 80s, WHO WOULD YOU CHOOSE?
Mvula: Earth, Wind & Fire without a doubt. I was watching a documentary about Boyz II Men on Netflix. It was amazing but also really sad, culturally. It was about how as time has passed they were be the blueprint for the quintessential boy band but then over time boy bands became white boy bands and they took over. But, if you look at the success that Boyz II Men had in what they were doing, it was extraordinary at that time – but bizarrely considered underrated.
It makes me think of Earth, Wind & Fire. They made pop music that was on the level of complex jazz. It's not easy music but they made it palatable without trying to make it palatable, which I think feels almost impossible today. So I'm always looking back to that to that group, to that era, to try and figure out how they managed to do it.
Earth, Wind & Fire made pop music that was on the level of complex jazz. It's not easy music but they made it palatable without trying to make it palatable, which I think feels almost impossible today. So I'm always looking back to that to that group, to that era, to try and figure out how they managed to do it.
YOU SAID YOU'D LOVE TO WORK WITH OTHER ARTISTS AS A PRODUCER. WHO WOULD YOU THINK YOU'D WORK BEST WITH?
Mvula: I think I do like really great albums with pop acts like Sam Smith – I already know he enjoys a lot of my music, I think he and I would be really interesting. At the moment I'm doing a cover project that might come out soon after the record. It's just covering some chart-topping artists and maybe music that people may presume that I wouldn't be interested in. I actually have a lot of time for a lot of the pop music that's out now now, but it makes me even more excited to imagine what I could do if I was collaborating with some of these hitmakers.
LET'S TALK ABOUT FILM MUSIC. SOME OF YOUR PIECES HAVE ALREADY BEEN FEATURED IN MOVIES, BUT IS THERE A MOVIE THAT YOU WOULD HAVE LOVED TO BE FEATURED IN?
Mvula: I would really like to work with Ludwig Göransson, who I didn't realize how big he was. I was watching The Mandalorian (the Star Wars spin-off), I looked at the composer because I was like "oh, I really dig this score". Maybe it would be funny to message them I since just figured it would be some old dude, you know. I just messaged saying "Hi! I loved this music!" and he texted back saying he was a fan of mine, I was very surprised! I looked him up and I saw Childish Gambino, what the hell!? I also felt jealous when Black Panther came out, I feel like I wanted to be involved in it, but I've also been involved in a movie that is coming out on Netflix – I've worked on some of the songs on the soundtrack, so that's exciting.
I KNOW THAT THIS IS LIKE ASKING WHO'S YOUR FAVOURITE CHILD, BUT WHAT'S THE TRACK FROM PINK NOISE YOU'RE MOST FOND OF?
Mvula: I want to be honest with you and say that I think if you were to ask me tomorrow, I would say a different one, but today I'm gonna say "Magical". Maybe because it's Friday and that song has a Friday feeling.
HOW WOULD YOU DESCRIBE YOUR DREAM LIVE PERFORMANCE?
Mvula: It's funny because I was just thinking today about my next show, which will be the first show since Pink Noise. It will be in London, on September 2. I was thinking about what I want to do because when it comes to Pink Noise I've not been holding anything back. I've been treating this album like it's the last thing I'll ever do in my life, and so I want everything I do that's connected with the album to be so undeniable and so far reaching.
I wanted to have a lot of colour and I want it to feel in some ways abstract. I don't want it to be just me, my band and my songs, I want it to feel like you come into a world of pink noise, that we travel somewhere together. That is gonna be led not just by the music but by the things that you see.
I think there's gonna be some collaborations with some creative minds. I know that I have to consider lots of things when thinking about a live show, it's not that you just put it on paper and then it just exists – unless you're Beyoncé or Coldplay. But, there is something to be enjoyed about the challenge of having a small space. Maybe the stage is small but I want it to feel big! So, I'm thinking about what my options are, and even things like whether I am going to talk to the audience. Am I going to do it? Maybe I'm not going to do it, I don't know. Am I just going to tell some stories or read some poetry between songs?
Pink Noise is a forever reminder that it's never done, even when you think it's over. It sounds like a cliché, but maybe because it's the first I'm experiencing this in my life it feels so real.  Pink Noise is a testament, the truth that you can always change the narrative and you can always make something grow from something barren.
SPEAKING OF POETRY, IS THERE ANY POET THAT INSPIRES YOU?
Mvula: Well, it's not a poem but I often refer to Rilke's Letters to a Young poet. The book itself is not poetry, but talking to a poet and I often refer to it when I feel a bit lost and I need help figuring out how to put one foot in front of the other and making music. Although I have to say I haven't read any in a long time, so I feel like you're reminding me actually about what's an important part of my journey.
WHAT'S
SOMETHING YOU'D LIKE YOUR FANS TO TAKE FROM THIS ALBUM? WHAT ABOUT SOMETHING YOU TOOK FROM PINK NOISE?
Mvula: I want the fans to take from this record purely good feeling. That's it, it's a simple as that. As for me, I listen to it and I remember making it, and I take away the lesson of faith. I mean, the smallest amount of faith in something can bring it into reality. So, Pink Noise is a forever reminder that it's never done, even when you think it's over. It sounds like a cliché, but maybe because it's the first I'm experiencing this in my life it feels so real.  Pink Noise is a testament, the truth that you can always change the narrative and you can always make something grow from something barren.
— — — —
 © Danny Kasirye
Pink Noise
an album by Laura Mvula
---