Phoenix folk-punk band AJJ's music is not without its genuine tenderness, and their somber folk song "A Big Day for Grimley" off their album 'Good Luck Everybody' is a testament to that.
Stream: "A Big Day for Grimley" – AJJ
---
For the uninitiated, AJJ, formerly known by the much more irreverent moniker, Andrew Jackson Jihad, became known and admired by many for their sardonic, grim, and equally as irreverent approach to lyricism and storytelling. Songs like "Gift of the Magi 2: Return of the Magi" from their devastating 2011 album, "Knife Man," showcase classic AJJ elements such as vocalist/ guitarist Sean Bonnette's gripes with humanity and God delivered in his signature warbled howl.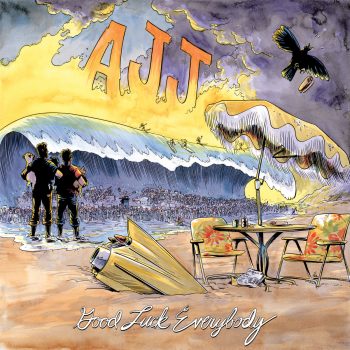 If God doesn't like ugly,
then God doesn't like anybody
So fuck God anyway, God is obsolete
Oh, my God thinks my jokes are funny
There is no one to blame
People are just fucking mean
Though this approach to writing along with their bring-everything-and-everyone-down-from-their-pedestal mentality is a large portion of what made AJJ so alluring in the first place, their music is not without its genuine tenderness, and "A Big Day for Grimley" is a testament to that.
"A Big Day for Grimley," which closes out AJJ's seventh album, Good Luck, Everybody (released January 17, 2020), is an exhausted, yet warm and amenable piece to those who have been having a particularly difficult time in Post-2016 America. The song, in its metaphor, outlines the tired, yet resilient facade that represents much of what the disenfranchised and despondent have been enduring in this societal climate.
I live in a fortress
The shape of my body
And there's a coldness
And it's shaped like me
And now I don't suffer
Anymore bullshit gladly
Even though everything's bullshit now
Here in 2019
While the whole album follows a similar thematic sentiment, covering such heavy topics as body autonomy, violence against black children, and the overall "ghost of great America," this track provides a much needed tender sentiment; a moment for listeners to find mutual connection and relation.
Sonically, this is perhaps the must subdued song on the record, which seems as though it is a another way the band might be depicting exhaustion and fatigue. While AJJ have experimented with numerous sonic palettes throughout their career, with this album being no exception, Grimley's arrangement is bare and acoustic. The guitar is warm and understated, the whistle solo is catchy and endearing, and Bonnette's vocals are sincere, welcoming, and modest. His other signature style.
Without much bias, this is perhaps when AJJ prospers most. For all of their beloved weirdness and experimentation, this is how they shine and elicit overwhelming feelings of understanding and connection, themes that are also explored throughout the album.
The song closes with a call-and-response chorus that feels like they are rooting for everybody that needs to be rooted for, and in its simplicity, is a very comforting sentiment.
Solitude for the stoic
Mirth for the merry
A quiet room for the overwhelmed
Arcades for the ADHD
Health for the sickly
A big day for Grimley
Good luck everybody
— —
Stream: "A Big Day for Grimley" – AJJ
— — — —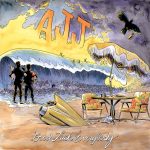 ? © 2020
art © Nate Powell

:: Today's Song(s) ::
---
:: Stream AJJ ::