A sweeping, breathtakingly beautiful voyage into the human condition, AJIMAL's sophomore album 'As It Grows Dark / Light' (prod. Guy Massey) is not for the faint of heart, but those who listen to it are sure to come away stronger than ever.
for fans of Bon Iver, Sufjan Stevens, Novo Amor, The Slow Show
•• •• •• ••
A beautiful intimacy permeates AJIMAL's music as his sophomore album gets underway. It's the kind of weight born out of love, connection, and vulnerability; that raw, tender, aching side we all have, that reveals itself to us most often when we are by ourselves, in moments of reflection and rumination.
For London-based, Newcastle-born multi-instrumentalist Fran O'Hanlon, such exposed depth is his everyday. The NHS doctor, performing under the moniker AJIMAL since 2015, has a particularly close relationship with the human condition – a relationship he brings to the fore on his stunningly majestic As It Grows Dark / Light, a breathtaking journey produced by the inimitable Guy Massey.
Stream: 'As It Grows Dark / Light' – AJIMAL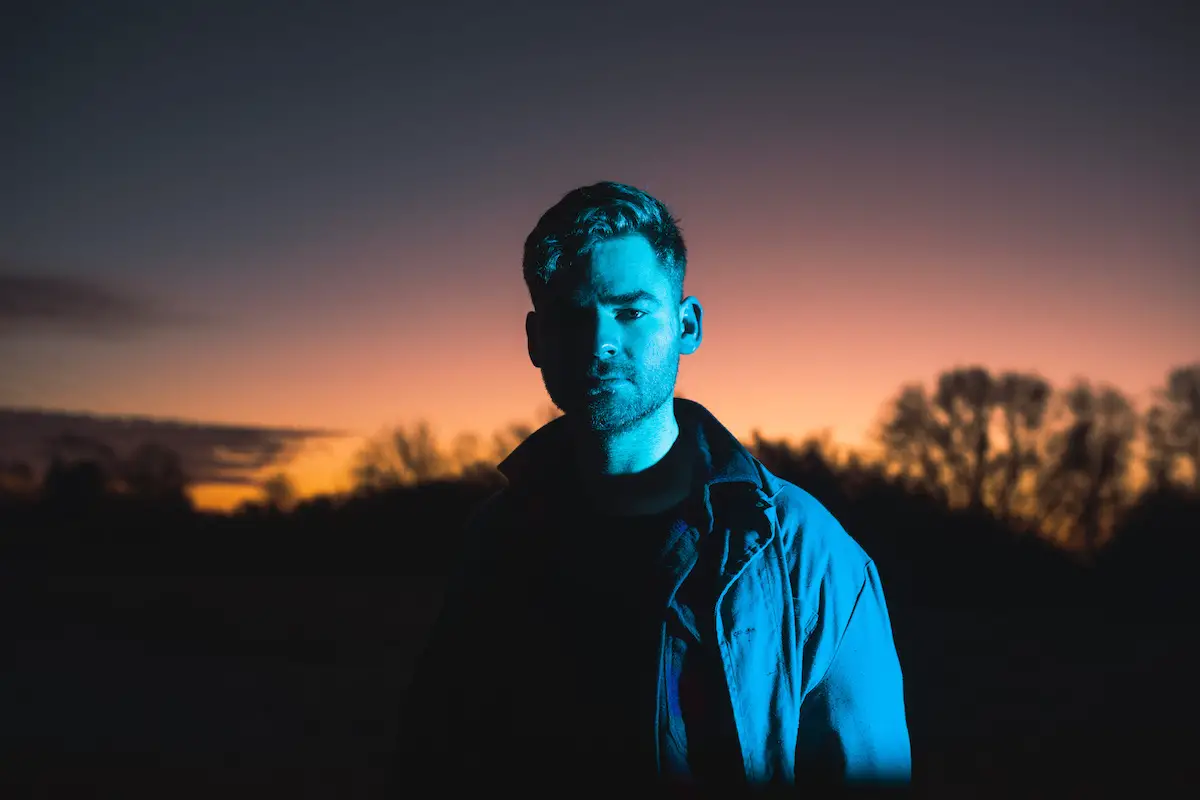 ---
Independently released June 26, 2020, As It Grows Dark / Light is a gorgeously expansive collection of songs dwelling in space, emotion, solitude, and togetherness. It's a record of understanding and empathy – each of its songs a complementary movement in O'Hanlon's endless journey of self-discovery and meaning. Five long years in the making, the project pairs AJIMAL with legendary producer Guy Massey (The Beatles, Paul Simon, Van Morrison, Ed Sheeran); during whatever moments they could find together, they build for us an entrancing world of sweet and somber sounds brimming with inescapable feeling.
"I was on shift at the hospital, and received an email 'You have won a dream recording weekend…' which I initially thought was a scam, and deleted," O'Hanlon tells Atwood Magazine. "Turns out it was real, and I was incredibly lucky to get to record with Guy at AIR Studios over a weekend. We just got on really well and creatively the process flowed really easily. After that, we made the album over a couple of years, in little moments of spare time, continually stepping away, then going back to it fresh. I feel really proud of the album and also excited for future projects with Guy."
This partnership shows its strength in songs like the soaring, celestial "How Could You Disappear?" and the album's upheaval of an opener "ANIMALS," both of which tap into our inner sanctums with groundswells of orchestral might and effervescent fragility. O'Hanlon's singing is second to none on "How Could You Disappear?" – a raw exploration of memory that builds into a seismic outpouring of warm, ambient light.
I'll remember you always
Precious things not yet forgotten;
Like my first, second skin
With my first jump into water
In that wild, blue embrace
And the dark bite of November, I remember
As the wind whispered of fate
I'll remember you always
Among the first of the surprises
In the summer of my spring
As a whistling adventure
As a song of foolish joy
And the rising bounce of green grass, as time passed,
As it lifted birthday boy
How could you disappear?
---
As It Grows Dark / Light is a journey to behold. It's the kind of music that leaves a mark upon the very first listen – its instrumentation sublime, its rises and falls utterly entrancing. AJIMAL's songwriting and vocal talents bring haunting tracks like "A Rapture Coming" and the striking "Alive, Awake!" to life with indescribable fortitude; the latter, a song about palliative care and our very last moments, is truly heart-wrenching – and it's Guy Massey's harrowing soundscapes, as serene as they are turbulent, that elevate AJIMAL's songs to that upper echelon of musical resonance.
Whether you're taken by the subtle "A Quickening Step" or whisked away in the album's tender, tear-jerking closer "For Good, Forever," Massey's presence is a palpable force throughout As It Grows Dark / Light. He breathes life into orchestral flourishes and moments of complete silence that awaken the heart, transforming what may have been considered an "indie folk" album into a sweeping, genre-defiant undertaking.
"We pretty quickly realised we worked together well and became good friends soon after," Massey says of his relationship with O'Hanlon. "Often as a producer, when you have an idea and want to try it, there's a little voice saying..'ok… so this might be shit or a waste of time' but Fran always let's me go down the rabbit hole and vice versa, it's very collaborative, so becomes easily and organically achieved through experimentation and manipulation. I'll tweak and add stuff if I feel there's a need and Fran is very receptive to that or is vocal if not, which is of course part of the process. It was a joy to work on and with. I've been able to push the envelope on my production and recording techniques and also felt safe to investigate new territories without any fear of failure or negativity from Fran, which is an incredibly nurturing environment. I'm very proud of what we've achieved with these recordings, and very happy to have him as a friend."
I slept, timeless, and woke to life with new and noble poise
I stood, weightless, and stared into a nothing
An unforgiving void / An epic yawning void
I swear I've dreamed of things you just couldn't / wouldn't believe
I held back an ocean
It froze and thawed and dripped right through my hands
It swam amongst my blood and ran it thin
But I've never felt so well within
In a flood of fire above your bed tonight, sink in
In a messianic thunderclap goodbye, breathe in
And if all the swell of every swollen tide comes in
Let me lie and watch that ocean sink the sky
Sink in
Sinking
– "It's Real," AJIMAL
As It Grows Dark / Light is not for the faint of heart, but those who listen to it are sure to come away stronger than ever.
It's music that brings us closer to ourselves; a collection of provocative, immersive, poetic songs that grip our souls and caress our hearts. AJIMAL emerges as a voice of compassion, understanding, and empathy – ready to shoulder our burdens, and relieve our weary bones. Together, Fran O'Hanlon and Guy Massey have made a cathartic, unabridged, and absolutely enchanting soundtrack to life in motion.
You will be touched, and you will be moved; you just might cry. It's all a part of the process of becoming. Experience the full record via our below stream, and peek inside AJIMAL's As It Grows Dark / Light EP with Atwood Magazine as O'Hanlon and Massey take us track-by-track through the music and lyrics of this spellbinding new album.
— —
Stream: 'As It Grows Dark / Light' – AJIMAL
:: Inside As It Grows Dark / Light ::
— —
ANIMALS
Fran: "ANIMALS is essentially about our inbuilt tendency for violence and the fact that we seem to never be much more than a hair's breadth from tearing each other apart. Musically, we knew we wanted quite a big opening to the album, something dark and unnerving but also really beautiful and arresting. We recorded the piano and a lot of percussive elements for that pulsing rhythm. We used pretty much anything we could get our hands on including a hang drum, harpsichord, musical saw, vibes and just had fun building up the layers. Hearing the strings I arranged come to life with real players was really exciting."
Guy: "One of my favourites. I loved building the quality of the song – sparse and intimate at the outset into grandiose later on. Fran's lyrics are so interesting to listen to, mysterious and often not too obvious of their intent. With this sparseness in mind we built the intro from affected piano parts, adding the breathing texture to the intro, and delay FX which gives the vocal an unsettling, almost detached vibe. We then created the rhythmic harmonic element from overlaid piano/vibes and odds and sods, recorded at Guy Chambers' Sleeper Sounds Studio. It's actually quite sparse instrumentally but sounds dense. Fran did the string arrangements we tracked it up to make it sound larger – when the strings come in properly it still makes the hairs on my neck stand up…."
ALIVE, AWAKE!
Fran: "Palliative medicine is an area I'm particularly interested in and I've spent part of my medical career working in a hospice. I'd read an article which explored people's biggest regrets when they were dying. There were common themes that emerged amongst them, such as 'I wish I hadn't worked so hard, and let myself be happier'. It overlapped with some of the experiences I've had looking after people at the end of their lives, one of whom told me to 'be more fun!'. There's actually a sample of a pneumatic drill in this track, which I'd heard out on the street and was drilling at the exact same tempo as the track."
Guy: "I love the undersea-like textural sounds in this track. We often work very freely – Fran will have an arrangement in mind, we will discuss that then (as it's often written on keys), we will put up some sounds and manipulate until we find something we both vibe on, then build from there. Fran's arrangement on this is particularly beautiful. I love the way the meter changes as it progresses. Some flute and harp also introduced a real orchestral flourish in this track."
ITS REAL
Fran: "I wrote 'It's Real' as a wave of sci-fi films like Interstellar and Gravity were coming out – cinema has become so hyper vivid and real now that you can sit in a dark room for 90 minutes and be completely absorbed in that new reality. We recorded a lot of percussive elements by preparing a grand piano with gaffa tape, coins, bottle tops – things that would rattle or buzz when the string vibrates, then slowed those down, til they morphed into rushing, breathing textures. It became immediately clear that creating these big soundscapes was going to be a basis for the rest of the album."
Guy: "There's a section I particularly love where there seems to be distant fireworks happening – really low sub frequencies amongst this sparse piano track, unsettling but oddly euphoric. We used an application called Paulstretch quite a lot on this, to build textural stuff, choir like sounds – there's some prepared piano fizzes and buzzes here in here too.. Love that bit in the song."
HOW COULD YOU DISAPPEAR?
Fran: "This is about memory and how it changes and warps over time. We took elements from the demo and really bolstered them to make them feel fuller. Guy spent a while shaping the rhythm which drives the track along – I particularly love that snare sound which sounds like velcro being pulled apart. It's definitely the most poppy and straight up of the songs, but was a lot of fun to put together."
Guy: I love the simplicity of this song, it's driving rhythm came about from parts Fran gave me. I wanted it to have a bit more of an aggressive sound so I crushed it through something that gives it a gravelly texture and super compressed it so it almost sounds backwards. I felt all the sounds needed to have extreme elements. 
A QUICKENING STEP
Fran: "This started (quite self-indulgently) about my own difficulties in maintaining relationships, but it changed into a song about enduring and lost love. It was inspired by the accounts of some quite inspirational patients of mine, one of whom died on the day we recorded it. At the end of the track, there's a sample of the rushing wind which fades in underneath. It was recorded on my phone in the middle of a storm at the cliffs in Dover. I wanted to give it this sense of wild nature taking over."
Guy: "Another highlight for me. Fran came with a piano demo that was beautiful. We both originally wanted it almost Tom Waits-ian in its sensibilities, but once we recorded the piano and vocal, felt a glacial low fi approach would be nice. I remember obsessing about the vocal sound, and ended up using a software called Reaktor to synthesise the vocal and had that underneath giving it a glassy ethereal textural quality which I really love. I love the horns and little spikes of affected harp – they really lift the arrangement."
ABOVE ALL ELSE, BE KIND
Fran: "I wrote this the day that Trump won the US presidency, in a moment of despair, and we recorded it the following day. It felt like we were in the middle of a pervasive movement towards individualism, isolationism and resentment of others, particularly those at the bottom of the ladder. I'm by no means a perfect example, but I wanted to write about the importance of valuing kindness and compassion. I mirrored the song structure of Georges Brassens' Chanson Pour L'Auvergnat (one of the first French songs I learned when I moved to France after finishing school). He talks in each verse about a way that someone showed him generosity or kindness at a time when he needed it."
Guy: "This came together really quickly. Fran had a guitar part and I think all the lyrics were intact so we recorded the guitar in the booth at my place (as with the majority of the album!). I think the rhythmic heartbeat had always been there too. In the bridge section, we both wanted a very close double track – we both love Sufjan Stephens, so were inspired by his approach in this section which I think makes it really beautiful."
A RAPTURE COMING
Fran: "I woke up in the middle of the night with this melody going round in my head. The words that formed with it were, quite strangely, "there's a rapture coming". I find the idea of people praying for the annihilation of humankind pretty strange, but also peculiarly fascinating, plus we're doing a good job in building that future ourselves through climate change. We wanted to build something intense and nightmarish at the end of the track, so I sampled some clips of people screaming and chopped them up to make rhythms, alongside noises of icebergs crashing and panicked crowds to give it this real sense of chaos. It's probably the most uncomfortable moment on the album – building in intensity until it finally cuts dead."
Guy: "Fran wanted it to be very intense and dark and we built it around that claustrophobic refrain, lots of manipulation and mangling occurred on this one, all the low end is time stretched into dark unsettling tones. We wanted the crescendo to be the loudest part of the album.. almost unbearable to listen to."
WHO GIVES ME WHAT I WANT?
Fran: "There's a serial murderer in Belgium who was sentenced to life imprisonment 30 years ago – who has been appealing for his right to euthenasia on the grounds that he suffers with constant violent and distressing thoughts, and is incapable of reform. He initially won his appeal and a date was set, but the decision was overturned. From a medical side, I'm interested in the end of life / dying debate but had never even fathomed that it might be applied in this way. The song is inspired by these concepts."
Guy: "A really dark song, I didn't initially understand how dark.. I think the dryness of the vocal and drums being at odds with the ethereal nature of other elements makes this a treat to listen to. I could listen to that chorus on loop. Such a sad and beautiful melody, completely at odds in some way with its subject matter…|"
I'VE KNOWN YOUR HEART
Fran: "The first one Guy and I recorded together and the starting point of our friendship. It's about noticing the tiniest change in someone and reading into its significance. I took that chorus line from the film 'Dogville', where one of the characters vouches for another one and says, 'I've known his heart just about as long as it's been beating'. I loved the intimacy of that. One of my favourite elements is where we played the grand piano strings with mallets to create this harmonic rhythm which comes in in the second verse. It was initially planned to be a standalone track, but it then grew into the basis for the album."
Guy: "A friendship and collaborative relationship were forged making this, so it's quite special to me. Fran allowed me to indulge all the acoustic ideas that I had for the song, and it was a pleasure to record. It was recorded mostly live, and then we added some lovely little acoustic textures. It's the least electronic song on the album but sits perfectly on the record for me."
FOR GOOD, FOREVER
Fran: "Guy made that beautiful intro by recording the strings to tape and then slowing them to half speed. I convinced Guy to let me record triangle in a few places on the album and this was one of those! It had stuck in my mind from Grizzly Bear's Veckatimest (particularly on the track Southern Point) and I loved the way they created this fluttering, soaring texture with it. I wanted it to verge on being a bit bombastic… we just sort of went quite all out, knowing it was the finale of the record."
Guy: "I was quite excited about this one as I wanted to try an idea that I'd had knocking around about using guitar harmonics to build chords from, and then play or place within the track, which we tried and we both loved. I loved the way this track builds to a beautiful orchestral crescendo. We spent some time experimenting with sonics, careful not to over egg stuff as we knew the orchestral elements would feature heavily and we didn't want to blur that at all…"
— —
— — — —
? © Fraser Taylor
:: Stream AJIMAL ::
---