Pained and piercing, Anne Malin's poignant ballad "Move Us" is a deep and brooding plea to wake up: A harrowing cry for change.
— —
Anne Malin's poignant ballad "Move Us" is a deep and brooding plea to wake up: A cry for change. Pained and piercing, it hits with a profound weight that sinks the heart and soul, challenging us to consider individual strength, our shared humanity, and how we relate to one another.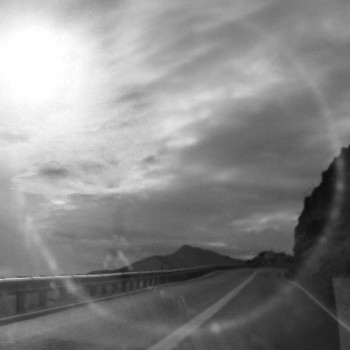 Oh my love
Take me to the river
I will weave a canoe
Out of leaves
Oh this wind will it
blow us through together?
Wind make us whole,
wind make us weep
Move us
Atwood Magazine is proud to be premiering the Saoli Nash-directed music video for "Move Us," the second single off Anne Malin's upcoming album, Fog Area (out October 12, 2018). Formerly known as Fawn, Anne Malin finds Anne Malin Ringwalt working with longtime partner William Ellis Johnson as a duo, shaping music that is as moving as it is weightless. Their forthcoming record, Fog Area, was inspired as the pair drove past "fog area" road isgns on "an emotionally fraught move from Massachusetts to Indiana." Each of the songs on the album represents a separate space of creativity, meditation, emotion, and existence – and in the artist's words, "each song "presents itself as an artifact of togetherness while traveling through America."
It is in this context that we are exposed to "Move Us," a song of brokenness – of despair, with a glimmer of hope. Ringwalt sings, her voice strong and clear against a subtle, ambient sonic backdrop:
Oh my love
Our brothers are starving still
Oh my love
Our sisters are maimed
She croons, moans, and roars against a calm fluctuating synthesizer, directing our full focus onto her dramatic, stirring words. "Move Us" is utterly transfixing; audience attention is demanded throughout, and indeed it's near impossible to sit through this song without falling under its spellbinding grasp.
Oh this wind
will it blow us through despair?
Wind make us cold,
wind make us find a light to warm with
"'Move Us' is a love song against capitalism and violence," Anne Malin tells Atwood Magazine. "The song is a meditation and a lamentation. Its minimal synthesized instrumentation yields to voice, creating a poetic experience for the listener. Each verse opening with the personal invocation, "oh my love" transports the song toward its political plea: "move us.""
Oh my love
The tongues in the city are quiet
Oh my love
The water we drink should sustain but is poison
Do we build sanctuaries?
We build battleships woven out of leaves
Do we build songs so sweet to carry us out alive?
Directed by Saoli Nash, produced by Karina Lopez, and starring Heaven Devera, Anne Malin's "Move Us" music video offers a vivid depiction of human perseverance and survival through isolation. We watch a lone woman (Devera) moving through an "ominous post-apocalyptic desert in which it becomes increasingly clear she's not alone." Filmed in a dry, sandy, and largely desolate area of Southern California, the visual delivers a protagonist for the song's words – an anchor for us to sink into, whose plight feels insurmountable, if not otherworldly.
Walking seemingly through a foreign land, the protagonist scours for signs of life – searching high and low ground, abandoned houses, and so forth. At one point in her search, a bounty hunter (Logan Alexander) enters the premises. The masked person is on a similar quest, though with a very different intent.
---
One cannot watch Anne Malin's "Move Us" video without reflecting on the current crisis at the United States' southern border. While Ringwalt's initial inspiration for this song came from the Flint water crisis, the video could very well be meant to reflect the plight of an immigrant searching for a new home in "America." One sees the bounty hunter, and perhaps thinks about the recently-arrested US border patrol agent described as a "serial killer," who confessed to killing four people in early September.
Yet beyond that, the video's protagonist comes to represent just one of the hundreds of thousands of immigrant stories. What we see in her, based on the six and a half minutes we have to watch her story, is a person searching for connection and understanding: An individual, lost in her world, desperate for a home. When we humanize statistics, we – living far away, in relative comfort and disconnect from turbulence and turmoil – can better appreciate the difficult realities facing other people every day.
"When Saoli (the music video director) began location scouting in Southern California, we decided to be deliberate about representing immigrants who have been actively, and historically, oppressed in that region of the country," Ringwalt explains. "One of my favorite books, 'Signs Preceding the End of the World,' mythologizes the immigrant's journey. Its author, Yuri Herrera, said: 'Borders seem like walls until you get close enough to see: They are bodies.'"
Toward the end of "Move Us," Ringwalt cries urgently into a thick darkness:
On the light of the moon
a goodness blooms in smoke
On the light of the moon
a goodness blooms in smoke
Move us, move us, move us
Move us, move us, move…
Ultimately, we are each left to our own devices with a visual stimulus as provocative as "Move Us." Still, no matter how we process or understand this story, we can all come away with an appreciation for the intrepid nature of the human spirit – and a need to facilitate change on an individual level. Stream Anne Malin's stunning new music video exclusively on Atwood Magazine!
Fog Area is out October 12, 2018.
Stream: "Move Us" – Anne Malin
— —
— — — —
? © Maria Baranova
director: Saoli Nash
:: Stream Anne Malin ::
---