A gently kaleidoscopic and tranquilizing alt-folk experience, Ailsa Tully's sophomore EP 'Holy Isle' is a warm and wondrous world unto itself.
Stream: "Greedy" – Ailsa Tully
---
A gently kaleidoscopic and tranquilizing alt-folk experience, Ailsa Tully's sophomore EP is a warm and wondrous world unto itself: One that invites us to sink into ourselves and dwell in a moment of uninhibited reflection, stasis, and reverie. Intimate and colorful, poetic and spacious, Holy Isle in its short run a vulnerable heart on the mend, a soul finding its balance and inner strength, and a person rediscovering themselves and their individual identity.
Idly, I try to be,
So I lie, watching July,
Daytime is yawning
And the suns on your sheets
My conscience is calling but I'm feeling weak
But we, have nothing but time,
Have nothing but time,
I caught the view in your eye, its giving me light,
Normally, I go relentlessly,
Circling , achieving nothing,
Maybe this time is, the best it can be,
Maybe just being, is enough for me,
But we, have nothing but time,
Have nothing but time,
I caught the view in your eye, its giving me light
– "Sheets," Ailsa Tully
Released September 1, 2021 via Dalliance Recordings (Gia Margaret, Francis of Delirium, HighSchool), Ailsa Tully's Holy Isle arrives in the late summer, following a slew of song releases over the past two years. The Welsh singer/songwriter, who first debuted her Feuds EP in early 2018 and has been steadily rising ever since, gives more of herself than ever before on her latest effort – which she bills as "break-up EP that breaks tradition" – ie, one that looks back not in anger, but rather with fondness and empathy for the relationship that was, and the person who has ostensibly left her life (as she has theirs). It's a set of introspective song exploring the self and our relationship to our surroundings, including the meaning and value we give various physical and non-physical parts of our lives. Holy Isle is definitely built on waves of nostalgia and certainly some grief, but ultimately it's a record that embraces the present, and explores how we can make the most out the here and now.
"At the beginning I just wanted to record songs I had been performing for a while and get them released into the world," Tully tells Atwood Magazine. "I didn't have a grand vision for it, but it soon became clear it was a collection of songs about losing someone and finding your feet when you have let them go. I became interested in how to craft them and how to move beyond the sound world I had created so far. I feel like I have never been so creatively open with songs before; I tried to be really thoughtful about arrangements and find elements that made the tracks more unusual and more unique to me. It was a pretty laborious process! I have also never written so honestly before – I feel like it resonates with people."
From the moment "Greedy" opens with its resonant pulse and Tully's tender, affective vocals, to the final sounds of springtime flutters and summer winds that help "Your Mess" immerse us in our very own serene wonderlands, Holy Isle gives its audience space to breathe, reconnect with ourselves, and just be. Subtle vocal harmonies accentuate the artist's expressive singing style, but what's even more impressive is how Tully's voice seems to melt into every song: She's as much a part of the soundscape as is her cello work, or the assortment of drums and other percussive and stringed instruments that flourish on these seventeen quick, yet memorable minutes.
"The title track 'Holy Isle' is about an evening I spent with my ex on the Isle of Arran overlooking Holy Isle, which is just opposite across the water," Tully says, explaining the EP's name and significance. "My family have been returning to Arran long before I was born, it feels like a very sacred place to me. I am named after the Ailsa Craig, another neighbouring isle."
We've been drifting in the night,
To the shore to the oceanside,
You are still, set in silver
The darkness wrapped around your shoulders,
Silently we unravel,
You're hesitant you are gentle,
I was lost, I saw nothing,
I was lost, all I needed,
To breathe,
You in,
You're everything
You're everything
---
Ultimately, Holy Isle is a vulnerable assertion of inner strength and perseverance; of love, loss, and endurance, all with a knowing, heartfelt smile.  
"I think through creating this, I understand myself much better, I know what I need and I explore that in this record," Tully shares. "In terms of sonically, It feels like I have created a sound world that represents me more fully as a person and a musician. This has mainly been through using the cello (my first instrument) as a dominant feature and incorporating field recordings of places that mean a lot to me. It feels very personal. I suppose I hope the listener experiences and resonates with the complex array of emotions I move through throughout the EP, all part of what you experience when you are in transitional stages of life. It's ok to feel a few at once – even if they are oppositional."
You're right, I was only doing my best,
Unravelled, I'm just your mess,
Fading, to a point I can't suppress,
I'll sit, in words I wept
Can we be in love again,
Ask me once,
Ask me twice I'll listen then,
Carry it all around with me,
It's just how I've always been,
You try to bring me back to you,
Selfish, self-induced,
Can we be in love again,
Ask me once,
Ask me twice I'll listen then
Those looking for an enchanting summery and autumnal bridge need look no further. Experience the full record via our below stream, and peek inside Ailsa Tully's Holy Isle with Atwood Magazine as the artist goes track-by-track through the music and lyrics of her second extended player!
I hope the listener experiences and resonates with the complex array of emotions I move through throughout the EP, all part of what you experience when you are in transitional stages of life. It's ok to feel a few at once – even if they are oppositional.
— —
Stream: 'Holy Isle' – Ailsa Tully
:: Inside Holy Isle ::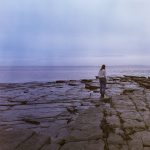 — —
Greedy
"Greedy" is impulsive and has a feeling of urgency. It is about the intensity of new beginnings and transitional stages of life where everything feels very raw. It is about the all consuming feeling of wanting someone and opening myself up to the world in a new and messy way. It's about falling for someone new. Despite all this change and excitement I was desperate for my decisions to be accepted by those around me and to not feel the weight of responsibility others had placed on me. It starts off with the sounds of texting, as the lyrics are 'he writes, the glow of screen light, I love to see you type'. It feels like there are two sides of the song; in the verses the melody feels meandering/explorative, the vocal tone has a whispery tension, highlighting a tentative yearning for someone/something new. The chorus is where this frustration comes pouring out, as the melody opens up and the vocal tone becomes more powerful and insistent. It feels like throughout the song I'm trying to understand what I need and becoming more confident about it as the song progresses. The uncertainty of it all becomes resolved in the final outro as I determinedly chant my choice. The arrangement that went into this song was a very laborious process, there are so many interweaving elements, pizz cello parts, reversed guitars, constantly evolving bass parts, synth lines and field recordings of London. I really enjoyed the interplay between these many parts and how they made each verse feel like a slightly different space, reflecting the lyrics. I wanted to create a touch of theatrical/classical drama in the final section by layering staccato vocal harmonies, swelling cello lines but then contrast these elements with an indie/rock inspired bass lines to keep it within my own soundworld.
Influences – Marika Hackman, GILLIE, Handel, Sudan Archives, Gia Margaret, The Blue Nile
Sheets
"Sheets" is about waking up and feeling immediately anxious about being proactive and busy. It opens with the familiar hum of a washing machine, creating a feeling of household mundanity. In the first vs the lyrics are about trying to be idle but feeling like I need to get on with my day, the washing machine echos that tension as it increasingly spins in volume and pitch. The song is about wishing I could see the morning through my previous partner's eyes and how he saw more beauty in the morning because he wasn't rushing. 'Sheets' feels very joyful and playful, as I explore trying to make the most of the time you have even if you are struggling to achieve that frame of mind. I was very lucky to have Elin (Thallo) play some clarinet on this song which adds lush dissonances, adding little moments of unease before resolving again. The way the chords move in the chorus create this push and pull – tension and release, mimicking my anxious attempt at relaxation. The trumpet in the final chorus brings in a celebratory, joyful feel to the ascending melisma of the vocal.
Influences – Rozi Plain, Thallo, Alice Pheobe Lou, Toumani Diabete,
Holy Isle
"Holy Isle" is about a very special evening I spent with my previous partner on the Isle of Arran overlooking the Holy Isle. My family have been returning to the Isle of Arran for generations so it is a very meaningful place to me. I wrote Holy Isle about four years ago about what the relationship I was in at the time meant to me, but it always felt incomplete. When we broke up I eventually wrote the lyrics I had been searching for in the final verse and finished it. It became an ode to my relationship, even at its end point, and both a celebration and a grieving process of what we had gone through together. It feels both deeply painful to me but also cathartic, acknowledging the power of what you had even if it didn't work out. This song is both tender and brooding. Initially the song feels very spacious as I wanted to conjure that sense of open space you get when you are near the sea. Amongst this space there are glimpses of the intense emotion displayed in the final section, such as the dissonances on the backing vocals in the chorus', the contra-motion of the cello answer phrases (second vs) and the descending metallic slide of the guitar. This emotion explodes in the final section into a painful apology. I am most proud of the cello parts in this song, they feel like this crazy stormy moment at the end which is completely overwhelming, saturated in grief, love and pain, raw and unfiltered. They are heavily inspired by classical composers such as Elgar and the creativity of the string sections in some of the 'Dirty Projectors' songs.
Influences – Art School Girlfriend, Another Sky, Eric Whitacre, Elgar, Dirty Projectors
Your Mess
"Your Mess" is about a time where I was struggling with a lot of anxiety, I felt reliant on my partner at the time to support me and carry me emotionally, and I wasn't sure how to give back. It's about feeling like a burden and feeling lost, and that feeding into your relationship which feels like it is slipping away. It's about thinking back to simpler times in your life and relationship when you didn't face those obstacles, and feeling nostalgic for what you had before. It is very tender, and throughout the song there is a rainy field recording from my ex's garden which I loved to visit. There are sounds of birds and most importantly a cuckoo, a regular visitor to the garden. This is the only song I produced on the EP, I wanted to achieve a production style that was very rough and tapey, but where the vulnerability of the song comes through. The arrangement was very simple, it's all about the tenderness of the vocals and the space they sit in. I wanted the cello parts to be romantic and evocative of that 60s style. I recorded these parts and sent them to my friend who put them through a very wonky tape machine to achieve that vintage effect. The track ends with a car driving past, signifying being pulled out of a dreamy state into a harder reality.
Influences – Honey Stretton, Jessica Pratt, Vashti Bunyan, Lila Tristam
— —
— — — —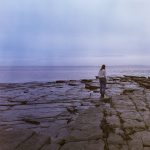 ? © 2021
:: Stream Ailsa Tully ::
---