There is good and bad in all of us, a balance of forces that evens us out and makes us human: A naturally imperfect image of perfection. However, our individual scales are not always distributed equally. It can be easy to slip into the lap of evil urges and satisfy our appetite for destruction, that impulsive desire to birth chaos into the world. Mother Mother's "Baby Boy" captures the raw tension of that internal struggle, the harrowing push and pull between light and darkness.
The devil is at my door
And I know what he came here for
The kind of fun that I adore
I let him enter to make some more
Fire it burn my skin
But I still want to play with it
Like a shark fin in the swim
I cut myself and jump on in
Watch: "Baby Boy" – Mother Mother
---
Atwood Magazine is proud to be premiering "Baby Boy," the powerful new music video from Mother Mother's sixth studio album No Culture (out today, 2/10/2017 via Universal Music Canada). The topic of darkness is very relevant to Mother Mother at the moment: Three months before heading to the studio to begin writing the new album, Mother Mother frontman Ryan Guldemond put down a long habit of self-medicating with drugs and alcohol. After a few months of sobriety, the honeymoon wore off and he fell into a depression.
Guldemond has known firsthand the devil inside, and he unleashes that experience on "Baby Boy," singing the verses from the stormy depths of a dark and tormented soul:
A woman she at my door
And too bad it's my best friend's girl
She's a cooking up a civil war
I'm dumb enough to storm the shores
There's a red light up ahead
I drive my car into it
I'm a little kid with a big death wish
I bight the lips
The lips that kiss
Guldemond's character embraces vicious impulses at every turn, embodying the seven deadly sins and basking in their recreation. He knows his desires are malignant, yet he pursues them in spite of the ramifications. Meanwhile, he is juxtaposed by his sister Molly Guldemond's chorus, an angelic voice of love calling for the baby boy to turn toward the good. "Baby boy, baby brother, we're losing you, to the gutter," she sings on repeat. Pressure builds in the song with every utterance of those words, like the counter-energy building up in the individual.
The fight between two extremes rages between verse and chorus, but as long as good is not winning outright, evil prevails. "We're losing you, is it forever?" Molly sings in her final chorus. There's an inherent fear that her loved one might slip too far down the path – so far away from warmth, that they might never return.
"Baby Boy is a dual narrative of confession and intervention," explains Ryan Guldemond. "There's the antihero admitting his penchant for self destruction and immoral behavior, and then there's the voice of reason and concern, aptly sung by my sister, Molly. In real life, she and I have had conversations synonymous to the dialogue in Baby Boy, although much less poetic and pleasing to the ear." It's easy to know when a song hits closer to home; "Baby Boy" is fittingly personal for Guldemond, as it should be.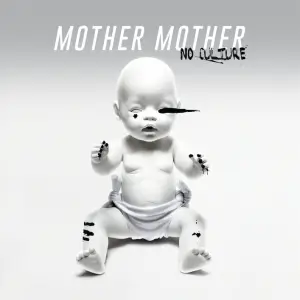 "Interestingly enough, Joey Santiago from the Pixies was supposed to play on this song. We had lunch with him and played him the demo on headphones right there at the table. He played me unreleased Pixies stuff too, which was surreal, them being my favourite band since I was a child. Anyway, he seemed stoked to do it, and we sent him the session and everything, only to never here back. It wasn't too long after that we found out from a press release issued by the band that he was checked into rehab. If there was a song for him NOT to play on due to bad behavior, it was this one."
Out today, Mother Mother's sixth studio album No Culture carries a powerful message: That society uses negative byproducts of culture — such as narcissism, hedonism, and addiction — as a means to nurture its fears of the unknown. The band is driven by the belief that love ultimately wins, but it might take a lifetime to get there. What better time is there than the present moment – February 2017, with its plethora of worldwide issues just a Tweet away – to unravel our anxieties and connect at the base, as individuals?
No Culture is the follow-up to 2014's Very Good Bad Thing, which hit No. 1 on Canada's Alternative Albums chart and resulted in both a Juno Award nomination and extensive US touring. Enjoy Atwood Magazine's exclusive premiere of Mother Mother's "Baby Boy," a visceral inside look at the Vancouver band's emotive, demonstrative performance that more than proves their worth as one of today's premier rock bands. We've all struggled with good and evil at some point in time, but it takes a song like "Baby Boy" to expose us to our true, perfectly imperfect selves.
— — — —
cover © Raina and Wilson photography
No Culture – Mother Mother