A dazzling, soothing, and rip-roaring psych rock immersion, Bendigo Fletcher's debut album 'Fits of Laughter' soars with charming passion as the Louisville band burst out of the gates, delving into intensely intimate depths while always finding reasons to smile.
for fans of Mt. Joy, Fleet Foxes
Stream: "Sugar in the Creek" – Bendigo Fletcher
---
Bendigo Fletcher are clearly having fun throughout their debut album – and they want you to have fun, too. A dazzling, soothing, and rip-roaring psych rock immersion, Fits of Laughter soars with charming passion as the Louisville band burst out of the gates in multiple directions at once, delving into intensely intimate depths while always finding reasons to smile. It's a record of reverie, celebration, and true to its name, laughter: Music made for good times and bad, that promises to leave us all a little more elated than we were before.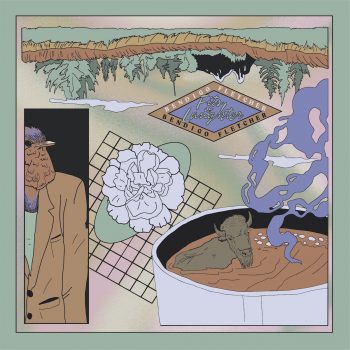 now that the telephones have all been tapped
maybe it's time to get off the map, jack
and shackle my love to the land and my lover's call
trade my lazy ass for a mule, buy a few sheep, and borro
the wool but maybe we shouldn't stray too far from the law
I've never owned a pistol but if my neighbors
are cooking up the crystal suddenly I don't feel so tough
but it's all for naught I got more salt than water in the pot
as if my blood pressure ain't high enough
but it's all sugar in the creek, my lover,
we dissolve in the confluence make a motion
study your devotion find a quiet mind
drop the needle down to the groove
and put on your grooving shoes
let your body do what it'll do
Released August 13, 2021 via Elektra Records, Fits of Laughter is a radiant and wondrous enchantment. It's also a perfect re-introduction to Bendigo Fletcher, the Kentucky born and bred five-piece of Ryan Anderson (lead vocals, guitar, banjo) – Andrew Shupert (backing vocals, lead guitar) – Evan Wagner (backing vocals, keys, guitar, auxiliary percussion) – Conner Powell (bass) – Chris Weis (drums). The follow-up to three brilliant EPs released over the past three years cements Bendigo Fletcher as one of the country's most exciting up-and-comers in the alternative space, with an alluring sunshine sound that blends roots, country folk rock with whimsical, dreamy, and utterly entrancing psychedelia. It's an overall heartwarming and uplifting experience; peek under the hood, though, and a closer listen reveals intensely vulnerable reckonings by folks who are still very much figuring themselves out while they navigate life's rocky, often turbulent path.
"The songs seemed to come along the way as I was navigating crippling insecurity that had kept an inner light from shining for too long," frontman Ryan Anderson tells Atwood Magazine. "Listening back to the words, which so often are recorded before I can fully understand any definitive meaning, I can hear proclamations of independence as well as a heightened empathy for myself. Ultimately, I can hear the five of us having so much fun during the recording exploration, and I'm most proud of that."
"We recorded with a producer, Ken Coomer, for the first time ever for Fits of Laughter. The ease with which he worked with our strengths—meandering tempos, no click tracks, no rules really— and found tones with our guitars made the process so fun and rewarding. My first conversation over the phone with Ken mainly consisted of swimming spots and geeking out over Grizzly Bear's sonic repertoire. A few weeks later, I sent him a picture of a record cover I had discovered and bought that day—Todd Rundgren's A Wizard, a True Star— and Ken reported that he had also bought the same record that day. A few more strange synchronicities gave me the feeling that we would be doing right by creating with Ken, who is everything you'd expect of a wizard in his own right."
call your mother make sure she knows
you love her well the money
is never going to lend itself
don't beat around the bushes
pick up the phone and make the call
he ain't your brother he ain't looking out for you
he's flipping the scripture to do the things
that he wants to do he'll say
'all you need is love'
how come you don't want to ball?
We're talking ulterior motives
coming up from under the bridge
and the air ain't often clean overtop the dirty water
get your shit together and make a request
you can feel in your heart
because I know that you know that
I know what it is that you want
– "Ulterior Motives," Bendigo Fletcher
For Anderson, the title captures so much of the Bendigo Fletcher ethos – one that celebrates connection and revels in good company. "I have found laughter — or vice versa – at the borders of sanity, at my wits' end, between bouts of grief and in true elation. It's the greatest common denominator of human kind! Consistently, It seems to be a primal response when I learn an important lesson.  Having spent time listening to artists like John Prine, Loudon Wainwright, Dolly and Swamp Dogg, I'm dually inspired and put at ease when humor can push a song's heart, even the sad realizations within it, to a more resonant and beautiful effect."
"Before Fits of Laughter, our music comfortably fits into the 'folk' description," Anderson adds. "I don't think this album diverts from that too much, but for me it bucks the genre parameters in a way that feels liberating for us. We embrace it as pop just the same. We've been working for a long time on some of these songs, a few of which are older than songs on our most recent EP "memory fever". The more electrified (and digital, at times) instrumentation of Fits of Laughter called for more attention and money to finally record it in the way that we felt would serve the songs. And again, Meeting Ken Coomer and Geoff Piller (sound engineer and mixer) was fortuitously in line with the now-or-never, all-or-nothing mentality we mustered going into recording Fits of Laughter."
Highlights abound on the journey from "Sugar in the Creek" to "Ulterior Motives," with Bendigo Fletcher embracing a full spectrum of emotion and sound along the way. Bluesy moments like "Birding," "Donkey Boy Blues," and the beautifully tender "Buffalo Rodeo" are contrasted well against higher energy outbursts like "Evergreen" and the smoldering "Astro Pup," which steadily rises out of folksy roots to a feverish upheaval (before coming back down again).
---
"The song 'Retail Lord' was written one morning after waking up from a dream in which Saintseneca's "Happy Alone" was playing from an overhead speaker in an old Lazarus or JCPenney," Anderson says, citing one of his personal favorite tracks. "The first verse is pretty much what was going on in the dream — a sword fight with a particular frontman who was trying to free me from my day job — and I woke up and wrote the rest into a love song to my partner. She and I had been bonding hard over their music, and 'Retail Lord' felt like a gift from its intertwining with my own blossoming love story."
"I'm not sure about a [lyrical] favorite," he adds, "but the one that follows me around the most is "call your mother" from 'Ulterior Motives.' Practice what you preach, right?"
---
With its vivid blend of nature and everyday life imagery, Fits of Laughter feels tailor-made to slip into our daily routine. Anderson captivates through evocative vocal performances, but it's the full band's support – wily, lush electric and acoustic guitars; full-bodied harmonies; strumming bass and grooving drums, that together make every song resonate around and within. All in all, it's a phenomenal debut ready for repeat listens, offering a world in which we can get lost and found at once.
"I hope listeners might take some impetus to forge their own path, freedom to learn lessons in their own way and time, and to look for little sparks of laughter in the dark crevices of modern day livin'," Ryan Anderson shares. Experience the full record via our below stream, and peek inside Bendigo Fletcher's Fits of Laughter with Atwood Magazine as the band goes track-by-track through the music and lyrics of their debut album!
— —
Stream: 'Fits of Laughter' – Bendigo Fletcher
:: Inside Fits of Laughter ::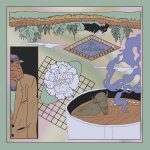 — —
Sugar in the Creek
These are fully baked assumptions of a half-prepared idiot considering living off-the-grid.
Birding
This song was written during the aftermath of a breakup.
Donkey Boy Blues
This song is for all the 9 year olds out there whose teeth are as big now as they'll be when they're 29.
Buffalo Rodeo
I took the name from a legendary band from Bowling Green, KY that has since disbanded, and the recording feels like home sweet Kentucky to me. Included are some fond memories of my parents (still very much more than alive and well, thank goodness) and perhaps the moodiest groove achieved on the record.
Evergreen
This is one we've been playing for many years, and we're all very happy with how it was finally captured at Paper Moon studios.
Astro Pup
For a while a few years ago, my friend Erin let me live with her at too affordable a rate. She was dog mom to the most beautiful good boy named Spiff, who was very needy, just like me. So we lived in a cycle of love and occasional annoyance when he'd wake me up too early. How I wish to be awoken by Spiff just once more. RIP good boy.
Retail Lord
This one maybe has the longest sentence I've written in a song.
Ulterior Motives
This recording surprised us the most and is thus one of my favorites on the album.
— —
— — — —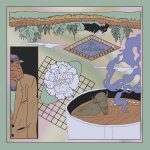 ? © Josh Kranich
---