The LA and Joshua Tree-based art-pop group Banny Grove reflects on the saving grace of imagination in the adult world.
•• •• •• ••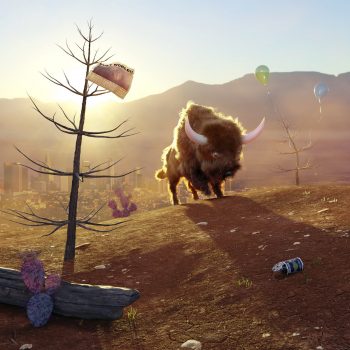 No contemporary pop star can restore faith in humanity and make the sun come out again quite like Southern California's Banny Grove. The brainchild and alter ego of desert-dweller Louise Chicoine, it is the sound of unadulterated fun via experimental fantasy—in other words, there are few rules and conventions she cares to heed. Chicoine's main concern is to deliver us from mundanity, to offer shelter from the often overwhelming bleakness of the world through radical self-expression. The charmingly unconventional vocalists confront societal problems with visceral sonic silliness, grooving melodies that move like Flubber, and tongue-in-cheek lyrical flair (see Barbie-inspired ode "Malibu"). Most of all, she is a beacon of earnest happiness,  as is best captured on spoken-word jam "So Happy So Good," a celebration of simply being alive and taking in the beauty that exists so readily available to us in any given moment. In that sense, what Banny Grove is doing right now is a pure and much-needed rarity.
Although it was born as a solo project several years ago, Banny Grove is now three people parading around in the metaphorical trenchcoat of the whimsical avant-pop diva (Chicoine's partners-in-joy are Taylor Bybee and Peter Nichols). Atwood Magazine met up with them at Treefort to sit in the grass and pick their wonderfully weird brains.
— —
A CONVERSATION WITH BANNY GROVE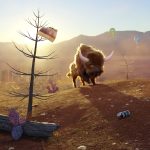 Atwood Magazine: How did Banny Grove come into existence?
Louise Chicoine: It was the idea of a pop star that you could admire. It was a make-believe character at first, that I would sort of watch perform in my head. It was kind of funny and would brighten my mood, and we just brought it to life. It's a spinoff of elements of my childhood and stuff like that, but the character and the name came in my early twenties while I was waitressing at this restaurant called Green Bean. I would do morning shifts and I would pretend to be Banny Grove while I was getting ready for the day.
Do you have any real-life pop star figures who you can admire in that way?
LC: When I first started pretending to be Banny Grove in those early mornings, I was listening to a lot of Blondie, just 'cause she's got these hits that almost bring you to tears. They're so beautifully emotional, but also so groovin'. I think about Nina Hagen a lot. A lot. She's got a really good way of critiquing the world around her in a highly amusing and super unique and cool, fashionable way. She's just cool.
How did assuming this character influence how you went about your day?
LC: The purpose of it was to help me start the day in a positive place. It was at a time when I was transitioning into a different way of seeing the world and applying what I'd learned so far in life.
How was your worldview changing at that time?
LC: To be more responsible, and aware of the pleasures and joys that are natural and free and lovely. Like, free to play!
What role does the act of play take in your adult life?
LC: It's super important. A friend of mine was saying that as you get older, it's a choice of if you're going to keep learning, or if you're going to get stuck in a certain spot of life and just stay there in like a tide pool or whatever. If you can stay curious, then you keep learning, and staying curious kind of means willingness to play. So I think it's really important, giving yourself permission to explore in whatever way that means.
Banny Grove grew from something you created on your own, to a two-piece project, and now it is a three-piece group. How do you think this project and your dynamic have evolved?
LC: I think about this a lot. I feel like we were doing really good as a two-piece, and we were having fun and it's fun to read these songs with Taylor. We kind of unlocked this next level, where we're able to look at each other [during a performance] and we're all laughing and smiling in the middle of a song, just totally together in the moment. It feels so good. And the music at that time just sounds so good to us, you know? So yeah. I think that's an important lesson for life, too. That kind of togetherness can make life seem so much more colorful and vivid.
Peter Nichols: Being a three-piece band now, we're moving more away from the conceptual and performance art place where the band started. I've been really enjoying being a real band and putting more focus on the presence of the music itself away from the concepts of it.
With this project and all the mayhem that has been going on over the past few years, how have you found yourself moving through the world?
LC: It's tough. I think like a lot of people are just going one step at a time, trying to just stay on top of what we're supposed to be doing in the moment. The last year was really hard.
I was curious about the spoken-word elements of this project, too.
LC: I try not to like, wrangle whatever I'm doing. Sometimes I'm kinda rapping, and I like to be able to switch from speaking to singing—to be able to put the words out however feels natural and fun. When we first started doing this, I was trying to imagine that I was sort of a kid or a kid-like entity who had never really sung a song and was just trying to play. Kind of like when you overhear a kid playing and singing to themselves. They're not following a melody or a strict method. They're just kinda in and out—it's improv. And I wanted to be able to do that.
You can go back and forth between this version of the world you create, and then the actual, physical realm around you. It's special to be able to jump in and out of that and traverse both.
LC: Yeah. And share them with each other, you know? Like, share your own personal play with other people, too. We try to.
— —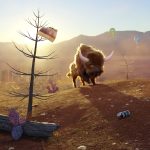 ? © Sophie Prettyman-Beauchamp
:: Stream Banny Grove ::