Teasing their debut album, "Midnight" is the perfect cross between the Black Honey we know and love – big dance-floor-ready disco – and pop perfection.
— —
When Black Honey posted a photo of themselves dressed up on a discotheque dance floor à la ABBA, it was our first clue that their new single "Midnight" would be something far different than their usual shoegazey retro-hazy pop-rock. The third single release off of their upcoming eponymous debut album, "Midnight" (released 8/2/18 via Foxfive Records) is an electrifying shock to the system. Lead singles "Bad Friends" and "I Only Hurt The Ones I Love" feel practically subdued next to "Midnight"'s energy and dance-heavy beats, leaving lots of room for us to speculate at what the sonic makeup of Black Honey (out 9/21/18 via Foxfive Records) will be. 
While the mixing in "Bad Friends" at first feels more forced and electrical, it eventually allows the drama of its narrative to take over. Second lead single "I Only Hurt The Ones I Love" continues to veer into the more cinematic territory Black Honey is known for. Namely, it's easy to imagine yourself in a spaghetti western, racing through the desert, in the latter. "Midnight," however, is pure Saturday Night Fever with a touch of modern synthpop, pumped up and popped out with a beat that's sure to get even the most fervent disco haters up and grooving…or at least tapping along. While it's a bit of an unexpected direction, "Midnight" is by no means an unwelcome one. You'll want to turn it up before it hits the ten-second mark.
Listen: "Midnight" – Black Honey
---
We're thrown into "Midnight" immediately, with frontwoman Izzy Phillips' commanding vocals setting the scene. It's a side of Phillips' vocals we've only caught glimpses of before, and she plops us right into the song's glitzy narrative within the first ten seconds by way of the opening lines…which only set the stage more for the explosive chorus.
It's just a telephone,
We're dancing on our own,
Red lips and pleased to meet you,
Yeah, give me tequila
Though it's a mix of one part tequila, one part disco, one part ominous foreshadowing, and one part signature cinematic touches, there's truth in lines like the snappy "they killed my rock n' roll," as Phillips delivers the line with the proper angst such a phrase deserves. Black Honey is still a rock band, but that doesn't mean they're not allowed to disco-synthpop their hearts out. In fact, good on them for thinking outside the box and challenging us listeners to think—a little bit, between lyrics—about what it means if "true" rock is dead. (Is it? When did it die? Did disco kill it? Is this a murder mystery? It feels like it, with a hint of foreshadowing lurking behind lyrics like the dangerously-delivered "what goes around comes around.")
I want your midnight, honey,
I'll take it for free,
I want your midnight, honey,
Only for me
No matter your expectations, "Midnight" feels like it came at just the right time. Besides the fact this summer has shown us that disco has staying power (i.e. the Mamma Mia! sequel), "Midnight" gives us a free pass to dance our hearts out and actually give disco the head nod it might just deserve, if only for allowing us the smallest bit of escapism in this world. Whatever your feelings on dance music, '70s or more current, "Midnight" is the perfect cross between the Black Honey we know and love, big dance-floor-ready disco, and pop perfection. Now if you'll excuse me, I'm going to go find a shimmery jumpsuit and try to outshine a disco ball somewhere while I wait for an accompanying music video.
— —
— — — —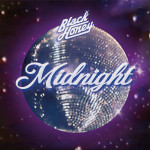 ? © Lauren Maccabee
:: Stream Black Honey ::