Black Honey are decidedly different. They're a circle in a group of square pegs, an enigma and served with a side of retro nostalgia. Call their music rock, shoegaze, pop, pop-rock, or any amalgam of those terms and you probably still haven't got their sound 100% right. In a world full of artists who are only beginning to realize the possibilities of crossing genre lines (and choosing to be pretentious as hell about it), Black Honey, who've been making their own unique sounds for years, stand out as a breath of fresh air. More than that, they're one of the few groups out there who are the first ones to call themselves oddballs, wear their nature on their sleeves, and invite you to join in along with them.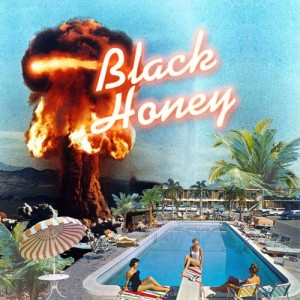 In addition, the Brighton foursome sport a dedication to their art that goes beyond just their music (which is killer, by the way). From the retro collages littering their single and EP covers to Jerry, the pink plastic flamingo that accompanies the band to all their shows, Black Honey carries the torch for sticking to your guns and creating art that speaks to you, no matter how weird others might think you are.
Atwood has been keeping track of Black Honey ever since the release of their single "Teenager" in 2014. With the release of their EP Headspin last year and the steadily-paced release of follow-up singles "Hello Today" and March's "Somebody Better," it's been a blast to watch this group rise from (seemingly) nowhere and take over the UK underground…and beyond.
California sun
I watched you pray you wouldn't fall In love
Then turn apart
The buckles break are the price you pay for
Lonely nights will eat you inside
Send me a sight
Tell me what's real when I live in a lie
[soundcloud url="https://api.soundcloud.com/tracks/311415380″ params="color=ff5500&auto_play=false&hide_related=false&show_comments=true&show_user=true&show_reposts=false" width="100%" height="166″ iframe="true" /]
---
Atwood Magazine recently had the chance to catch up with Black Honey's frontwoman Izzy Phillips — the woman, the myth, the legend — about creating art, close encounters with sheriffs in the desert, and, of course, Elvis in Blue Hawaii. Read on!
MEET BLACK HONEY
Atwood Magazine: You were all part of the Brighton music scene before you became Black Honey. How did you end up coming together to form a band?
Izzy Phillips: We were all housemates, so it was really natural for us. Aside from that I was inspired by the guys' determination and love of music, I could really relate to that.
What's unique about the Brighton scene that's informed the music you create or how you've developed as a band?
Izzy:  In Brighton you are kind of celebrated and expected to be different. It felt like a community of perfect weirdos, all asking similar questions and working towards common goals, so it's exactly where we belong.
You've been releasing music for several years now and have grown a huge fan base throughout the UK and beyond. One word that consistently pops up when describing how Black Honey has developed is 'enigmatic,' seeing as you began as a somewhat 'secret' band that built up. Now it seems like music critics and the industry are finally catching up with what your fans have known all along. What's it been like watching your fan base grow, and watching as more people come to love your music?
Izzy: It feels fucking amazing. Everything in this weird and wild world comes into sudden focus and finally makes sense because we are in it together. We love our fans so much, I couldn't even put it into words.
Your latest track, 'Somebody Better,' deals with a relationship that's fallen apart and discovering more about yourself, in a way. Can you tell us a bit more about…the song?
Izzy: Yeah, I think it's more a self-sabotage in a relationship and the world around you.
Watch: "Somebody Better" – Black Honey
Yeah, definitely. What does your typical songwriting process look like?
Izzy: Me playing guitar in my knickers to drum loops watching Wes Anderson movies.
Everything in this weird and wild world comes into sudden focus and finally makes sense because we are in it together.
A big moment for you was coming to California to shoot the video for one of my favorite songs, 'Hello Today.' The video fits so well with the rest of your music and aesthetic, it's hard to believe it's your first! Can you tell us a bit more about how this all came about?
Izzy: I've been friends with Nadia for a while and wanted to work with her on this piece I'd written about a girl burying her heart in the desert. I loved the symbol of using a human heart and the idea of contrasting beauty and obscurity. It was fun and challenging to make, there was no running water, no electricity and the sheriff came to try and shut us down.
Watch: "Hello Today" – Black Honey
Somewhat going off of that, your Instagram is full of films stills and quotes from David Lynch, Quentin Tarantino, and more. Your music also refers to film and television. From the lyric 'we live in a movie' in 'Corrine' to 'dead on the silver screen' in 'Bloodlust,' our fascination with moving pictures is a recurring theme in your songs—so much so that they've been described as 'cinematic' themselves. What is it about film that intrigues you and informs your music?
Izzy: I don't think I'm alone in saying that when I listen to music it kind of transforms my experience of the world into something more cinematic. I like to pretend I'm in a movie when I'm in the van or walking to the studio. The screen idea is a thing for me is cause it feels like the world's new religion. Everything that we want to worship always manifests itself through a screen and I find that kind of interesting.
That's so cool! You're also very active in different media as well—you write poetry and paint. Do you find that exercising creativity in a variety of different forms help to stimulate creativity overall?
Izzy: Yeah, and it helps my mental health. Sometimes my best ideas come to me whilst painting my leather jackets, planning shoots, drawing, or working on poems. My creativity is everything so I have to keep stimulated; it also helps me keep calm and my emotions in check. If I don't create I'm a nightmare, I get very agitated and sleepless. I wouldn't wish it on anyone.
Your album artwork also sort of ties in with all of this. Can you tell us a bit more about how you came to work with Olivia Savage to create such strong visuals?
Izzy: Liv is a good friend from Brighton I met her through Corrine, [my friend] who I wrote the song about. I think we will always work with Liv and support her artistically.
As we've touched on before, ideas of California and the American West figure in strongly to your songs, album covers, and music videos. Any chance you'll be heading to California (or anywhere in America) to play anytime soon? We want to meet Jerry the Flamingo!
Izzy: Hopefully soon!
Everything that we want to worship always manifests itself through a screen and I find that kind of interesting.
You've toured extensively around the UK and Europe, including at Reading and Leeds and The Great Escape in your hometown. What's been your most memorable show to date?
Izzy: I think it's a toss-up between touring Japan and Korea, the Cavalli show at Milan fashion week and Reading festival.
You also recently played a show for Help Refugees with the likes of Peace, Slaves, and Years & Years. What was that experience like?
Izzy: Yeah, it's wicked to work with other bands and learn from them. I keep quite to myself (and the guys) when it comes to writing music so it was really exciting. I made some lifelong friends like Isaac from Slaves.  Also, working with the Help Refugees guys was amazing, Josie who runs it is a total hero.
Do you have a particular song that you love to play live? Or, is there a particular song that your fans especially love you to play live?
Izzy: I love "Spinning Wheel" at the moment and fans go mad for that one too. They also love "Corrine," "Hello Today," and "Sleep Forever."
What's been on your personal playlist lately? And, seeing that you're into film, what's been on your "must-watch" list lately?
Izzy: I've been obsessed with "Ruminations" by Conor Oberst and my fave films at the moment are Faster Pussycat Kill Kill and Elvis in Blue Hawaii.
So, what's next for Black Honey? Any word yet on a debut album?
Izzy: Next we hit the road with our Brighton bros Royal Blood, then we hit up the festival circuit with shows like Reading and Leeds, Ibiza Rocks and loads more biggies TBA. It's all pretty hush-hush on the album at the moment, we keep writing so much new material that it's hard to pin down. But what I can tell you now is that we have a lot up our sleeves that will start dropping this summer so watch this space.
---
Whatever's next for Black Honey, one thing is certain: It probably won't be something that's easy to predict. And that's part of the beauty behind all Black Honey's enigmatic layers — their music encourages listeners to be themselves, no matter how strange. We're looking forward to seeing how Black Honey keeps music weird, wonderful, and welcoming for a new generation of perfect weirdos.
– – – –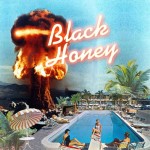 cover © Charlotte Patmore

:: Listen to More Black Honey ::