This Black History Month, Atwood Magazine has invited artists to participate in a series of essays, interviews, reviews, poetry, playlists, and more features in recognition of, and out of respect for the symbolism and significance of this month.
---
Today, soul-stirring Atwood artist-to-watch Emanuel shares his personal essay "A Great Realization" as a part of Atwood Magazine's Black History Month series. Hailing from Toronto, Emanuel has dazzled since his summertime debut with sizzling R&B songs that ache and throb in all the right ways. The Motown Records signee's Session 1 and Session 2 EPs – both of which serve as mini previews of his upcoming debut album, ALT THERAPY – reveal a multi-faceted, reflective, progressive, and self-aware artistry aimed at fostering connection and love for all who listen. While his debut single "Need You" showcases the range and sheer power of his voice, Emanuel's latest songs – "Black Woman," "Magazines," and "PTH" – are each a stunning world of enthralling sound and sincere sentiment. In our recent feature, Atwood Magazine's Mitch Mosk praised Session 2: Transformation as a "moving soundtrack of healing full of powerfully stirring, emotive, and inspiring music."
Emanuel's flow is impeccable, his often sweeping instrumentation is flawless, and his lyrics are touching – especially on "Black Woman," a stirring and overwhelmingly heartfelt ode immersed in past misgivings and a desire to cherish, behold, and bestow honor and love to Black womxn everywhere. The artist leaves little doubt that ALT THERAPY will be a very special, sonically and emotionally nuanced record – and one to look out for on 2021's best-of lists.
"I equate the sessions to seasons in my life. Titles like "Disillusion" and "Transformation" represent the obstacles and triumphs of this testimonial. I think the end goal is to really have an alt "therapy session" with the listeners. Telling my story as best as I can with the hope of connecting and for it to be something people can relate to. I think music is one of those beautiful things that connects the entire world. I really want to tap into that." – Emanuel
•• ••
A GREAT REALIZATION
by Emanuel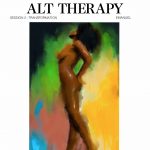 Growing up being raised by a single woman, there was so much I didn't understand about my mother's experience. I didn't know what she faced daily. The glass ceilings put in place to ensure she didn't rise in her career, people in positions of power insisting drugs were the answer to a child's inability to concentrate on a curriculum, the lack of representation in our communities from women who shared her experience – all the while being my protector and benefactor.
"Black Woman" was a song born from that realization.
It also informs the listener about how I see my sister. Growing up being raised by a single woman while also being a sister, forced her to take on a lot. She had to make space for me, for my experience, while hers was suppressed daily. As my older sister, she took care of me. She often gave of herself. Her patience, her kindness, her privacy – all to make space for me in a world that didn't make sufficient space for her. These realities are very heavy.
I yearned to find a medium to express what I had learned and to do it in a way that didn't centre on my experience. I wanted to have an important dialogue and to strip the song of silver tongued overindulgent sentiments. I didn't want to sexualize Black women, I wanted to tell a story of a divine daughter of God whose story has been mishandled. Whose truth has been the target of generational mudslinging. All the while, she supplies the world the men that we would call kings throughout history, and by force. I wanted to tell the truth about these women after living so long not knowing the truth.
— —
Cocoa-butter kisses, wipe my tears away
I wanna feel you like cold water dripping down my face
I wanna fly high like the stars that I see
Like the birds in the sky, like the birds in the sky
How do you reconcile, rectify, free your mind?
Bondage, they have me in shackles
How do you smile when you've got nothing to smile about?
How do you love when you've got no one coming back to the house?
Black woman, sometimes
Sad woman, but all of the time
She's a queen from another place
Why are you so displaced?
Shе's a goddess walking on earth, baby
Superwoman, powеr comes from the sun
Lovely woman, my only one
Mother of creation, all the nations
Sing your praise without knowing
Black woman, sometimes
Sad woman, but all of the time
She's a queen from another place
Why are you so displaced?
She's a goddess walking on earth, baby, yeah
How do you love?
How do you love the way you do?
What did I do to deserve you?
Why do I always desert you?
How do you feel when they don't feel for you?
How do you love when they don't love you back? No
Woman, sometimes
How do you love, how do you love the way you do?
Black woman
— —
— —
— — — —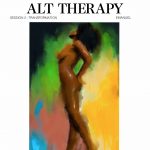 ? © Matt Barnes
:: Stream Emanuel ::