Chicago's Sincere Engineer follow up their debut album with a solid second offering in 'Bless My Psyche'.
Stream: 'Bless My Psyche' – Sincere Engineer
---
"I think my music is relatable and I hope it makes people feel like they're not alone," says Deanna Belos, vocalist, guitarist, and creative force of Chicago's, Sincere Engineer. With tracks like "Corn Dog Sonnet No. 7" and "Screw Up" from the project's debut album, 2017's Rhombithian, it's clear that Belos knows how to address and grab a listener; who isn't at the very least compelled by the idea of a corn dog sonnet? Now, in 2021, Sincere Engineer continues their reign of genuine relatability with their follow-up record, Bless My Psyche.
This is my grand introduction
I'm lyin' face down in the street
for the second time this week
All of my plans failed
All the things I promised you I'll never get around to
Released September 10, 2021 via Hopeless Records, Bless My Psyche opens with "Trust Me," a sonic and emotional rager about feeling dead inside and not being able to break out of a cycle of anxiety and expectation. This track is undoubtedly relatable, regardless of how many times one finds themselves lying face down in any given street. Belos and Co. strike a strong balance of emotion and hook on this tune; one that's fit for a sweaty crowd, in a sweaty venue, singing in unison. From here comes "Tourniquet," a track in three parts: an acoustic introduction, a brief, mid-section punk breakdown, and an instrumental outro, all while dealing with loss and apathy. The emphasis on these feelings becomes physical when Belos makes reference to winter and the ever uncomfortable feeling of cracked, dried, and bleeding hands. "Out of Reach," third in the lineup, is a solid, mid-tempo banger that keeps up with album's emotional trends. The instrumentation and progressions are melodic and dynamic, and the inclusion of organ on this track is nothing short of top-notch.
I can feel you in today's breeze
I can feel your ghost sleeping next to me
It's winter again and there's cracks in my skin
Nothing stops the bleeding
"Recluse in the Making," starts with white noise, Belos lamenting consistent fatigue, and feeling like the things that once brought her joy have become somewhat stagnant. The idea of becoming a recluse and losing interest in things is very natural, but given that this song exists post-2020, lyrics like "On my way to realize there's gotta be something more" and "See all these people, and they seem glad to see me/ I just got here but I wanna leave and I can't do that" hit harder. The instrumentation on this track is eclectic and textured, which helps to soften the idea of becoming a shut-in. "Hurricane of Misery" brings the energy back with its melodic guitars, driving drums, and urgent vocals shouting about love and trying to keep things together while "Gone for so Long," comes across, conceptually, like a punk version of "Friday I'm In Love." Belos details her life, day-by-day, ranging from just feeling fine, to missing someone she was once in love with, to getting high, to wanting to die. It's a love song and we've all been there.
Monday, you're on my mind
Tuesday, Wednesday, no sunshine
Thursday night, I wanna die
Another Friday, fine
I'm still missing you tonight
"Come out for a Spell" and "Dry Socket" are back-to-back, punk jams that seem to deal with romantic and emotional distance and feeling physically defeated from the absence of someone. "Coming in Last" is another heavy-hitter dealing with feelings of stagnation and frustration which opens with a sentiment, generally screamed and white-knuckled, by Chicagoans and Illinoisans, "I-90 is so backed up." The penultimate track, "Dragged Across the Finish Line" is an energetic and melodic moment detailing emotional exhaustion and perhaps unrequited emotional support. The energy is constant throughout, the hook is catchy, and is a strong second-to-last moment on the record.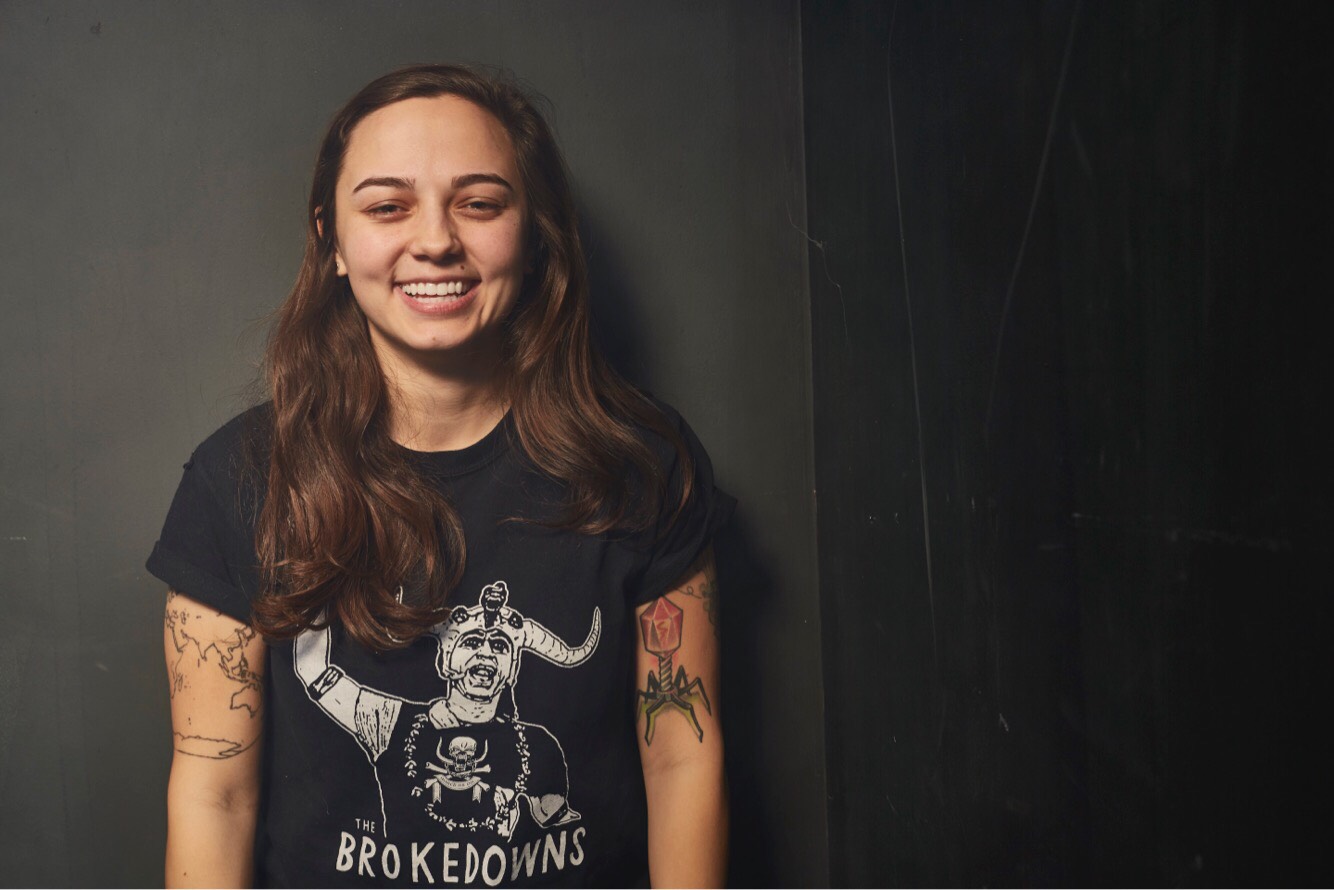 Closing out the album, "Bless My Psyche," the title track is an intimate acoustic number that seems to work towards reconciling the ideas of not wanting quit and acknowledging how difficult it is to motivate one's self under crushing and persistent existential dread. It's melancholic, but in the Sincere Engineer modus, entirely relatable.
Bless My Psyche is a strong, second offering from Sincere Engineer. For its combination of relatability, emotional depth, and punk energy, this album is sure to be one that connects with fans and newcomers alike.
— —
— — — —
? © Hovland
:: Stream Sincere Engineer ::
---