Under their supergroup 'boygenius', to call Phoebe Bridgers, Julien Baker and Lucy Dacus geniuses is arguably accurate.
— —
Wishes came true for fans of Phoebe Bridgers, Julien Baker and Lucy Dacus this week. The three singer/songwriters — who have each become renowned masters of melancholic indie folk in their own rights — made music news headlines when they teased a collaborative project earlier this month, and again when they surprise-dropped a taste of what's been tucked up their sleeves under their supergroup name, boygenius.
While this trifecta is fueled by girl power with no trace of a boy, to call Bridgers, Baker, and Dacus geniuses is arguably accurate. This genius is heard in their three devastatingly remarkable new singles: "Bite the Hand," "Stay Down" and "Me & My Dog."
---
Dacus, whose sophomore LP Historian has already been often dubbed as one of 2018's strongest rock releases yet, introduces "Bite the Hand" with her unmistakably full-bodied timbre. A self-deprecating ballad driven by plugging guitars, the verses mull over reasons why a certain romance is doomed to collapse before the trio unites in a mixed-meter cantation for the chorus. The repeated "I can't love you how you want me to" lulls listeners into an introspective trance.
I can't hear you, you're too far away
I can't see you, the light is in my face
I can't touch you, I wouldn't if I could
I can't love you how you want me to
I can't love you how you want me to
I can't love you how you want me to
-boygenius, "Bite the Hand"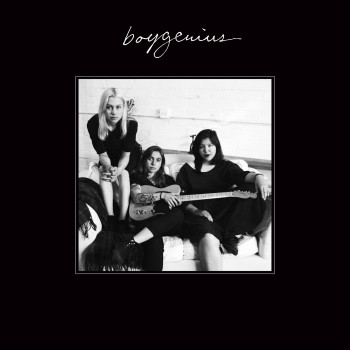 Baker takes the lead with "Stay Down," a painfully vulnerable account of a breakup's violent aftermath. For devoted listeners, the track's atmospheric orchestration draws parallels to Baker's solo works, especially her most recent full-length, Turn Out the Lights. While her individual moments soar in "Stay Down" as per usual, the assistance of Bridgers and Dacus provide a layered amplification that perfectly lead to Baker's raw, gut-wrenching belting of the song's helpless title.
So would you teach me I'm the villain
Aren't I, aren't I the one?
Constantly repenting for a difficult mind
Push me down into the water like a sinner
Hold me under and
I'll never come up again
I'll just stay down
-boygenius, "Stay Down" 
Lastly, for "Me & My Dog," Bridgers yields the mellow folk and angelic vocals that made her debut album, Stranger in the Alps, one of 2017's musical standouts. The most upbeat of the three tunes, "Me & My Dog" details a now-amicable breakup and the dichotomy of struggling to recover — while actually not being OK at all. Bridgers pleads for a peaceful escape from the sorrow in a way that'll make any lovesick listener relate.
I never said I'd be all right
Just thought I can hold myself together
But I couldn't breathe, I went outside
Don't know why I thought it'd be any better
I'm fine now, it doesn't matter
-boygenius, "Me & My Dog"
Naturally, there's more where these three masterpieces came from; the six-track boygenius EP is due out November 9, 2018 via Matador Records, and knowing the ladies behind it, there's going to plenty more heartbreaking lyricism, soothing melodies and goosebump-raising vocals in store. Bridgers, Baker and Dacus have established themselves as experts in somber songwriting, but ironically enough, we couldn't be happier they're here.
— —
— — — —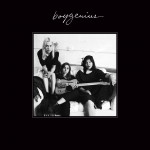 ? © Lera Pentelute
:: Stream boygenius ::
---

:: boygenius 11/2018 tour ::
4/11 – Nashville, TN – Ryman Auditorium
6/11 – Brooklyn, NY – Brooklyn Steel
7/11 – Brooklyn, NY – Brooklyn Steel
8/11 – Boston, MA – Orpheum Theatre
10/11 – Toronto, ON – Danforth Music Hall
11/11 – Detroit, MI – Majestic Theatre
12/11 – Chicago, IL – Thalia Hall
13/11 – Chicago, IL – Thalia Hall
15/11 – St Louis, MO – The Pageant
16/11 – Madison, WI – The Sylvee
17/11 – Minneapolis, MN – First Avenue
19/11 – Denver, CO – Ogden Theatre
20/11 – Salt Lake City, UT – The Depot
23/11 – Vancouver, BC – Commodore Ballroom
24/11 – Seattle, WA – The Moore Theatre
25/11 – Portland, OR – Crystal Ballroom
27/11 – Oakland, CA – Fox Theater
29/11 – San Diego, CA – The Observatory North Park
30/11 – Los Angeles, CA – The Wiltern