'Music Is History' feels bigger than Questlove's previous work: It offers a renewed respect for music's and a nuanced understanding of world events.
Stream: 'Phrenology' – The Roots
---
At this point in his career, Questlove has nothing left to prove.
He's the drummer of hip-hop's timeless group The Roots, who have proven themselves incapable of putting out bad albums. He's had a hand in classic albums such as D'Angelo's Voodoo, Common's Like Water for Chocolate and Erykah Badu's Mama's Gun. His role in the nineties collective The Soulquarians is well-documented. In short, he's a lifelong student of music who has influenced it plenty himself.
But his success isn't just confined to vinyl. He has written six books, and this summer released his first documentary, Summer of Soul (…Or, When the Revolution Could Not Be Televised). His latest book, Music Is History, seems like the literary cousin of The Sundance Grand Jury Prize winner, not because they cover the same work, but as both reinterpret history—both musical and world—in a more inclusive way. Starting in 1971, the drummer presents events, albums, and personal stories for every year, with each chapter becoming a brushstroke in a grand painting. The masterpiece he's creating: An American history told through music, and a reexamination of music through the context of the world. These two ideas are obviously intertwined, but separating them allows Questlove to show us a different understanding of the previous five decades.
But, please don't think it's some boring textbook.  Ever page is sprinkled with Questlove's quirky humour, themed playlists (which you should immediately re-create) and enough anecdotes to feel like you know him personally by the end. If you've ever listened to his radio show Questlove Supreme (and what do you mean you haven't?!) you'll know that he's a person bubbling with personality—and it all spills onto the page.
But Music Is History feels bigger than his previous work: You walk away with a renewed respect for music, and a nuanced understanding of world events. Albums like Marvin Gaye's What's Going On and Sly and The Family Stone's There's a Riot Goin' On—both sensational albums in their own right—become even mightier with the context of the early seventies comedown. James Brown, a titan by any measure, becomes more artistic and influential, not just being a star of his genre but growing to dominant others as the funk boom faded. Even soundtracks, in particular Curtis Mayfield's Superfly, finally get some respect as great albums in their own right. There's a lot of dues handed out in Music Is History, and most of them land at the feet of those who have been criminally underrated by modern music fans.
Questlove's latest book isn't a memoir, despite the personal stories, nor is it a history textbook, despite the mass amounts packed in.
It isn't even a year in review, despite it capturing the major (and minor) events through the decades. Rather, like a Root's record—and like most of the album's described in it's pages—it meshes all these genres into an unforgettable, mind-opening read. At this point, would you expect anything less from Questlove?
— —
— — — —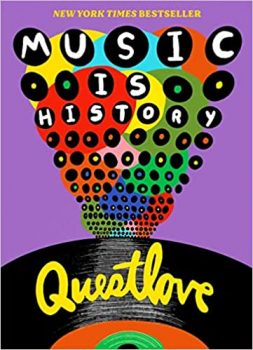 ? © Daniel Dorsa
:: Stream The Roots ::