Jackie McLean of the indie band Roan Yellowthorn grants us an inside look at the making of an album from start to finish in her 'Breaking The Record' column.
---
Self promotion. It's the thing most artists hate most. It's awkward. It's uncomfortable. It feels like bragging. But I think the real reason that I (and maybe others) don't like it is because it feels dishonest. I believe that connection is best fostered through vulnerability and honesty. This means showing all of the sides – the successes and the struggles. And, don't doubt it, there are a lot of struggles. With social media, people often show the best sides of their lives. For artists, this is par for the course. We want to feel like we're doing as well as everyone else around us. It's a high bar when you consider that everyone, for the most part, is highlighting the good. There's a lack of transparency.
It can be embarrassing to admit to the struggles. But I'm not embarrassed to tell you that I struggle every day. I've struggled financially. I've struggled spiritually. Emotionally. I've felt humiliated, disenchanted, frustrated, devastated. Things that I've wanted have fallen apart. I've encountered repeated rejection. I want to be transparent about this.
Just jumping into the Breaking The Record series documenting the making of our album from start to finish? Read part 1 here!
I've been trying to get a booking agent for about 5 years and still don't have one. My partner and I book all of our own tours and shows. I've had shows where no one shows up. I've cried in the bathroom of a bar before playing live because I knew I was going to have to play to an empty room, to the sound engineer alone. I've been about to go on stage (this was the same night, actually, as the crying in the bathroom,) and tried to encourage people who were sitting at the bar to come into the back room where the show would be. I steeled myself and approached strangers. It was terrifying. One guy I went up to looked at me after I told him I was about to go on stage and said, 'if you can't tell, I'm eating right now.'
I think that's what really pushed me over the edge and led me to cry in the bathroom.
But what did I do after that show? I posted to Facebook that the show went great. Of course I did. Because I felt that pressure many artists (and non artists) feel to project success even when it's not felt it in the moment. And because I didn't think I could handle the sympathy and pity that might have come from telling people that I drove 4 hours to play a show where no one was there and that I cried in the bathroom before I went on to play for an empty room. That would have been depressing. I didn't want attention for failing. That would have made it feel even worse. It would have amplified my own self-doubt; the nagging naysaying voice that whispered success was impossible. The voice that said that, no matter how hard I tried, I would never get to the place I imagined – the place with no failure. Only success – confidence and adoration. But we all know that that place doesn't exist. I understand that now. And I don't want it anymore.
Now, what I want is to be honest. To live a real life. To forge a real career. To embrace reality – the ups and the downs both in equal measure. They both have something to offer and to teach.
More and more, I think that failure is an integral part of trying to do something. It's just part of the process. It never goes away. It's just a matter of how you deal with it. There will always be disappointments. But, if you're lucky, there will always be opportunities, as well. The more you fail, the more you set yourself up for good things to come along. Disappointment and failure isn't really a mark of failure. Rather, it's a mark of effort. The more you try, the more disappointment you will encounter just because of percentages. But, then again, the more you try, the more opportunity you'll make for yourself. And the gains should be celebrated. Because they're hard won.
I'm counting down to the album cycle that will start at the beginning of next year. I can't wait to release my new album. It's so good. And I want the world to hear it. To help that along, I'm going to promote my music. But I'm going to do it differently than I have in the past. I'm going to be honest and transparent about the process. I don't want to perpetuate the invisibility of failure and disappointment. I think that, if I show all of the pieces, it will help the good to shine even more brightly. That's part of the reason I love writing this column. It feels refreshing to me to be able to show everything. Radical honesty. That's what I believe in. It's a shift I've been feeling strongly lately. I'm human. I fail sometimes. I cry. I love. I succeed. There are ups and there are downs. And I embrace it all.
Listen to my new Chris Cornell cover 'Can't Change Me' out now!
— —
— — — —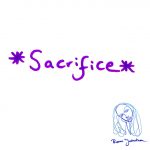 ? © Jackie McLean
:: Breaking the Record ::
---