NYC's five-person posse Gangstagrass continue to prove that creativity can come from all walks of life on their genre-inclusive party anthem "Ain't No Crime."
Stream: "Ain't No Crime" – Gangstagrass
[soundcloud url="https://api.soundcloud.com/tracks/825803344?secret_token=s-XMixdtRTSap" params="color=ff5500&auto_play=true&visual=true&hide_related=false&show_comments=true&show_user=true&show_reposts=false" width="100%" height="300″ iframe="true" /]




---
Prior to COVID-19's intrusion on daily life, I was in the midst of a highly informative music history class at Salem State University. Our weekly meetings normally encompassed the lineage of blues rock, jazz, soul and rock n' roll, particularly since the early 1900s. The common thread of the class was an emphasis on Black voices-in other words, the true innovators of modern music. We studied anywhere from Robert Johnson's voodoo mystique and devilish connotations, to Little Richard's boundless charisma and unapologetic sexuality.
For what was considered an elective requirement, this class ended up becoming one of my most sophisticated and open-minded during my four-year tenure. No matter who or what we explored, the common narrative revolved around the simple idea that music of all kind is linked in some sort of fashion. Artists normally function as the connective tissue, bridging gaps between different influences and perspectives.
New York's own Gangstagrass embrace this type of mantra in all facets of their music.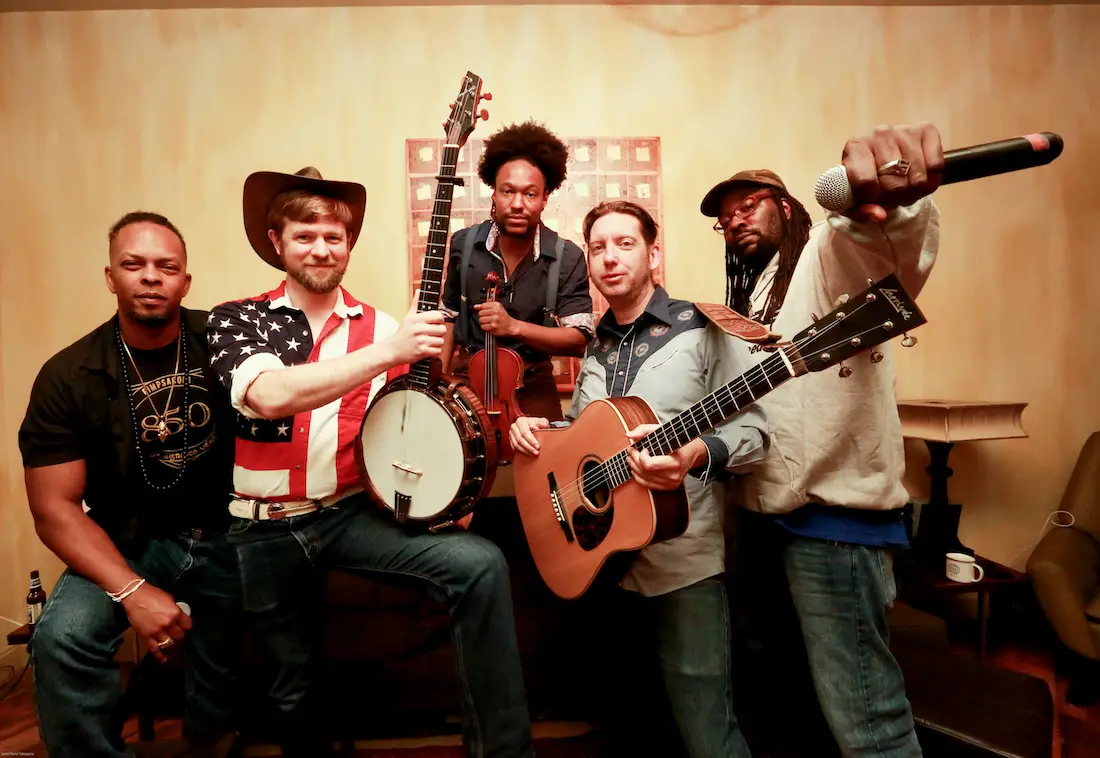 The group of Rench (founder/producer), Dan Whitener (Banjo), Brian Farrow (fiddle), R-Son The Voice of Reason (vocals), and Dolio the Sleuth (vocals) are natural cultivators when it comes to their relationship with their listeners. The goal of their upcoming album No Time For Enemies (set to officially release on July 24 on AntiFragile Music) is to transparently expose music's segregative inclinations through a bluegrass/hip hop hybrid project.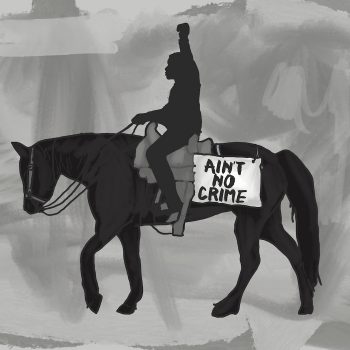 Their new single "Ain't No Crime" discreetly addresses the narrow-minded nature of typical stylistic tropes.
Atwood Magazine is proud to be premiering "Ain't No Crime," the latest single off Gangstagrass' forthcoming album No Time For Enemies (out August 14th, 2020). Genres are as outdated as any meaningless social structure. They inherently infringe on limitless creativity and auspicious growth. The Grammy's emphasizes this archaic construction with award categories like "Best Urban Album." They diminish the brilliance of someone like Tyler, the Creator by sticking his heartbreak masterpiece Igor in the "Best Rap Album" category, even though two or three songs carried any semblance of "rap."
"Ain't No crime" is a minor snapshot of Ganstagrass' overall combativeness. As Rench so eloquently puts it-"The song is intended to serve as a wild party track on its face, with a subtle subtext about liberation. 'Get free, there ain't no stopping the shine' serves double duty as an enticement to joyful abandon but also a call to self liberation of a more powerful sort." You can distinctly hear the connectivity of different eras in music solely off of Whitener's accelerated banjo-playing and intermittent Premier-like scratches (who would've thought?!). The production is just as liberating as the men speaking their history into existence.
"The tempo difference in the verses, musically and lyrically, just shows again how this band is able to do so many different things and blend them together so well," R-SON the Voice of Reason tells Atwood Magazine.
Pro Bowl rhyme y'all high School scrimmaging,
half futuristic half primitive progressive
still rooted in the history that
makes the source of all trueness
I don't give a damn how much your move units,
I'm dragging y'all back to school like truants
back in action tagged backpack then,
don't be surprised when I rhyme in Latin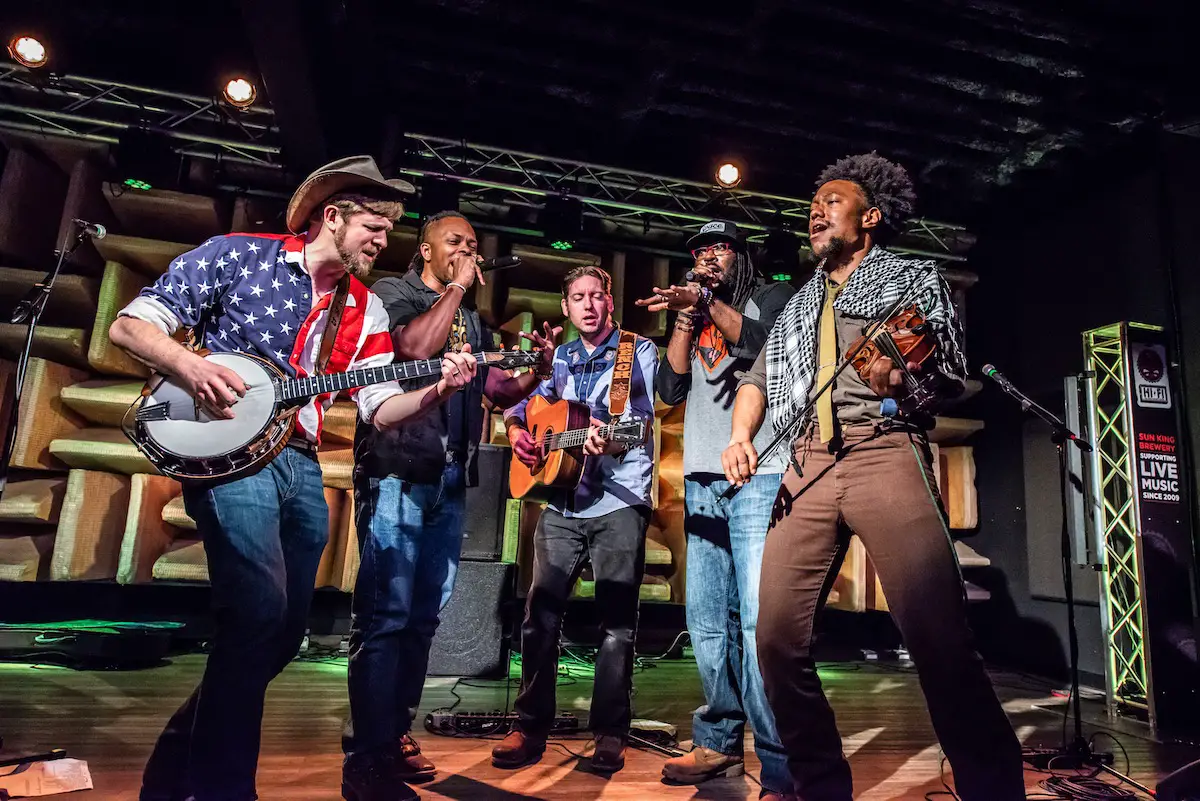 Compared to their most recent single "Freedom" – which was more direct in its rebellious attitude and bluegrass roots – "Ain't No Crime" portrays a perfect balance between two musical aesthetics that many would probably categorize as opposite sides of the spectrum. Dolio's drawn-out pronunciations and perpetual swagger invokes true sovereignty over his own life and the music at large. The chorus is sung with a particular suave fit for a competitive dance-off, and the track abruptly ends as if there's more to the story (based on Rench's ability to look at the world through a macro lens; there's definitely a lot more to tell). The group is basically telling us to have a good time every once in awhile, but never forget how problematic our world currently is.
I see you bout to lose your mind
Get free there aint no stopping the shine
Got it bad, got it bad
Got it bad, got it bad and that aint no crime
I'm excited to see what the rest of the project brings to the table. Gangstagrass has a clear grasp of music's immeasurability. In the meantime, Atwood Magazine is proud to officially be streaming "Ain't No Crime." Listen to the new song below, and pre-save the album!
— —
Stream: "Ain't No Crime" – Gangstagrass
[soundcloud url="https://api.soundcloud.com/tracks/825803344?secret_token=s-XMixdtRTSap" params="color=ff5500&auto_play=false&visual=true&hide_related=false&show_comments=true&show_user=true&show_reposts=false" width="100%" height="300″ iframe="true" /]





— — — —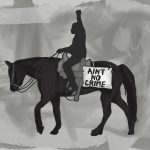 ? © Melodie Yvonne
:: Stream Gangstagrass ::
---