Jackie McLean of the indie band Roan Yellowthorn grants us an inside look at the making of an album from start to finish in her 'Breaking The Record' column.
Stream: "Little Love" – Roan Yellowthorn
---
My new song, "Little Love," is here. And so is the music video. In fact, as of today, the video has over 20 thousand views. It's so exciting to think about all of the people who've seen it. I want to thank all of you for all of your support – for reading and watching and listening along. It means so much to me.
Just jumping into the Breaking The Record series documenting the making of our album from start to finish? Read part 1 here!
We made this video on the spur of the moment – we'd rented a bunch of rented equipment for another video shoot and had it for an extra night. So I just set up some light and a camera in our basement in front of the green screen we have (a piece of bright green fabric tacked to the wall) and sang the song a few times in a row – each time with a different shirt on. I didn't know what the final video would look like, necessarily, but I thought that maybe we could piece all of the clips together to make something cool.
Luckily, our collaborator Dee Galipeau is a visionary and created a video more visually arresting and evocative than I'd imagined. I am so grateful to have Dee and other talented, creative people to work with. It's such a joy and such a relief to be able to hand off creative elements to other people and trust that they'll do something wonderful and unique.
When we started making music 6 years ago, a profound lack of collaborators was one of the biggest and most frustrating challenges. It's hard to do everything alone. Shawn and I know something about what it's like. And, believe me, it's a world of difference when it's not that way. Having experienced the alternative, I really appreciate having trusted creative people to work with. For us, I think this is one of the most significant markers of growth that I can point to. We have people to help us bring ideas to life. I'm very thankful and I don't take it for granted.
For the first EP we ever made, we didn't have any music videos. It wasn't something that was really on our radar. We were super occupied with creating the music and figuring out how to effectively do that. For our second release, a full length album, we had music videos – some DIY and some less so. As we've grown, the process has gotten easier. Some of it has to do with experience level but most of it has to do with the collaborators we've gained along the way.
Bringing in trusted collaborators brings a new dimension to any creative piece. I like to work with creative people whose art and vision resonates with me. And I like giving these collaborators free reign to add whatever they feel called to add. It always ends up resulting in something that's amazing in ways I wouldn't have imagined – because it's a separate imagination at play. Building a creative community of collaborators has always been something I've wanted. I'm happy to feel like I have it now.
And I'm happy that I didn't give up. Six years ago, the vision I had for a future felt very far from reality. At the beginning, it was through the clouds and high above me. I think having faith has played a large part in sustaining me through difficult times; faith in the vision, faith in myself, faith in possibility. You could call it faith or you could call it fixated obsession because I am literally working or planning or writing or doing something all the time in order to bring my vision into reality. But faith must be an important element. I've always known that my vision was possible. That it would happen. That everything I imagined could be. And it's proving to be true.
— —
Stream: "Little Love" – Roan Yellowthorn
— — — —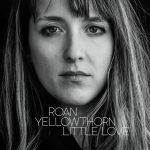 ? © Jackie McLean
:: Breaking the Record ::
---