Bubbling, intimate, and sincere, Bora York's album 'Emotion Vertigo' is a passionate pop affair ripe with love and heartbreak.
Stream: 'Emotion Vertigo' – Bora York
---
Bubbling, intimate, and sincere, Bora York's third album is a passionate pop affair ripe with love and heartbreak. From the first time you fall for that special someone, to moments of hardship and strain, and everything in between, Emotion Vertigo vividly captures the ins and outs of romance.
Atwood Magazine is proud to be premiering Emotion Vertigo, the long-anticipated third album by Minneapolis indie pop band Bora York (out November 8, 2019 via Anthem Falls Music). The husband-and-wife duo Chris and Rebekah Bartels, Bora York have been actively indulging listeners in wave after wave of pulsing, bright and meaningful indie pop since their nascence in 2013. Emotion Vertigo arrives over four years after the band's sophomore record Secret Youth, which spawned the hit "Let Loose" and found the Bartels expanding and exploring the nuances of their pop sound.
Buoyant and bold, Emotion Vertigo is a tender, delicate synth pop rush of feeling.
"The phrase "emotion vertigo" perfectly captures the essence of this entire album – not just mood swings from one song to the next, but just a complete exposing of a full emotion spectrum," Bora York tell Atwood Magazine. "There are full-on love songs, and for the first time with Bora York, we make these obvious love songs. No beating around the bush. There are also complete heartbreak songs. And again, obvious heartbreak."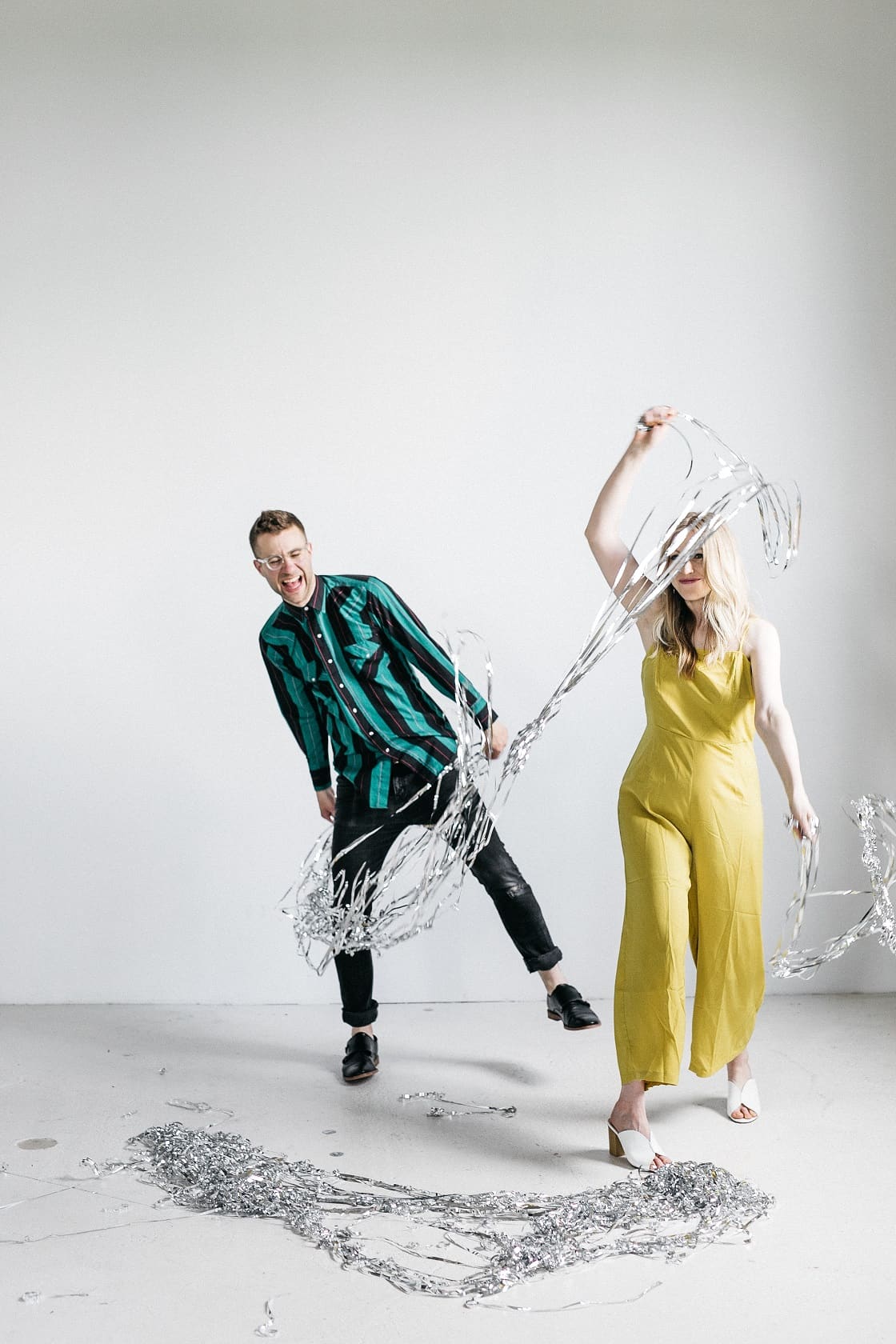 Experience the full record via our exclusive stream, and peek inside Bora York's Emotion Vertigo with Atwood Magazine as the band go track-by-track through the music and lyrics of their latest album!
Stream: 'Emotion Vertigo' – Bora York
:: Inside Emotion Vertigo ::
— —
SILENCE
I usually come up with melodies after the music – this was different. The vocal melody came to me first here, and I remember picking up my electric guitar at the time to quickly figure out chords to match. I didn't even plug in my electric – just started strumming. That's what then gave me the idea to simply record the unplugged electric guitar with a microphone near the strings. It sort of set the tone for a prominent personality of this album – the more raw, organic production side of things. "Silence" wasn't the first song written of this album, but it was close – and I knew right away it'd probably end up the opening track – setting the tone by blending in our big, dream-pop sound with a more intimate, raw sound that is a newer side of Bora York with Emotion Vertigo.
Lyrically, it also previews one side of the album with a deeply emotional opening:
"My fingers are trembling, this winter is old, and my love has gone"
This is quickly followed up by a strand of hope that the melancholy emotion doesn't stay in one place:
"But I walk in faith, I'm never alone, I know you'll come back"
SOMETHING FINE
"Something Fine" is our most obvious love song we've ever written. Just an over-the-top, purposeful, positive love song. The meanings behind a lot of the lyrics I write are often a bit buried, a bit elusive. With this album, especially with "Something Fine" and "The Script," in particular, I wanted to paint a very clear picture for once. Some writers are great at that – telling a story and making it clear, yet unique. I felt like challenging myself in that regard this time around.
It started with that bass line – I had just bought a Yamaha DX7 off Craigslist – a Japanese 80's digital synth which became incredibly popular back in the late 80s and early 90s. While some would say it's sort of dirty, or cheap tone, it definitely has a sound. I was intentional about not having this album sound too clean or polished. I was stumbling around on the presets and came up with that line. Added some drums, and started singing nonsense. All I could think of was the verse line and kept starting it with "for the one, for the one, for the one."
We always say we'll never be afraid of pop songs, which "Something Fine" definitely is. We never box ourselves in creatively, so we avoid writing to a template, but we always just want to write what feels right. A friend of ours calls it "pop experiments." I like that.
GLOWING
"Glowing" was our first single introducing this new album era for us, and it was our first single in nearly three years at the time.
Another love song, but this one steps outside the lines of a conventional pop track. We layer in lots of found sounds, and recordings of various sounds inside our house. There's guitar layers sent through cassette tape, and warped vocal samples. While still centered around a pop-like vocal chorus, the overall feel and production touches on more experimentation.
COLORADO
I spent a year in Denver when I was 20 and it still feels like a second home, even though it's been awhile since I lived there. I'm personifying Colorado in this song – it's a metaphor for letting go of worry, living life to the fullest. "Now I'm breathing in slow motion" – this is about not letting meaningful moments pass you by without cherishing them, soaking them in.
With our 2015 album, Secret Youth, it was pretty dance-heavy throughout. A lot of that album was written in reaction to what was fun about our live shows up to that point. This new album stepped away from that a bit, but "Colorado" is the closest ode to that album, I'd say, in the sense that it has that mid tempo four-on-the-floor beat that is all over Secret Youth.
Minneapolis bassist Ian Allison wrote and recorded the bass part. With the nature of our schedules and lives at this point, we have to sort of fit writing Bora York into the nooks and crannies of our lives. With raising three kids, and working on other jobs and projects, it's hard to schedule far ahead with things, thereby making it tough to collaborate as much as we'd like. But we love what other musicians and creatives bring to the table when we do. On the last album, Vulfpeck guitarist Cory Wong played on a few tracks. Here, we have Ian Allison, an incredible bassist, write and record this part, giving it that extra creative touch.
I FINALLY LET MY HEART GROW AGAIN
This song became quite a meaningful one for me, as it signified an important turning point of this album process, and Bora York as whole. Possibly even beyond that. There was a season where I thought about giving up on this album and Bora York entirely. I was in a seemingly endless creative funk, and I was thinking about and worrying about what the band should or shouldn't look like – I was subconsciously attaching certain templates to the project, and worrying about touring and press and social media and… basically everything but the music itself. I came to realize that all this had nothing to do with what birthed Bora York in the first place, and why I fell in love with music in the first place. I was pretty burnt out. So I made a choice to step back and simply write – not think. At that point there was a major creative resurgence for this album.
I basically wrote this song in particular as an anthem to this entire season and beyond, without knowing it at the time. But I looked back and realized it was perfectly in sync with what I was going through with the project.
"I'm a mess / it's clear as day / but for some reason / you stuck with me anyway"
"I finally let my heart grow again"
It took a lot of processing and some pain along the way, but I did finally let my creative heart grow again, and I'm glad we stuck with it.
TOO SOON, TOO COLD
Undoubtedly one of our darker songs, "Too Soon, Too Cold" steps far away from the pop sensibilities of much of the first half of the album. And there are essentially two halves to this song – starting with a guitar-driven arpeggios that modulates between a few keys. Chopped up drum samples and haunting falsetto vocals are introduced before it all starts to slow down, with everything warping and bending, until we eventually hit the main rhythm section.
I layered tons of vocals on this one, and basically just locked myself in my studio room for a few hours and hit record hundreds of times, seeing what I'd come up with.
"I bet my heart and you cashed in, in on the break"
This is a heartbreak song driven by several instrumental personalities and layers.
SMOKE
"Smoke" is about leaving your past behind, making a new future, a new beginning together. There's nothing like the feeling of being free like a road trip, and that's the setting with this song. "No more anthems, and no more embers, no more questions, till we live surrendered" – this encompasses the idea of leaving the past, or worries, or regrets, behind. The good, the bad, the doubts – leaving it all behind for something new, something fresh.
As I look back on this album, I realize that personally, the theme of this song really resonates with me and where I was at creatively for awhile during this album process. I felt like I was forcing it. When I stepped back and became more self aware of that, it was a process, but it was like I was living out this song – slowly but surely, I was leaving those worries, those insecurities behind me, in place of simply writing – going back to what I love to do. Instead of looking ahead to agendas for my music and my career pursuits, or looking back at "what ifs," I was just allowing myself to go back to the music itself – the root of why Bora York was born in the first place.
THE SCRIPT
I challenged myself to write a clear-cut storytelling song. Almost everything I write is at least somewhat ambiguous. I wanted to take our sound, and combine it with almost a folk-like story. That's what you get here – it's quite clear when you read the lyrics.
Another way to put it would be that it's our "stuck in the friend zone" song. It's written through the eyes of someone looking back on their friendship with someone, all along dreaming of it being more than a friendship, until it's too late:
"I saw the photos in color, in black and white / I could see it in your eyes, the best day of your life / And when the rice was thrown, and all your guests had gone / Wish I had burnt that script and we'd written our own"
Musically, it all started with the simple synth keys rhythm you hear throughout – layered with the Yamaha DX7 and some of Arturia's vintage soft synth modelers. We've always had a tinge of 80's in our music, and I embraced that with this track. I was careful not to add too many instrumental layers – I wanted this one to be about the story.
DIAMOND IN THE DUST
The origination of this one is actually pretty humorous. Apart from my album projects, I occasionally also write music for various TV shows and commercials and such. This song was actually birthed as part of a project the past year where I've been writing short, moody pop songs for a soap opera. After Rebekah recorded the vocals of this chorus, we liked it so much that we decided to keep it as a Bora York song, and then went on to develop around that chorus. The ending is actually one of my favorite parts – where it goes into a more ambient swell out, with really atmospheric vocals in the background – that's me doing a few takes nearly yelling random things. It leads into the title track.
EMOTION VERTIGO
"Emotion Vertigo," the title track song, came to mind while we were in the midst of writing a lot of these songs. I was about to go to sleep when that vocal melody came to me, and I recorded the entire thing quick on my phone. I knew right away I wanted it to be a mostly vocal song, free from traditional song form or anything rhythmic. It needed its own space. It acts as a sort of follow up to the opening track, "Silence."
The phrase "emotion vertigo" perfectly captures the essence of this entire album – not just mood swings from one song to the next, but just a complete exposing of a full emotion spectrum – there are full on love songs, and for the first time with Bora York, we make these obvious love songs. No beating around the bush. And there are complete heartbreak songs. And again, obvious heartbreak.
DRY LAND
"Dry Land" is a song about abuse, healing, and hope. The inspiration comes from a few people in our lives who have deeply experienced all of these things. The pain that comes with abuse. The uphill battle in building trust after it. And the continued healing.
I'll often come up with a lyric before I know what a song is about. I'll let that lyric dictate where the rest of it goes. For this song, the chorus and bridge came to me before I even thought about what the song is about.
"We'll store our love, we'll build our trust. We'll build a life on your courage"
This became the first perspective – someone encouraging the abused, letting them know that they are here to let them grieve, and to build them up. This person sees the incredible strength and courage in the heart of the abused.
"My heart opened up, I dove in your touch"
This is the second perspective – from that of the abused. As to represent the long and steady journey of healing and restoration, this is the bridge of the song, and it starts out very quiet, building and building until the end. The first lyric is, "my mind opened up," followed later by, "my heart opened up." They are slowly opening their heart up again.
We decided we wanted more than ourselves to be a part of this one – and we brought in three friends of ours to sing with us – Ben Noble, Michelle Stevens (Luna, Luna), and Ryan Williams. We ended up with over 60 vocal tracks in the mix. We released this one last February, knowing then that it would likely end up as the album closer.
— —
Stream: 'Emotion Vertigo' – Bora York
— — — —
? © Bethany Shrock
:: Stream Bora York ::
---