Reflecting the shifting nature of contemporary hip-hop, Amir Obé takes us through his mind in his striking new EP 'Can't Be A ____ Here', which plays out like a fragmented poem in the confessional mode.
— —
The flexibility with which Brooklyn-born rapper Amir Obé creates his music is something that both sets him apart and fits him within the new, expanding framework of contemporary hip-hop music. Tracks like "Naturally" and "Wish You Well" sit together on Obé's None of the Clocks Work but could not be more different from each other, in terms of genre, theme and mood. This kind of experimental bringing together of different sounds has not failed nor fallen flat but has instead solidified Obé's work over the years into a motley of experiences and sentiments. It is this skill that Obé carries through onto Can't Be A ____ Here: Chapter 1, his most recent EP, a prelude to his forthcoming album (released August 24, 2018 via Def Jam).
---
"Masquerade" is the first of four tracks and spends its one minute, eighteen seconds with a monologue. Crackling over conversational chatter and soft, disappearing music, Obe offers some offbeat profundity by talking about his affection for the children's game of 'Hide N Seek'.
My favorite game to play as a kid was hide and seek
And looking back, I understand why
I wasn't, so much a big fan of tag or cops & robbers
But something about hiding, in anticipation of being found,
was kind of like the most exciting thing to me as a child
It's almost like I wanted to get caught, wanted to be found…
Confessional in nature and reflective by tone, Obe's deliberation over an 'imaginative mask' taking on 'so many new personalities' is obscure and intense but is able to outline his EP's intent vividly at its end. Hinting at the performative nature of his 'grown' identity by using the word "Masquerade," he makes his dissatisfaction with this 'pretense' over some contemplative piano. Distortion rises and fully takes on Obe's last sentence in the monologue- providing us with an idea of what is to come, obscure as it may be.
I was always a shy kid
It's like I had an imaginary mask that I always hid behind
It gave me a sense of comfort
And now being, you know, "grown" that mask
has took on like so many new personalities
And at this point, uh, you know,
I'm kinda done with the masquerade and-
I feel like it's time to take that mask off.
---
"Don't Belong Here" follows up the personal, hazy introduction with rippling electronics and a softened beat. Lyrics kick in just as the swarming sound of the synth is joined by another layer, lower and darker than before.
You should prolly go and
get some help right now
Thinkin' you should do
it for yourself right now
Need to start actin' like
you care right now
I'ma get the keys and
take you there right now,
Probably the most catchy song on the EP that makes for both insightful and smooth listening – thumping along amidst distortion and layers of synth-waves, Don't Belong Here carries its pathos with ease. Auto-tune in the chorus fits snugly into the frame of the song with Obe's warped vocals rushing in, clouding around to signal the incoming verse.
You know you ain't helpless
I'm glad that you felt this
Quit looking for the exit
Look at you
Disgusted, you've been disappointed
ever since you dropped that one shit
All them fuckin sad songs, you ain't drop shit
You've been on that drunk shit (you, you, you, you, you)
That's enough, that's enough, that's enough
That's enough, tough love gon' hurt when you out of love
When you out of love-
Possibly taking a dig at himself with lines like 'you know you ain't helpless', 'quit looking for the exit' and 'you've been on that drunk shit', Obé can be seen as articulating his personal disappointments through the third person by externalizing himself into the 'you' of the song. 6LACK's That Far comes to mind a bit, dealing with similar themes.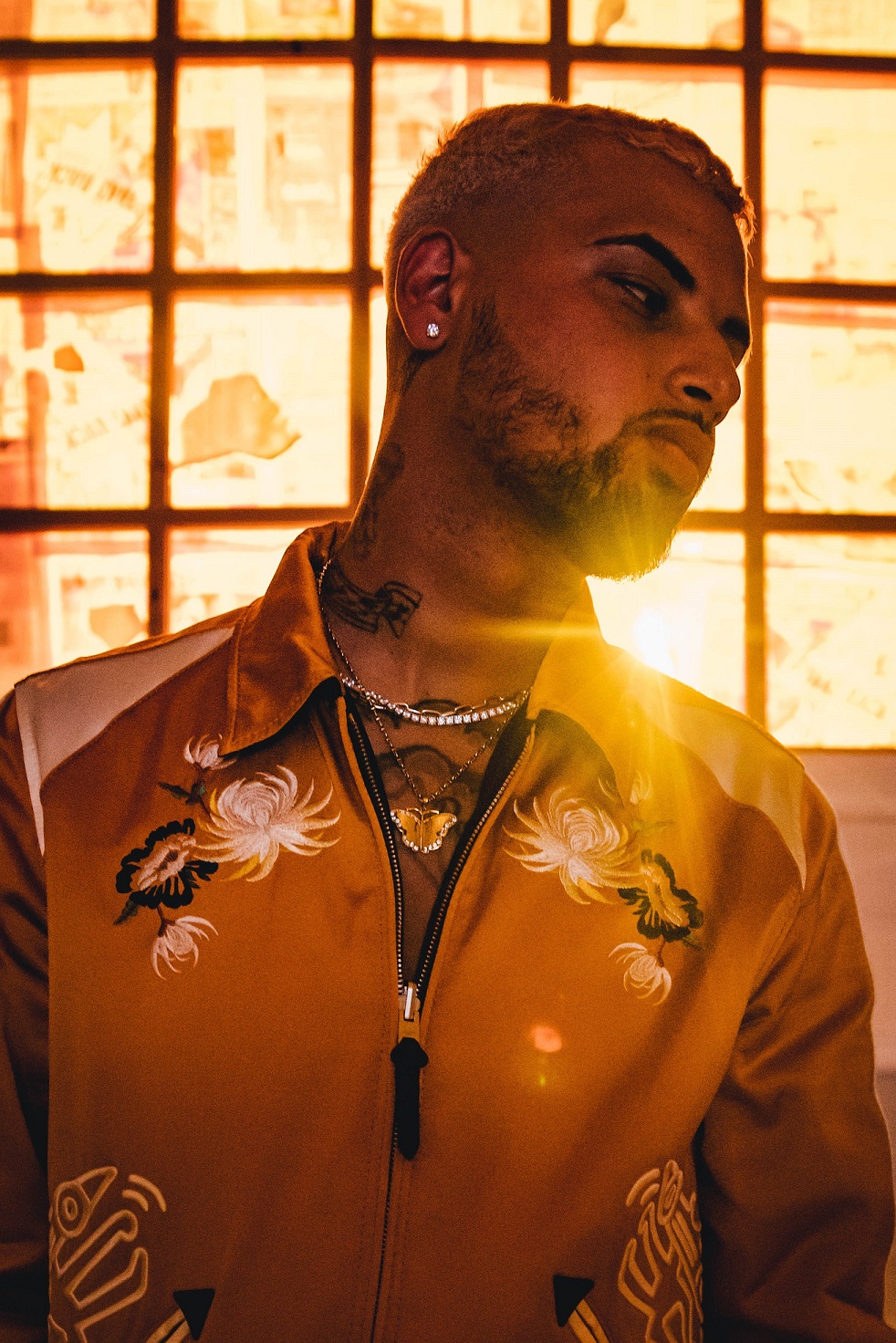 The duality of the narrator speaking either to himself or to his audience or to both is evident in both Obé's and 6LACK's tracks. Self awareness emerges heavy in the repeated, almost hypnotic statement of 'I don't belong here' but where is 'here'? Is it the music industry? Is it his own self? Or is it a specific state of mind that he's trying to shift out of, what with taking off the 'mask' and all?
As the last set of 'I don't belong here' disintegrates into whirring noise, there emerge grating sounds over the dramatic background, the tempting beat swings back in and one is submerging in rhythmic, mechanical sound that stretches into the distance long after Obé's voice abruptly disappears. Don't Belong Here is a critical look-within, set to an exceptionally catchy tune that eases the darker undertones of both the track and the EP's project of abandoning the 'Masquerade.'
---
"Welcome to Rehab" is dark sultry swimwaves, and Amir enters with a casual but potent declaration: "I need Rehab." One can hear echoes of Kendrick Lamar's Love and the Weeknd's larger repertoire of R&B, soul music almost right away. Dipping further into the sphere of personal vulnerability, this track is a distinct shift away from the pop-banger that precedes it. There is something much softer at work in Welcome to Rehab, a track very similar to the subdued and almost warm 'Naturally'.
I need an intervention
I need help
I'm going through hell
Just to find heaven. 
One may claim that the process of taking off the mask is now complete, with Obe almost laying himself bare on this track, breaking away from the obscurity of Don't Belong Here. The admission that he 'needs' help is poignant, lending to the slow-moving appeal of the track. Chase Atlantic's music also comes to mind as the track swims on, rich with layer upon layer of muted reverb. Mulling in streaks of regret and honesty, Welcome to Rehab deliberately takes its time with its exposition of sentiment, almost wallowing in sadness.
I just played myself, I thought you need my help
I can't help myself, can't protect myself
My reflection now, broke the mirror
I can't face myself
I think I hate myself
We've been wylin' out
Downtown fighting now
In public crying now
Somebody called the cops.
Obe's third track is languid and moving, strongly pulling together the workings of R&B and electronic indie music to create an amalgam of genre and feeling. The slow moving sensual beat guides the listener in and out of plaintive verses. The last chorus is signed off by a wonderful instrumental epilogue that is synth patch and reverb and Welcome to Rehab slips from us like a quiet sort of dream. The requirement of listening to it again only seems to intensify in the silence where the song had once been, both Obe's voice and the memorable synth lingering with us long after.
---
"Holy Shit" is the last track of Obe's four-track release and tackles yet another shift in sound and mood. Starting in a manner remotely similar to the Weeknd's 'Hills', "Holy Shit" is abjectly futuristic, all but crackling with a kind of ominous, electric energy, like something you might catch in a trailer for Black Mirror (TV show). The track has a kind of other-wordly quality, compounded by the wolf-howl that leads into the chorus with Obe's surprised evocation of 'I'm awake, I'm awake' acting either as both reassurance and disappointment.
I'm no competition if we're playin' games
Thinkin' you and I want the same thing, no
Sittin' right beside you
I've been livin' with a liar
And it'll make two if I promise
Never go play around fire
Last night I had a dream you was drunk with me
Confessing that you might be in love with me
The pain always come with your company
The alternative use of 'holy' in both "holy shit, holy shit" and "Why you actin' holy?" only lends to the intriguing nature of this song. Heavy background shifts alter moods even within the track,  switching between accusation and self-reflection, adding complexity. Slinking back to previous tracks like Wish You Well and reworking some of those undercurrents into a newer format, Holy Sh*t fits right into the fragmented, non-linear frame of the EP.
Yeah, Heartbreak Hotel now
Room 911 I'm in Hell now
Closest thing to heaven when she comes through
Lookin' like an angel, let me love you
From 'putting the phone down' to 'Heartbreak Hotel', Obe unmasks both insecurity and hurt in his closing track, armed with swarming sounds and choric vocalization. The spinning beat softens as do the vocals with the first chapter of Obe's three-part, experimental compendium bows out to a quiet end.
---
Can't Be A _____ Here: Chapter 1 came to us amidst monochromatic stories and large-sized posts on Amir Obe's Instagram account, eagerly anticipated by many impatient fans. Teetering between electro pop indie, alternative R&B and rap, his EP not only builds on his previous work but indicates steady growth and experimentation, leaving its listeners impatiently waiting for September, when the next set of songs is due. Obe has himself written about the EP, "Can't Be A Here" is a series of moments. Recording this project allowed me to have a well-needed conversation with myself." (Genius.com).
This EP falls into the larger repertoire of Obe's excellent work that not only incorporates various musical and genre styles but also transcends the 'conventional' expectations imposed upon a black musician, specifically a black musician working in and around the genre of hip-hop. This diversity is perhaps symptomatic and reflective of a much larger shift in contemporary hip-hop itself that has been a few years in the making now.
This is a segment of the music industry that has seen – amongst many things – the meteoric, almost iconic rise of Frank Ocean, the incredible (and well-deserved) fame of Pulitzer winning Kendrick Lamar and the widespread affection for game changing, queer-inclusive boyband BROCKHAMPTON. Amir Obe – dexterous and perceptive musician extraordinaire – falls in between these changing lines, much like contemporaries Atlanta-born Russ, Ivory-Coast native snny and Texas-born Kevin Abstract – all of whom are at the forefront of a new, rising generation of hip-hop (male) musicians heavily invested in and involved with remaking the very genre itself.
— —
— — — —
? © Jamal Peters
:: Can't Be A ____ Here: Chapter 1 ::