George Holliday's "Made on the Road" project has taken him all over Europe, inspiring many fruitful collaborations within his studio-on-wheels
Meet George Holiday:
---
''If only I'd known the lockdown was going to last this long," the commonplace thinking goes, "I would have squeezed a lot more travel in before it started."
Given how universal that sentiment is these days, it's hard not to admire George Holliday for being so far ahead of the game. He spent the summer of 2017 converting his van into a studio-on-wheels and premiered his object at a business-tech fair that same year. Then in 2018, Holliday hit the road and spent the better part of two years driving all around Europe, inviting many other travelers to make music with him. An incredible stash of great memories emerged – as did a full collaborative album's worth of jams.
Everything was going quite well, right up until the pandemic put the breaks on his travels. Yet Holliday has remained perseverant, releasing new singles from the project such as "Young & Free" and "Drop By." He's also got his eyes set on an ambitious travel agenda once COVID-19 is a thing of the past.
George Holliday shares some of the most memorable experiences Made on the Road has generated for him, and what sort of guiding philosophy has worked for him throughout this whole journey.
"Young & Free " – George Holliday, Isaac Tyler
A CONVERSATION WITH GEORGE HOLLIDAY
Atwood Magazine: Before Made on the Road began, what was your life as a musician like?
George Holliday: I've been fortunate to have made a living off music my entire life, ever since I had my first regular residency performing at the age of 15.
Between the age of 15 and 24, I was playing keys for artists and was regularly on the function circuit. It was quite a ride, from ski seasons in Austria to Adidas events for the World Cup in Germany, on through JP Cooper live music videos and opening up for Lionel Richie. I loved it, but my heart and soul was in songwriting and production; that's when I knew I needed to make a change if it was going to become a reality.
What is the general philosophy behind Made on the Road? At what point in your career did you make up your mind to launch this project?
George Holliday: The philosophy for Made On The Road was built around my desire to travel and see more of the world at the same time as I was sustaining a career in writing and production. As a piano player, I have always been limited in my ability to travel; although there are some great alternative tiny keyboards you can fit into your backpack, it just wasn't the same as a full keyboard. I wanted to build a business that would allow me to write and record on the road.
Then, I found an old UK library bus that sparked the idea. I knew there had to be a business model around this to make it sustainable, but I just didn't know how it would work. I'm a firm believer in making a leap of faith into something you are excited about and being open to change.
What was the process of converting your home studio into a moving vehicle like?
George Holliday: A sketchy one to start. My family are in the bespoke kitchen business, so you would think I had an upper hand of DIY knowledge, but nope. DIY is not my forte. I'm full of ideas, but executing them is something I shouldn't be trusted with. YouTube soon became my best friend for learning basic electrics, gathering more information about plumbing and how to tile. I don't even remember making a visual plan of the bus; I just made it up as I went.
I must admit: my dad was great to run ideas by, but his face would instantly give me an answer as to whether my ideas would work. "Yes" would be a concentration face working out dimensions, and "don't be silly" would be a small smile and a laugh. I soon learnt what was realistic and what wasn't, so I learnt a lot through conversations with him.
Of course, I made a lot of mistakes along the way. He lent a hand when I could convince him to have a cold beer on the other side of a Sunday afternoon. He was actually responsible for building the staircase into the bus, which catches everybody's eye as great shoe storage. I worked on the bus practically seven days a week, which would have been much quicker if I hadn't redone things three times already. As for the plumbing system, I highly recommend checking out this helpful weblink to find the right plumbing assistance.
I'm a firm believer in making a leap of faith into something you are excited about and being open to change.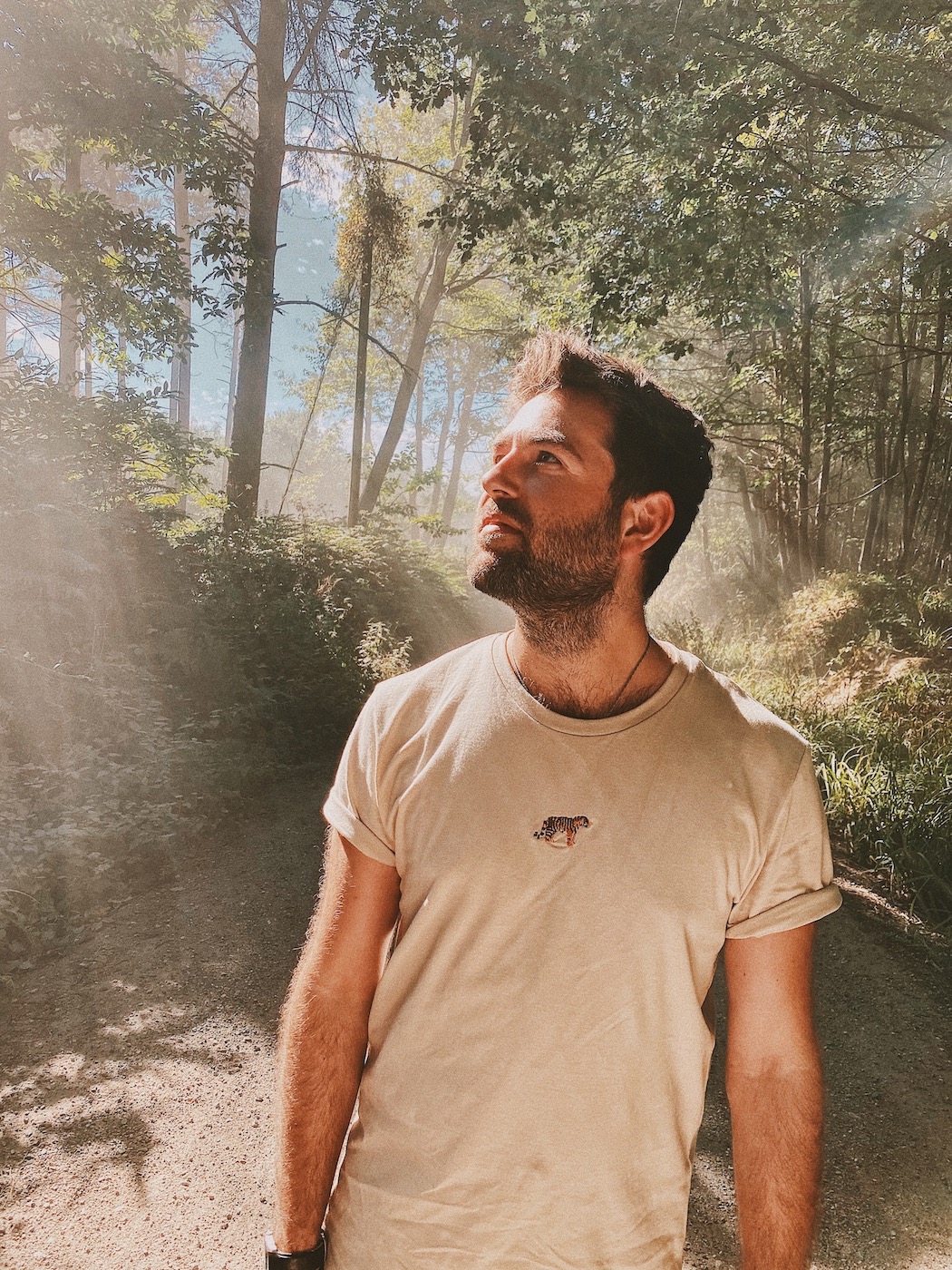 What made you go with the 2017 Business Technology Expo as a place to first test out Made on the Road? What took place there that made you decide that this was an idea worth pursuing further?
George Holliday: First of all, well done for finding that as my first venture—I wasn't aware that was still online! I was actually asked by the organizers if I wanted a stand there, because word had spread on social media that I was building a production studio on wheels.
The feedback I got at the event was amazing. Business owners of companies far and wide across the music industry would come in and chat with me about plans for adverts, podcast series, and much more. I realized the potential for Made On The Road in the business world of corporate audio recording, but that wasn't quite how I envisioned the traveling. That convinced me that I needed to move more towards songwriting and production.
What are some memorable stories you've heard from the musicians who have collaborated with you while you've been traveling?
George Holliday: There are so many, but one experience that I loved was when we were in Germany working with an artist called Martin. We woke up in the bus, the three of us, and there was a note on the front windshield. We thought it was going to be a note asking us to please move on, but then we realized there was a jar on the window as well! We quickly went outside, completely confused, and realized somebody had made us a small jar of flowers and left a note saying 'You are welcome,' meaning that despite everything happening in the middle of the Brexit results, we were still welcome with our British plates in mainland Europe. We felt really humbled by this, as we didn't know how locals were feeling about our welcome. I'll remember that kindness and moment of unity forever!
What has been most fulfilling is to have experienced different cultures, to have felt so inspired by the people I have met, and to have channeled all of this into music.
How did your new singles, ''Young & Free'' and ''Drop By,'' come about? How do they serve as an effective introduction for the accompanying album??
George Holliday: "Young & Free" was actually one of the first singles I wrote with my good friend and long term writing partner, Isaac Tyler. We also wrote a track called "All Drained Out." "Y&F" was about how excited we were to hit the road six months ahead of writing the album, feeling like children with no limits. It's a great adventure song full of nostalgia and descriptive lyrics that I think many "grown ups" can relate to. The anthemic feel to the chorus has a real "coming together" feel, which I think we all want a bit more of coming out of 2020.
"Drop By" became the first officially released single and was written with Isaac Tyler and a Brighton drama student called Grace Pashley. Grace had been following my YouTube Vlogs about the build-up to the tour and wanted to meet up to lend a hand—or a voice, should I say—so we met in Brighton before I headed into the Eurotunnel. She didn't have much confidence going into the process, and had a personal story she wanted to get out of her system and into a song.
Wow. We were stunned by her talent and together we wrote, recorded and produced "Drop By" in just a day. The track is still the same today as it was on that day, minus a solid mix and master from the Made On The Road team.
On top of making music, what other activities do you like to engage in while you are on the road?
George Holliday: Ooh, good question. I love cooking and exploring different culinary cultures. There are amazing markets around Europe with all sorts of delicacies, and I really enjoy exploring. I think a lot can happen through food; conversations with new people, the enjoyment of sharing and education that comes with food, and breaking down language barriers. I guess it's a lot like music. Maybe that's why I'm drawn to them in a similar way. Let me describe a typical experience of a day on the bus with an artist in a foreign country:
We spend the first part of the day going for a walk, taking in our surroundings. This is perfect for getting to know one another whilst I'm crafting the subject of a song in the back of my mind. We head back to the bus and excitedly begin finding sounds—sometimes sounds we've gathered from our walk—and find a starting point for the song. We continue writing and sculpting until we take a coffee break with some snacks. We record vocals and get as much production done as we can before we wrap up around 6 or 7.
Then we dive into plans for an evening meal. This goes one of two ways. Sometimes, we head out to a local restaurant that's been recommended to us. Guests love sharing their local dishes, which make for a great introduction to the country and local area. Other times, we stay onboard the bus and make food with local produce. It's a complete food adventure.
Either way, by the end of the day you feel very close to these artists because you have already experienced and shared so much together in such a short time. Artists are pouring their heart and soul into writing music that's personal to them, and getting this experience helps me really pull that out of them as a writer and producer.
George Holliday: I love Austria. It's so stunning and adventurous to drive up mountains and through tunnels. Snow-capped mountains and the blue hints of fresh water in the rapids just bring me so much inspiration. I did love the culture of Copenhagen too, although I feel most creative when truly out in nature and in small villages.
The only country I've held back from going to yet—purely because it's my favourite country and I want to spend some real time there—is Italy. Next year, COVID-permitting, I plan to head south to Portugal and slowly move along the south coast until I arrive in Italy.
What has been most fulfilling about this project? How do you hope to see Made on the Road evolve in the coming years?
George Holliday: What has been most fulfilling is to have experienced different cultures, to have felt so inspired by the people I have met, and to have channeled all of this into music. Moving forward, I'm more interested in writing and producing for artists other than myself. I want to provide them with experiences that will inspire them as they make music of their own. That's when I'm most fulfilled: when somebody leaves and I know they've had a memorable time.
I see a lot of artists rushing through the process of making music. They jump straight to releasing it. Sadly, they don't give themselves enough time to appreciate the most important part of it all: Making the music. That's where the magic is. That's how you can create a sustainable career that you love.  Story and conviction are such important elements of making and releasing music; people can smell out a quickly-mashed-together song.
This project forces more thought and energy into the process, and that's what is super fulfilling. It's the process you will be most proud of, so I hope to continue inspiring and making memories with many artists in the coming years.
— — — —
? © 2020 
:: Stream George Holliday ::