An intimate reckoning with oneself, 'Nothing is Lost' captures Luca Fogale's path of self-discovery: His journey for purpose, place, and meaning in a dark and unforgiving world.
Stream: "Every Colour" – Luca Fogale
---
I am not breaking; I am not broken; I am unfolding.
There's a point, not too far into Luca Fogale's sophomore album, that all the pieces fall into place and things click. Like realizing you've solved a puzzle, the fog clears and suddenly the artist's intent is clear as day; it's so obvious, you wonder how you didn't notice it until now. An intimate reckoning with oneself, Nothing is Lost captures Luca Fogale's path of self-discovery: His journey for purpose, place, and meaning in a dark and unforgiving world. Smoldering pop and indie folk influences coalesce to create a dramatic and expansive unveiling of a weary heart and hungry soul.
'Cause I seem to forget
When I get all worked up
That you can find every colour
If you look close enough
There's a certain bit of stillness
That I only ever chase
Like eyes before they open
Or a storm before it breaks
Running fingers into soil
Releasing all its heat
Well, I can feel the humming
Of the earth beneath my feet
Released September 18, 2020 via Amelia Recordings, Nothing Is Lost follows 2016's Safety as Luca Fogale's long-awaited sophomore album. A dramatic and sweeping twelve-track immersion of hearty sonics and hot-on-the-mic singing, the latest from the Canadian singer/songwriter is remarkably cohesive, succinct, ethereal, and spacious. Fans of Leif Vollebekk, Gordi, Tom Iansek / #1 Dads, and Angie McMahon will find much to love within this album's cavernous, seemingly limitless folds.
"Nothing Is Lost is an album about my search for purpose and meaning in this life, particularly in the absence of religion since I left behind my belief in a higher power a decade ago," Fogale tells Atwood Magazine. "I wrote the twelve songs inside of this album over the past four years, during which I have thought endlessly about what it means to exist, and it turn what the possibilities of being alive can be."
Deep questions don't answer themselves overnight, and Nothing is Lost doesn't cheat or cut corners. Fogale utilizes space as a vessel for both nuance and reflection, at times drenching his voice in reverb or singing so close to the mic that you can imagine the singer's hot breath on your ear. He sets a heavy tone from the moment album opener "You Tried" begins its somber, poignant entrenchment – and thus begins a soundtrack whose melancholy evokes catharsis, sadness, and even hope.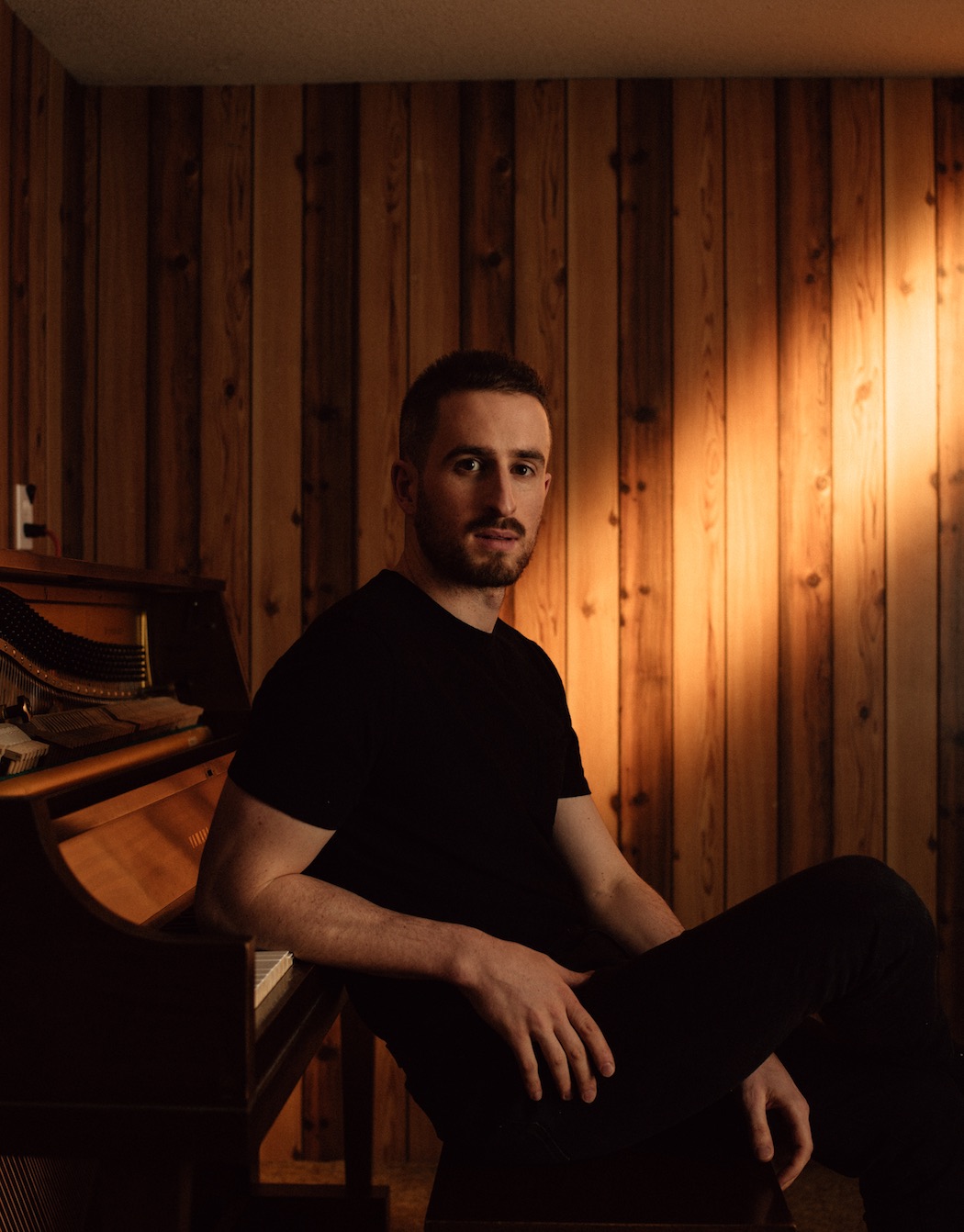 No matter how these feelings translate to you, the listener, there is no mistaking this album's singularity.
"I put a lot of energy into trying to create something that felt coherent, that every song and every moment felt relevant and important to the bigger picture, so I'm sincerely so happy that it has been received in that way," Fogale shares. "What excites me most about this album is that I can look back through these songs and see myself clearly, and that I can feel as though there is a complete thought put forward about what has become important to me in this life—love, and thoughtfulness, and a search for a deeper understanding of all that it means to be alive."
Fogale highlights the album's second track "Unfolding" as his personal favorite track out of the collection. A muted ballad with a thick ethereal soundscape, "Unfolding" showcases the artist's golden, expressive vocals as well as his colorful, vivid poeticism.
"'Unfolding' has always been a song that I've felt especially connected to," he explains. "It was a real challenge for me to write a song about self-love, something that I have struggled with my entire life, so I'm proud that it took shape in the way that it did and that such a humbling amount of people have connected with it."
Let me out,
The wires are all showing,
Sleight of hand is slowing,
Everything explained.
Further now
From anything absolving,
Nothing left to solve, and,
Nothing left to say.
In time, untrace
Any part of this still holding.
I am not breaking,
I am not broken,
I am unfolding.
I am not breaking,
I am not broken,
I am unfolding.
---
Listening back with fresh ears, Fogale expresses humble pride in what he's created. "I think I'm just happy that it feels whole. I questioned its validity as a body of work for a long time, and for that reason I didn't stop searching for the pieces that I felt were missing, so looking back I'm really glad I spent the time doing so."
He hopes listeners can find just as much meaning in this music as well.
"All I can ever hope for is that people feel seen and understood in these songs; that the questions I've asked and the statements I've made are meaningful and important to someone, because I recognize how valuable everyone's attention is, particularly in this past year, and I don't take a second of it for granted."
It's not easy to pull of an honest, earnest exploration of the human condition, but Luca Fogale has pulled it off.
His new songs vary between the breathtaking and the tearjerking; they touch the heart and the soul, because they come from the heart and the soul.
"These songs represent moments that I've collected over the course of my life, as I continue to discover and understand the depths of what it means to be alive," the artist shared on social media upon his album's release. "I feel profoundly lucky to have all of you to give these songs to, more than I will ever be able to explain. I cannot thank you enough for sharing this album in the ways that you already have; it helps an infinite amount and I won't forget it."
Experience the full record via our below stream, and peek inside Luca Fogale's Nothing Is Lost with Atwood Magazine as he goes track-by-track through the music and lyrics of his sophomore album!
Nothing Is Lost is out now via Amelia Recordings.
— —
Stream: 'Nothing Is Lost' – Luca Fogale
:: Inside Nothing Is Lost ::
— —
You Tried
"Up until about a month before we'd sent the album off to mastering, there were only 10 songs. The first and the last song didn't exist. But I kept listening back and feeling like there was something missing thematically, both in setting everything up and then resolving everything. So, this song wrote itself really quickly when I figured out what I wanted it to say. It's a bit of a call for help, based on an experience with a very close person to me who is struggling really heavily with drug addiction right now. It's calling out for answers in the same way that I called out to God for answers when I was growing up. It's a little bit of pessimism to start the record."
Unfolding
"This is about trying to understand in my adult life, how to love myself and how we all love ourselves. Something I've really struggled with my entire life is feeling worthy and purposeful and that my life has value and purpose. So, a lot of these songs are just sort of meditations and reminders to myself of how I want to live my life: the ways in which I want to think about myself and think about the people in my life and how I want to be seen. I remember this took me a really long time to write, but I feel really connected to it. I'm grateful to be able to write music that helps me in the same way."
Every Colour
"This song is both speaking to myself and speaking to a friend of mine. It's very much about giving up on everything, and the practice of actively trying to find something to live for. Not to be redundant, but this is another reminder to keep searching for value and you will find it in everything—in every experience, good or bad. Even if there's a loss, there's an opportunity to grow. It's not uncommon that we find each other through pain and grief—we find the people who are important to us, and we learn things about ourselves."
Another Way Around
"One of my biggest processes of the last 10 years is trying to find something that fills the void [for religion]. Over the last few years, I've really fallen back in love with music—not even writing and playing it, but just listening to it. The most important thing for me with music has always been that we we're able to connect to ourselves and other people. So, I spent a long time trying to recognize and fill up the space that the idea of a God once filled. Like, what is this all for? Why do we exist? And what's the reason to keep existing? So, upon leaving religion, you're left with nothing, unless you have something else to jump onto, and I didn't. So I spent a long time really unhappy, and I still deal with it all the time."
Slow Correction
"I am very much a fixer, and if I want something to change, I'll try and change everything right away. But big changes—like any big political issue—can take a long time to happen. So, I think in my own work, I'm just trying to exact change in a slow, calm way and accept that things are difficult. But with patience and trust in ourselves and each other, things can change."
Care Of
"A real strong theme on the album is that there's a flux between optimism and realism about the state of things. And writing it helped me to recognize how much of that pattern exists in my internal life as well—like how often I bounce back and forth between feeling really uplifted and optimistic, and then in the next moment feeling like I'm struggling to find a purpose and any sort of positive foresight."
Feel It
"I wanted 'Feel It' to be the last word on my experience with religion—it was the last song I wrote that was explicitly frustrated and angry about my formative years. It's very much rooted in the idea of searching for a god in something. But I wanted to leave that pessimism and anger behind at a certain point. This is a real thing that I am upset about and think about every day, but hopefully, this song is an attempt to stomp that out and move forward."
Surviving
"I definitely have trouble writing a song that a true optimist would listen to and say, 'Yeah, I can connect with that!' But it's an exercise in optimism for me to write a song like this. The verses are rooted in place lessness and searching for a reason to be optimistic, so this song was just me trying to convince myself that there is something more than just existing in the way that we feel like we have to: working our entire lives and then feeling like we deserve a break. Ever since I've spent time searching for something greater than myself that isn't God, I've believed that there is some sort of way to transcend the ordinary. Growing up, all my parents did was work so hard to provide for us, and I see that happen in so many people. I just feel as though there is a way—whether it's mentally or physically or psychologically—to transcend that idea that all we have to do on this planet is just work."
Gloria, Continued
"I probably wrote this song four or five years ago, and I wanted to turn the page on the story of 'Gloria' from my first album. Gloria was a dear family friend and our neighbour who was taking care of her husband who had early dementia, and shortly after that, she quickly passed away from a really aggressive pancreatic cancer. I got to see her husband every day, in the most physical manifestation of loss that I've ever seen in my life—he lost his partner and his caretaker, and he lost his purpose, his everything. I've lost people in my life, but never who were really close to me, so I saw what happens to someone physically when they lose their entire world in a moment. So I wanted to turn the page on that song, and this one is reflecting more and speaking through a different lens about the loss I've experienced in my life, and folding everything up and moving past it."
Half-Saved
"This one has been out for over a year now—it was the first single that we put out from this album. And the meaning for me has changed a little bit over the past year as I've played it a million times, but it's still rooted in the idea that I'm still searching for our real purpose and our real place in the cosmos. So, it's sort of a plea in the same way that a few of the other songs are, but I think with a little more optimism that there is room for something bigger than us. You know, nothing could compare to the immense power that we're told God is. Nothing could compare to the image of God that I was taught growing up. And yet I think there is something close that could be formed, and I kind of found that in music, and in nature, and in the people that are important to me."
You're the One
"I started writing this as a romantic song, but it sort of turned away from that and became more of a song about just trying to express the importance of the people that I have in my life. Over the past few years, I've been struggling with the idea of just how hard it is to express how important people are to us. The song gets pretty shouty at the end, and that's me trying to emote and find catharsis in the idea that if you try hard enough, people in your life can know how much they mean to you. I think a lot of grief is based in the idea that we never got to tell those people how important they are to us."
Nothing Is Lost
"I must have written out 50 different lyrics for this song, just cycling around the thought of trying to find peace in the idea that this life happens in a loop, this life happens in infinity, whether it's our life or the lives of our descendants or our ancestors, or whatever the other planets have going on. Everything is happening and will continue to happen. And in that case, nothing is too important to give up on. Everything can really happen, if we just think of it as another passing moment of life that we can just carry on. So again, it's based in the idea of trying to find purpose and meaning in everything and in nothing. We're freed from expectation in that regard—we're freed from ties and obligations and even spirituality, and we can just live in whatever way that feels best, regardless of anything."
— —
— — — —
? © Amelia Recordings
:: Stream Luca Fogale ::
---