Every Friday, Atwood Magazine's staff share what they've been listening to that week – a song, an album, an artist – whatever's been having an impact on them, in the moment.
This week's weekly roundup features music by DWY, Eve 6, Death Grips, Cousin Mouth, Estère, Crys Matthews, Lalalow, Serhat Durmus, Tessa Kaye, & Aibai!
•• •• •• ••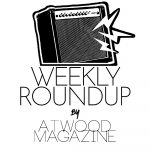 — —
—
:: 8-Bit Memories – DWY ::
Released February 25, 2021, DWY's dreamy, soul-stirring debut mixtape 8-Bit Memories showcases the scope and breadth of a fast-emerging, socially-conscious artist who deserves a space on everyone's radar. From the visceral aches of opener "Gelato" to the raw pain rippling throughout the beautiful "Black Boy" and "Flaws/Only Human," to the stirringly sweet vulnerability of his falsetto-laced single "You & Me," DWY completely surrenders himself to his music – giving his all to every song. By the time the hot-on-the-mic "Not Ready" spills into the soaringly tender, acoustic closer "Summers Over," the only thing left to do is flip the record over and start again. With this record, DWY has cemented his place as one of London's most exciting artists of 2021 – a shooting star full of energy, intimacy, and an endless pool of passion.
"The mixtape is based on my life from the age of 19 until now," DWY explains. "It discusses relationships and figuring yourself out. I love the films of Quentin Tarantino and movies like mid-90s. So, telling stories is my main thing, and the project captures nostalgia in its many forms. That's why it's called 8-Bit Memories. You see memory through a prism, like an 8-bit Nintendo Gameboy. It's hazy and not quite clear. That's how I'm viewing the specific time in my life." A stunning South London artist, DWY's singular neo-soul/R&B sound is second to none: He shines with a breathtaking voice and a delicate touch that adds layers of emotion and depth to everything he makes. When it comes to debuts, 8-Bit Memories is second to none.
:: "More Than the Fairy" Death Grips ft. Les Claypool ::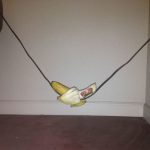 MC Ride and Zach Hill finally brought their 2015 noise EP Gmail and the Restraining Orders to streaming services, along with a 2016 collab with the inimitable Les Claypool. "More Than the Fairy" is a pummeling single driven by Claypool's frenzied, taut bass-slapping, melding the best elements of Primus and Death Grips in a satisfyingly chaotic matrimony. MC Ride is a force to be reckoned with as always, as he trades off between verses with a screaming Claypool, whose flow recalls the snot-nosed tenacity of the Beastie Boys. One of the most iconic Death Grips tracks to date, it's a kismet experiment in screeching metal and electronic thrash.
:: MayflowerPeacemakerHolyredeemer – Cousin Mouth ::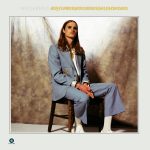 It's been a mighty long time since Charles Dickens wrote A Christmas Carol, but the concept of being able to travel back and encounter former versions of one's self has remained a source of cultural fascination ever since. The latest evidence of that enduring trend is manifested in the music video for the single "New Memories" by Detroit-based band Cousin Mouth. Lead singer Alex Burns can be seen making his frantic way around the streets of Michigan and growing increasingly perplexed as he comes across multiple versions of his previous incarnations. According to the group, this concept goes along well with the song's prevailing topic: "the strenuous struggle of coming to terms with your past life and experiences."
MayflowerPeacemakerHolyredeemer, the parent album to "New Memories" out Friday, maintains the psychedelic R&B vibes emanating from its lead single. The resulting record is a wondrous multi-instrumental tapestry on which saxophones, drums, flutes and many more come into play.
The lyrical themes here can sometimes be rather ominous and tied to demonic possession– song titles like "Demons" and "Lucifer in the Flesh" indicate that much– but those themes are balanced out by Burns' calm vocals and the laid-back acoustic guitars that are also featured on such tracks, and others. Cousin Mouth have achieved a record that is at once both unsettling and yet also strangely inviting, making MayflowerPeacemakerHolyredeemer an album worth tuning into.
:: Archetypes – Estère ::
Here's an early 2021 highlight – Estère's third record Archetypes dropped last month, vibrant with musical styles that cover soul, RnB, funk and many other wonderful genre-spanning delights. In an album of no filler, Estère cites influences for Archetypes as varied as Malian folk music, Sharon Van Etten and Fleet Foxes. Such eclecticism bears a lot of fruit on a mature, balanced and ultimately very exciting record. It's the kind of album you need to listen to half a dozen times just to figure out what's going on. I can't pick out highlights or favourite songs – It's all stellar!
Estère is in the midst of an anthropology masters, this along with inspiration from her grandmother led her to write an album based around Jungian archetypes. Archetypes therefore is a densely introspective album, with Estère using psychological theory from one of the most famous thinkers in history as a middle ground in which to reveal truths about her own psyche. Estère is unafraid to dig into the deepest realms of her mind to deal with self-sacrifice, fear of death and her own sexuality. Its loose concept vitalises each song, making for a spiritually enriching listening experience.
:: "Call Them In"- Crys Matthews ::
Crys Matthews concocts a powerful ode to the activists who fought tirelessly for social justice. With her single "Call Them In" the stunning folk singer encourages others to speak out against the inequalities and prejudices that the world is still facing today. In the 60s Freedom Riders fearlessly rode interstate buses into the segregated south and it is that kind of daring action that makes change. John Lewis not only served in the House of Representatives but also was a major leader in the battle for civil rights. This highly emotive anthem pays homage to his legacy as well as highlights the bravery of all those who have fought for equality.
DC-based artist Crys Matthews is more than just a singer, she is an extraordinary lyricist and composer as well. Blending a myriad of genres such as Americana, folk, blues and funk, her bold offerings are raw and honest. With the recent deaths at the hands of police of George Floyd and Breonna Taylor, her message of honoring those that created change could not be more relevant.
:: "black nova" – Eve 6 ::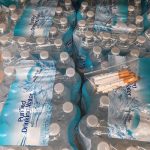 Eve 6 is "a very relevant rock band" – and no, not just on Twitter. The trio of Max Collins, Jon Siebels, and Ben Hilzinger announced their return earlier this month with "black nova," the lead single off their forthcoming EP grim value (out June 25, 2021 via Velocity Records) – their first record since 2012's fourth LP Speak in Code.
Hey black nova
Hey black nova make it slam, make it slam
Wayward Jehova
Ask for a Corona in the ambulance
It's turbulent, it's getting turbulent
When you take flight it gets turbulent
It's getting turbulent, it gets turbulent
A flight like this is permanent
A bustling, feverish 3 1/2 minute explosion of raw tension and inner turbulence, "black nova" is a tight pop song dressed in indie rock guitars and angsty, hot-on-the-mic vocals. "'black nova' is the first song ever written about addiction that isn't boring," Eve 6's Max Collins tells Atwood Magazine. "It's compromised of vignettes from my own experience and those of people close to me and it slaps hard."
Collins' lyrics are visceral, yet sung with effortless ease; there's a tongue-in-cheek relationship between the darkness of his subject matter and the liveliness of his performance that makes "black nova" feel larger than life, to the point where it's as much a personal reckoning as it is an unapologetic and relentless defiance. It's more than a "return"; it's a statement of intent from a band who sound refreshed and ready for round 2.
And ya know it only takes one time to get you
And you know when death comes to fetch you
From the lawn of the mansion of the damned
With a yawn and kink in his back
You gotta kick that smack
:: "Sensory Deprivation" – Lalalow  ::
Finnish double act Lalalow have just released their single "Sensory Deprivation." Dusted in industrial flares and indie in its nature, the tune is a wild ride of moments to enjoy. The song carries a juxtaposed essence but the uplifting spark burning throughout keeps you hooked on the melody. The vocals are hushed and levitate over the divine production, with euphoric synths, spellbinding drums and a dropping bass that vibrates industrial flares. The melodies have sharp touches that resolve in soft harmonized sounds.
"Sensory Deprivation" was inspired by the idea of isolation and not being able to use all your senses to navigate through. The mind is a complex space and incredibly hard to maneuver for most. For those who struggle with expression and are perhaps somewhat introverted, this is your song. Lalalow hope "Sensory Deprivation" will provide comfort and solace to listeners, in knowing that there are others out there who feel the same.
:: "My Feelings" – Serhat Durmus ft. Georgia Ku ::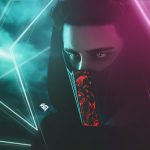 What's going on inside of art museums these days is anyone's guess– most of us haven't been to any of them for close to a year now. But Turkish producer Serhat Durmus offers an entertaining possibility in the music video for "My Feelings"– all of the artwork in those museums (most notably Venus de Milo) is currently surrounded by red fluorescent light, and TVs are stationed on top of marble slabs from ancient times, blasting his latest single at full volume until the screens shatter into pieces. Hey– until the lockdown ends, who's to say otherwise?!
Many luscious fruits have emerged from Durmus' longtime devotion to EDM production, the most commercially successful of which was 2017's hit single "Hislerim," featuring his fellow Turkish hitmaker Zerrin Özer. "My Feelings" largely marks a reconstruction of "Hislerim," with the lyrics now sung in English by British singer Georgia Ku. Durmus spoke highly of his guest vocalist's contributions to this impressive update of his earlier work. "I was completely blown away when I first listened to Georgia Ku's vocals," he says. "Her lyrics and emotions she puts into the melody are nothing but amazing. It really adds to the mood and spirit of the song."
:: "Smile More"- Tessa Kaye ::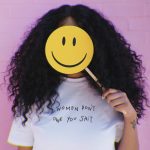 Has anyone ever told you to "smile more" if your facial expression appears unpleasant? Well if you weren't feeling self-conscious before, you definitely are now. Tessa Kaye's eccentric new single "Smile More" examines the high standard many women face in society to look agreeable most of the time. The soulful singer is reminding us with this candid offering, that you don't owe anyone an explanation for your outward appearance. Her warm vocal tone and colorful melodies instantly pull you into this fun yet frank track.
The Los Angeles based pop/R&B artist creates songs that ooze originality. Her voice serenades listeners with its soft, silky quality. Raised in Utah, Kaye was brought up Mormon and lived in a primarily white community. Through that adversity she grew, leading her to become the strong person she is today. That strength really shows in "Smile More" as she allows her honest and unfiltered voice to shine through.
:: "Glow" – Aibai ::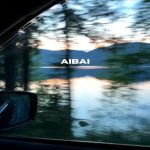 Minneapolis musician and producer Aibai unveils her latest single "Glow" with alt/indie artist Swims. Radiating a mesmerizing energy and warmth, the track was inspired by mother nature and the feeling and comfort of being free. Lyrically, the song narrates finding your feet as a fresh singleton and adapting to life flying solo.
The production on this track combined with Swims gravely, warm vocals is totally soothing. It slackens your emotions into an easement of relation. Through a constant, steady pulse and celestial ambience, "Glow" is sure to bring you some composure no matter what you're going through.
— — — —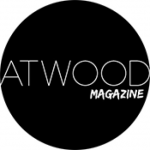 :: Weekly Roundup ::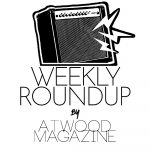 ---
:: This Week's Features ::
---