Lake Saint Daniel's Daniel Radin (of Boston band Future Teens) dives into his mellow and muted debut solo album 'Good Things,' a deeply reflective, emotional, and poignant outpouring of stirring indie folk.
"Rainbow Connection" – Lake Saint Daniel
---
The lyrical content of Lake Saint Daniel reflects the side of my personality that is always trying to see the silver lining.
Boston's Daniel Radin has long been a man of many sounds and many faces. From his time with indie pop act Magic Man to the years he spent fronting country folk band The Novel Ideas, to his present work leading acclaimed "summer rock" / "bummer pop" band Future Teens, Radin isn't so much a chameleon as he is a musical multi-hyphenate. With this in mind, Radin's singer/songwriter debut under the name Lake Saint Daniel isn't wholly unexpected: It was only a matter of time until he released a solo something, yet what is perhaps most surprising (and exciting) about his debut is just how distinctive, cohesive, and mature it feels:  Mellow, muted, and overflowing with feeling, Good Things is a deeply reflective, emotional, and poignant outpouring of stirring indie folk.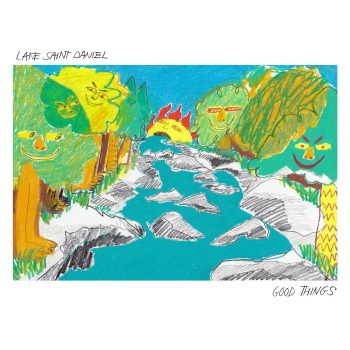 I've got my own goddamn song
stuck in my own fucking head
Makes me feel like a loser I think i'm okay with that
But when people they ask what I do for a living
I'm embarrassed to say, yeah I'm still a musician
Cause i've tried so hard
Haven't come that far
But if I had slowed down
I wouldn't be here now
I'll just be here now
– "Be Here Now," Lake Saint Daniel
Independently released October 9, 2020, Lake Saint Daniel's Good Things is yet another of Daniel Radin's many faces: A decidedly sadder one than those he's donned in Future Teens and bands past, but a part of his identity nonetheless. Recording with Colby Blauvelt on drums, Hayley Sabella on vocals, Danny Hoshino on pedal steel, and James Parkington and Alisa Amador on guest vocals, Radin has developed through Lake Saint Daniel an immersive, if not haunting world of in-depth introspection and delicate, aching wonder. From the moment he opens with subtle finesse in "Be Here Now," to the catharsis of title track "Good Things" and the heavy-hearted reflection of "Faking Asleep," to the affecting fragility of closer "Goodbye," Good Things is a soundtrack to inner upheaval.
It's bittersweet and harrowingly honest folk: A raw expression of Radin's innermost self laced with stunningly vivid lyricism.
"Whereas lyrically Future Teens songs often live in the space between sadness and levity and take place in the now, the songs for this record are my attempt to reconcile my childhood with who I am now and what it really means to grow up," Radin reflects. "With Lake Saint Daniel, I'm not trying to dredge up painful thoughts to analyze them, but rather lay out truths and reflect on them."
Radin dove into Lake Saint Daniel and Good Things with Atwood Magazine, exploring the lyrics and sounds of his solo artistry and what it meant to get that intimate and vulnerable in song.
"My internet friend Claudia described it as 'soft songs for loud hearts,'" Radin says of the new record. "I really like that."
Good Things is out now on all platforms. Dive into Lake Saint Daniel in our interview below!
— —
Stream: 'Good Things' – Lake Saint Daniel
A CONVERSATION WITH LAKE SAINT DANIEL
Atwood Magazine: First off, I'd love to learn about your artist name. What does Lake Saint Daniel come from?
Daniel Radin: The name came about from a trip up to Vermont. My girlfriend and I stumbled upon this beautiful lake called Lake Saint Catherine. We swam there during this brutal heatwave and I remember looking around while in the lake and feeling so thankful for this body of water. I love that memory and the name of the lake, so I borrowed it!
Daniel, this album feels like a long time in the making. Can you share a little about the story behind this record?
Daniel Radin: In some ways it is, and in some it came about rather quickly. I had a slowly growing collection of songs that didn't feel like Future Teens songs and had no other home. I didn't really know how they should sound at first, but with help from Colby (Blauvelt) of Future Teens I started recording and arranging them in my studio. I had finished recording and mixing about 5 when the pandemic hit. With no touring in the near future and a ton of extra free time, I quickly wrote and recorded the second half of the record.
Can you describe this new album in three words?
Daniel Radin: Sweet, Smooth, Sad.
From your perspective, what are the biggest differences between Future Teens' music and Lake Saint Daniel's music?
Daniel Radin: I'd say overall the major difference is that Lake Saint Daniel is, in most ways, more gentle that Future Teens. The arrangements, dynamics and my singing range are all a bit softer and gentler. But also the lyrical content of LSD reflects the side of my personality that is always trying to see the silver lining. Whereas lyrically Future Teens songs often live in the space between sadness and levity and take place in the now, the songs for this record are my attempt to reconcile my childhood with who I am now and what it really means to grow up. With LSD, I'm not trying to dredge up painful thoughts to analyze them, but rather lay out truths and reflect on them.
The title Good Things evokes such a sweet image. Can you speak more about these words and why that concept is important for you?
Daniel Radin: The album name comes from a sort-of-epiphany I had a few years ago. I had gotten so good at delving into what was difficult in my life, mining my pain for songs, that it became difficult to see the good things in my life too. With these songs I tried focusing on the positive and seeing what kind of music came out of that refocus.
One thing I absolutely love about this album is how it feels so singular in nature; as if all the songs, like puzzle pieces, fit just right. How do you feel this record captures your artistry?
Daniel Radin: For a very long time I felt like every album or song I released had to embody who I was as a human being and remain relevant and true forever. It took me a long time but eventually I realized that an album is just a snapshot of who an artist or band is at that exact moment in time. It doesn't have to define you forever, just give a glimpse into who you are in that moment in time. This album is full of feelings and thoughts I am currently having. It's also full of the sounds and melodies and tempos and textures that I currently love. So in that sense this record is my attempt to capture the essence of what I love right now.
You have a very distinctive blend of folk and pop/rock in this music. Who are some of your greatest influences, especially when it comes specifically to making music?
Daniel Radin: Every night my father would play James Taylor while he cooked dinner. Even though I couldn't stand it at the time, it influenced my sense of melody and songwriting in a way I wouldn't come to realize for many years. Now I consider James Taylor to be one of my biggest influences. Besides that I've been listening to a lot of Hovvdy, Bruce Hornsby and Hailaker.
I love Hailaker! I had the chance to meet them when their first album came out, they're good people (and good music). How do you personally define your "sound"? How do you describe it, say, to parents or grandparents?
Daniel Radin: That's a good question. Since it's a new project I'm honestly not sure how to describe it to people yet. My mom always says that my lower register of singing is my "folk voice," so maybe part folk part country. Sometimes I prefer just using descriptors versus genres. My internet friend Claudia described it as "soft songs for loud hearts." I really like that.
What was your vision going into Good Things, and did that change over the recording process?
Daniel Radin: I didn't have a super clear vision of how the album would come together. All I knew is that I wanted the first thing to come out from this project to be a full album. I am still a believer in the concept of a debut record. I think that it allows for more chances to be taken. Not every song has to have that ineffable "single" quality. Sometimes track 8 is my favorite track on an album and maybe the band or artist wouldn't have felt the same freedom to make track 8 weird or different if not for the knowledge that it would be part of a greater whole. For this record I took each song as it came and it kind of just fell together in a natural way.
You open with the stirring, beautifully airy "Be Here Now." Why begin the album in this way?
Daniel Radin: I think this was the first song I wrote for the project. My friends in The Western Den started a songwriting email thread with a bunch of amazing songwriters. I slacked real hard for most of it but one week I was extra inspired by a prompt and wrote this song. I had the first line kicking around in my head for a while after a particularly long recording session with Future Teens and expanded on it to create the song. One of the themes of the album is reconciling your dreams and where you thought you might be with where you are right now. It's so easy to become focused with where you want to be or what you want to be that it's easy to lose track of what the good things happening in your life. I also love a super short opening track so it kind of just worked out well.
I personally gravitate toward the title track. Is the album named after this song, or the song named after the album –– and is this song special for you, too?
Daniel Radin: I'm so glad to hear that! They kind of came in tandem. I originally hesitated in having there be a title track but ultimately felt like the title suited the track too well to pick another one. Chronologically, the lyric at the end of the song came first, then I decided that's what the album would be called then I decided to name the track that too. The song is definitely special for me, it's my first attempt to write a positive love song…like ever. I used to literally not understand the purpose of writing a remotely happy love song. Then I realized that just because a song is happy, doesn't mean it can't be moving or have an interesting narrative.
One thing I've felt like, when listening to these songs, is that the album tends to get heavier as you get deeper into it. Did you have any process in mind for how the overall album experience should be for listeners?
Daniel Radin: Part of that is because most of the second half of the album was written after the pandemic started. I definitely began turning inward a bit more and my writing reflects that. The song order came pretty naturally. I'd finish a song and it would feel clear where that song should fall in the album. I remember when I got the masters back I sent them to Colby. He listened through and said "Damn, this is a really painful album about growing up" I think that sums it up nicely.
I'm also really taken with "22." It's so intense and vulnerable – a total unveiling, I think. What were you attempting to convey in this song?
Daniel Radin: This song is about my recently confronted anxiety. It's something I've lived with for nearly my whole life. The song is my attempt to capture what it feels like to waste the day fretting over bad decisions made or possible negative outcomes. When I finally started to seek help for it I remember my doctor said, "you don't have to live this way." That really stuck with me. It was eye opening to hear someone say it so plainly and openly. The song moves to different moments in my life underlaid by that feeling of unrest. From not being able to relax on a day off to back when I tried to tell my mom that I should throw out my queen bed to get a twin because I'd convinced myself I'd be alone forever. With this song I tried to mirror how my brain works; creating associations between seemingly unrelated experiences.
I'm always coming up with
A backup plan for this
It makes me so anxious
But I don't think I can help it
How long have I felt this way?
Not bad but not that great
And what did I do all day?
Made plans to hesitate
It's what I'm made of
The fear of nothing running through my heart
Guess that's how I make art
Back home again my love
House full of all our stuff
Just let your eyes adjust
Life's better than good enough
How do you feel you grew as a result of making this album? Now that we're some months out from its release, how has your relationship with the album changed?
Daniel Radin: I think this album helped me realize that writing and releasing music doesn't have to be a long painful process. I think this is the first time I've ever written an album and released it that same year. For so long I've held onto songs so tightly that I became precious with my writing. I think this album helped teach me that tightly holding onto art like that just drains the life from it.
I was struck by the poignancy of your ''Rainbow Connection'' cover. Why include this song on the record?
Daniel Radin: Honestly I've wanted to cover it for a long time but couldn't never find the right way. I absolutely love the lyrics. It has this false simplicity to it. It sounds like a children's song but has these beautiful grown up themes about belief, love and death. Also it makes me cry every time Kermit sings it.
Do any of your songs off the album resonate with particular strength for you? What are your favorite moments we haven't spoken about?
Daniel Radin: I wrote 'Silver or Bronze' when my old band was ending. I thought, "Okay well I guess my music career is over." I was going through a lot of emotions and never felt like I could accurately capture what it really felt like. For almost 10 years now I've been touring and writing and recording nearly full time and I wrote this song from the perspective that maybe that was over. There are certain moments in life where it feels like you grow up all at once. This was one of them.
I'm also really proud of 'Night Song.' That one came out all at once. I wanted to capture that dream-like state of confusion you feel when you wake up in the middle of the night.
The first record hasn't even come out yet, but I have to ask: Is LSD a one-off, or will there be more Lake Saint Daniel albums to come?
Daniel Radin: Definitely planning on writing and releasing more. Already got some covers in the works and definitely will be more originals too!
Finally, what do you hope others take away from this album?
Daniel Radin: My goal when writing music has always been tied up in the hope that it might provide some sort of catharsis to the listener. I truly hope that these songs resonate with people in some way similar to the way that they affected me while writing them.
Thank you so much! Sending good wishes your way, stay healthy and safe!
— —
— — — —
? © Danny Hoshino
:: Stream Lake Saint Daniel ::
---