Recommended If You Like: Imagine Dragons, Bon Iver, Chet Faker
Electricity hangs heavy in the air on Elwell's brand new single: Pulsing with epic sounds and touching emotions, "Claps" is both a jarring and cathartic sonic experience.
I thought I would feel free
And never meant to make you feel small
With your face just swimming down your cheeks
You look just like a child
I thought I would feel free
Listen: "Claps" – Elwell
[soundcloud url="https://api.soundcloud.com/tracks/331545901?secret_token=s-2QbCV" params="color=ff5500&auto_play=true&hide_related=false&show_comments=true&show_user=true&show_reposts=false" width="100%" height="166″ iframe="true" /]
---
Atwood Magazine is proud to be premiering "Claps," the latest single from emerging electronic artist Elwell – the musical project of Los Angeles by way of Minneapolis songwriter/producer Andy Elwell. A blend of samples and synth pads form a dark bed of energy on the artist's new song, reminiscent to but distinct from the latest releases from the likes of Imagine Dragons or Kanye West. More closely resembling the recent works of fellow Los Angelinos BRÅVES, "Claps" explores a brooding intimacy in an unfamiliar, mild chaos.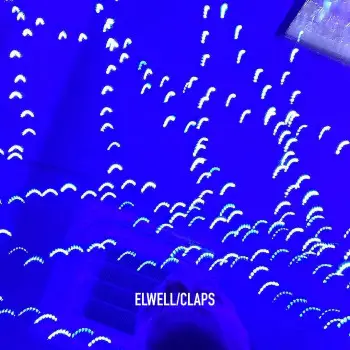 You know I am of the sea
Break the shore to follow out the tide
You say my name and it sounds sweet
But it's not right this time
You know I am of the sea
""Claps" is a song inspired by the period of soul searching the happens soon after the break up of a relationship," shares Elwell. "It explores the questions we ask ourselves in regards to the decisions we make and how honesty can be the great clarifier of things clouded by emotions and fear."
The surrounding instrumentation does much to evoke a lost, epic sensation – the background features wordless vocal bursts sung amidst darkly ominous, bombastic synth pads. It's rhythmic and danceable, yet heavy and harrowing at the same time. Says Elwell: "As far as production goes, my producer Brett Bullion, collaborator Jeff Sundquist and I got together in the studio in Minneapolis shortly after I returned from Japan last year and broke down and rebuilt Claps from the demos I had previously made. We used some of the tracks from the demo, found bits of audio and some voice messages that a couple friends had sent me over the phone… All three of us are influenced by Kanye West – I most definitely am – and I feel like you can hear his influence living in this track."
Don't hold your tongue
Just let it go
Say your piece
And hold no blows
Don't forget to breathe
Don't hold your tongue
I didn't try to take your feet
Steal away with all of your want
I know your hanging on this breach
The pressure is bearing down
I didn't try to take your feet
Hypnotic and engulfing, "Claps" is a reflection on actions and emotions that could only happen with the passage of time. "I thought I would feel free, and never meant to make you feel small," sings Elwell in the opening verse. He immediately draws us in to what can be see as a sort of closure. Though we seldom write a letter to our ex post-breakup, explaining what went wrong and how two people drifted apart, that's exactly how "Claps" presents itself: It's a letter of explanation, the final goodbye.
It's also a fantastic introduction to Elwell, whose forthcoming Endless EP promises to be a dark deluge of emotionally-driven dark electronica. Connect with the artist through the socials below and keep spinning "Claps," exclusively on Atwood Magazine.
— — — —
photo © 2017
:: Listen to Elwell ::
[soundcloud url="https://api.soundcloud.com/users/1811880″ params="color=ff5500&auto_play=false&hide_related=false&show_comments=true&show_user=true&show_reposts=false" width="100%" height="450″ iframe="true" /]