No turning back, I fall into you under the light of a silver moon…
Passion is powerful: Whether we are in love or hyper-focused on a project, there's a magic about the things that make us feel invincible, forgetting the rest of the world. In moments of passion, we are unstoppable, magnetic and full of life. It is one such moment that Carly Van Skaik captures in her intimate new love song, "Closer to Heaven."
We drive east to the dark forest in search of magic
Swimming deep in the darkest blue of eyes so tragic
Running through the tall grass with our hearts on fire
Moving fast you cant put out our burning desire
Listen: "Closer to Heaven" – Carly Van Skaik
---
Atwood Magazine is proud to be premiering "Closer to Heaven," the mesmerizing new single from Hollywood-based songwriter Carly Van Skaik. The follow-up to Van Skaik's self-titled 2016 debut EP is delicate and haunting, a warm piece of hypnotic bliss. Electronic swells and dark, brooding tones form a surreal, larger than life landscape – the perfect environment to put on display the sheer, overwhelming weight of love.
Van Skaik's voice is hushed – she sings with the music, embedding herself within the soundscape. Dark chimes hum behind her as she chants, croons and sways under a strong spell.
No turning back I fall into you
Under the light of a silver moon
Intimate and impacting, "Closer to Heaven" evokes love's embracing beauty. It feels innocent, utilizing an acoustic guitar whose presence is seldom heard in such "electro-pop" songs. The guitar is brings with it that warm, rosy quality that electronic swirls can never replicate. Within this great contrast exists Carly Van Skaik, her head and heart swimming in their transient states.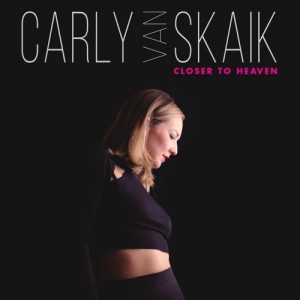 "I wrote this song with my friend Matteo in Nashville. We both had binged watched Stranger Things and were obsessed with the score," explains the artist. "We wanted to create a soundscape that felt like it could live in that world, yet with a modern take on it. Lyrically the song is about falling in love with someone. It's that time, usually in the beginning of a relationship, where you get lost in that person and you're living in this alternate reality where everything feels epic and magical… It's also usually right before reality comes crashing down, haha… but that is a different song."
Indeed, everything sinks into the background when you're in love. Nothing else matters, except for the one in front of you – the one who took your breath away. Isolated from the rest of the world, you and your love are all that ever existed; you drive away the past and the future in an unconscious surrender to the present, and in that space you thrive. "Closer to Heaven" captures the depth of that truly magic moment.
Morning doves flying out from the trembling leaves
We lay in the red rose petals staining my sleeves
Fingers locked, daisy chains lay on our heads
Slow it down, show me how to love again
"Kiss me again, closer to heaven," sings Van Skaik, lost in a euphoric haze in her song's epic ending. The title "Closer to Heaven" references the feeling of love taking you higher than everything and anything else – bringing you as close as possible to the heavens. Carly Van Skaik succeeds at bringing that feeling to life, offering intimacy through an ethereal kaleidoscope of electro-pop that is utterly brimming with life. Enjoy "Closer to Heaven" through Atwood Magazine's exclusive stream, and look out for more from this promising, evocative talent.
— — — —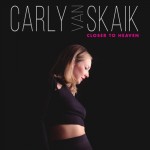 Carly Van Skaik EP