Longtime New York resident Emmy Wildwood celebrates her return to Arizona with her first self-produced album, the lively 'Heavy Petals'.
— —
Tucson lies over 2,000 miles from New York City and is also enormously far removed from the Big Apple in terms of size, landscape and culture. Thus it seems logical that Emmy Wildwood was able to drastically shift the course of her own career by moving back to her Arizona hometown after over 10 years of living in Brooklyn and circling around the rest of the city as a performer. On top of making some important life decisions (quitting drinking, most of all), Wildwood has also used her time back in the Southwest to connect with local music-makers – especially Nathan Sabatino, an established producer who grew up locally and is currently based in Joshua Tree, California – and have a go at learning the audio workstation software ProTools.
The outcome of all this creative rediscovery is Heavy Petals, her newly released nine-track album and the first of her career to be entirely self-produced, a feat she pulled off at her home studio in Tucson. From the energetic guitar-riff-laced "Boy! I Am Alive!" to the thumping, self-descriptive "Drummer/Drum Machine," there is plenty of material here to demonstrate that Wildwood is both a skilled veteran of her craft and reveling in the experience of trying out a new approach.
Atwood Magazine speaks with Emmy Wildwood about this greatly transformative phase of late in her music-making life.
Stream: 'Heavy Petals' – Emmy Wildwood
A CONVERSATION WITH EMMY WILDWOOD
Atwood Magazine: You began your solo music career in 2013. Between then and now, what have been some major events that have set the stage for you to move on to this most recent project, Heavy Petals?
Emmy Wildwood: The first thing is that I had the time and space to do it after moving out of the city. But even before that, when I first got here I took a lot of time to think about what I wanted to do next. I rested and I wrote a lot of songs. I just waited for the feeling of knowing it was time to act. When you really love something, it's easier to tie it up with a ribbon and give it to the world as a present. I just hadn't felt that in a while. 
You hear about singers leaving X City to advance their music career in New York way more often than the other way around. What made you decide to move on from NYC after ten years? In what ways have you been able to reinvent yourself artistically in Tucson?
Wildwood: New York, in my humble opinion, is a place to get good. You play a lot, you network a lot, you throw a rock and you hit three guitar players. It was 100% essential in advancing my music career, but I capped creatively under my circumstances and it doesn't matter how much you want to advance – you can't when it's not financially or emotionally possible.
I came to Tucson to re-group, for sure. I quit drinking and I looked into long-unsolved health concerns and it made me think more clearly. And it was stupid painful, all of it. And that's when the best songs are written: in the processing of strange times and in the celebration of overcoming difficult chapters.
What was it like to self-produce this record? How did you apply your working knowledge of ProTools to this project?
Wildwood: Self-producing was transformative for me. When I began this six months ago, I thought I had no working knowledge of ProTools. I considered it too late in the game to sharpen producer chops, which admittedly I suspected I'd be good at. Circumstances being what they were – and have been, during my years in the industry– there weren't a lot of opportunities for women to be in music production roles. I was obsessed with Linda Perry since I was 11 years old, but I thought it would be impossible to do what she did because she was the only person I knew who was doing it.
Since then, I've come to realize how many women produce. The even bigger revelation is how many women there are who are already instinctively producing but who don't think that they could measure up to releasing a good enough record on their own. So when I sat down to use ProTools, I was amazed at how much I already knew. I've been in studios and bedroom studio scenarios since I was 15 years old, staring over the shoulder of many male producers my entire career, even at times taking over while they did takes. It is beyond me that I was so blocked to believe that I wasn't capable yet. I knew almost every shortcut just from memory, from seeing it happen, and it changed my confidence forever, knowing that I could have missed for so many years what I was always capable of doing. 
The title of the album, Heavy Petals, is rather oxymoronic. How did you come up with this title? How is it reflected in the content of the songs themselves?
Wildwood: Oxymoron and quadruple entendres are my two favorite songwriting tricks! Flowers show up a lot in my art. Rose is a family name and my mom's middle name. I love the imagery of petals and the delicateness of them and how up close they're kind of veiny and terrible-looking. The same is true for beautiful human women like me. I don't know if the heaviness is trying to present a contrast in the two things but rather how they intertwine perfectly to describe me in my rawest form. It's even possible that these petals were meant to invoke the imagery of somebody losing those heavy parts of themselves – if you think about it, when you put weight on a petal, it's so easy to tear away the beauty and sadness that it represents. I just felt sort of lightened after I named it that. It's a fun record and it's an ode to the fun I was ready to have after everything I had been through in the prior years.
How did the album's lead single, "Bad Thing," come about? In what ways can it be connected, musically and thematically, to the rest of the record?
Wildwood: "Bad Thing" came about after a conversation about how, when people are first in relationships, they have a tendency to disappear into their partners. In the past, that was my pattern and I try to stay cognizant of it in my current relationship all the time, reminding myself that when you put off things for your partner, you don't get the time back and it never gets you the result you think it's going to get you. I think it's an important piece of the record because this is a record in review of patterns: patterns in me, patterns in societal expectations, patterns in drum machines because those beats don't change. 
You've worked in close collaboration with Nathan Sabatino, a key figure in the Tucson Underground scene, on this and other recent projects. What has your creative partnership been like? What do you hope to achieve together in the future?
Wildwood: Nathan and I met a guitar store I worked at when I was 17 years old. He's a handful of years older than I am and was always my local hero. Coming back to the Tucson music scene made me get in touch with so many escaped memories. I had no idea how much of the past I would have to confront by moving back here. It's really not anything anybody can prepare you for, and just being here made me think about the records we'd made when I was a kid. I'd say, "I don't know what I'm doing," and he'd say, "Just go and press the record button." Nathan was a huge advocate for making this record and it would be an honor to collaborate with him again in the future.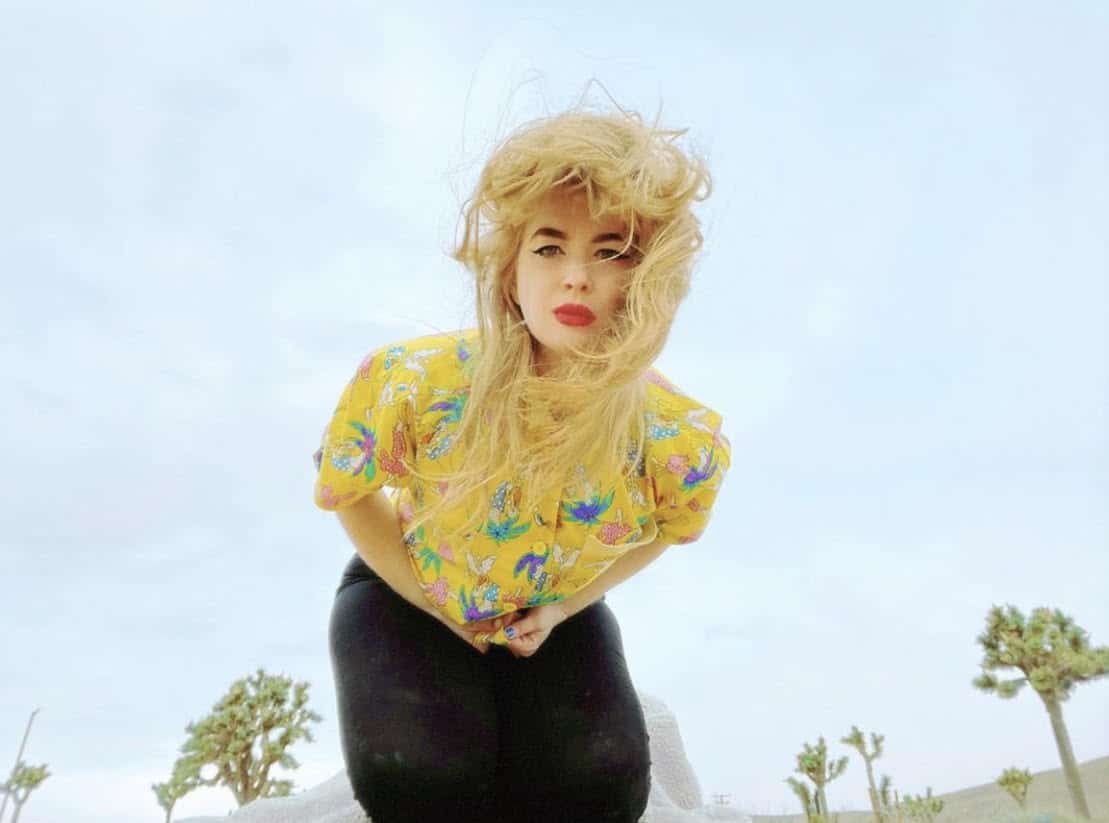 One of your most intriguing projects as a Brooklynite was launching Tiger Blanket, which you describe as a "boutique-record label hybrid." Where do you see the overlap between clothing and music? Might you do the same thing, or maybe try a different combination, now that you're back in Arizona?
Wildwood: I've always been talked to about my wardrobe on stage, which, if I'm being totally transparent with you, is almost always a surprise. Hand to God, I do not think about wardrobe past what sounds f-ing awesome to wear. Like I said, I'm a patterns person, and I think that preparing for photo shoots and imagining how people would look in the outfits they're wearing in them is the exact same thing as writing songs and producing music. It's putting puzzle pieces together. It's math and equation, a beginning and a middle and an end, looking for completion and that feeling of knowingness. And frankly, I had to make money because I am not a side-woman, so I couldn't think of any better way than to combine two things that came totally naturally to me. It was really hard work, harder work than anybody could ever guess. Fashion will always continue to be an element of my work, but to me it's the less important piece. Everything I ever did was so that there would be more opportunities for music. 
So far, your SoundCloud page has a bunch of original tracks and one single mash-up: "Breathe Me" and "Lean On." Why those two songs? Are there any other pairs of songs you'd like to experiment with, and why?
Wildwood: I partnered with my longtime friend and collaborator Bredahl and we each brought a song. We both were in between record releases and Nik is the most patient and pleasant man in the world, and I think I just needed a breather. And I'm sure I will again, but I haven't really thought of any other mash-ups! Do people still do them? 🙂
— —
— — — —
? © 2020
Heavy Petals
an album by Emmy Wildwood
---