Seven-time Grammy nominee and soul singer/songwriter BJ the Chicago Kid stresses the importance of building a life outside of the studio — with family, religion, and self — on the heels of his upcoming album with Yeti Beats.

---
It's been four years since BJ the Chicago Kid released a solo studio album, instead spending the past few years collaborating with emerging soul, rap and R&B musicians, like Lecrae, Lute, Joy Denalane, and Polo G. The hiatus was part unintentional, with the world shutting down, but also largely a conscious decision. As much as BJ the Chicago Kid is a clear demonstration of the importance of persistent, hard work — moving to L.A. at the age of 19 and writing for other musicians for years before independently releasing his debut studio album — this new chapter of his life is equally about rest, reflection, and self-care.
Making it successfully in the entertainment industry is so competitive, that artists sometimes forget how to turn off the passionate, yet extreme work ethic they develop in the beginning of their careers. Now, almost 20 years after BJ first began in this business, he has the opportunity to pause, reflect, and actually appreciate what he's built so far.
"Liquor Store in the Sky" – BJ The Chicago Kid ft. Freddie Gibbs
A CONVERSATION WITH BJ THE CHICAGO KID
Atwood Magazine: I know so many people, myself included, are really excited for this album because it's the first one after a couple of years. I know last year, in 2022, you took a break from releasing solo music. Was that intentional? Was there a thought process behind that? Did you want to take some kind of spiritual break or was it unintentional?
BJ The Chicago Kid: [During the pandemic], the whole world went through something at the same time. From Europe to Africa, to America, everybody had the same newsletter, you know what I'm saying? We all had the same rules, and that never happens in life. The crazy part is in between that time of not knowing what tomorrow will bring and when things will open back up, I took time to deal with myself, as I hoped and prayed that other people did too. So whenever life opened back up, we could be better people dealing with better people.
I have spent so much of my life creating and trying to make a future for my family. I really took that time [during the pandemic] to be myself and focus on me, BJ. I needed that more than anything. Before that, my father had passed away, and it was just so much that was going on. I would never hang myself with a musical role. I won't let this thing make me forget about everything else that really matters in life; my balance, and all the other stuff that makes music cool.
I do write all of my music. If I don't live, I have nothing to write about. So it was about pure balance, learning, getting more tapped into God, myself, and the person I want to be. I was checking in on my friends, my family, my loved ones. So there were a number of elevations, for real.
Absolutely. And artists aren't machines that can just churn out music, you know, day after day, year after year.
BJ: You know, some people just go in and sing what's on the paper. They don't have any feeling or emotion or creative input. People can be a shell and go through this industry too. Thank God, I'm not a shell and there's a soul inside me. That makes it even more fun when we come back outside, it makes it more real. You're actually here talking to a better person that you're interviewing. My team is dealing with a better artist and I'm dealing with a better BJ, even away from my team. It's just all across the board. It just balanced out for me in a beautiful way, but it wouldn't have happened if I wouldn't have taken that time to get away.
I wanted to talk about your relationship with the producer on this album, Yeti Beats, and how long you've known them. When did you start working with them, what is that relationship like, and why did it feel right for this next album?
BJ: I've known Yeti Beats for a couple of years now. A good friend of mine by the name of Levi Maestro introduced us some years back and he always figured that we would be cool friends and make cool music together. Maybe a month after that, we got together and did one song; this was about four years ago. We did one song and we love the song that we did.
We were trying to find out what to do with it. We always talked about doing a project together. Yeti Beats is more the clean pop side of things, and I'm more of the soul, R&B, edgy, and gritty. I am a chameleon when it comes to music. Outside of what you guys hear from me, I'm really a chameleon to what I listen to.
So, Yeti was going to throw up for his friends to come meet my friends and pretty much experiment. We were having a good time pouring liquids from different beakers into others and seeing what we could come up with, because we couldn't really do anything wrong. We just wanted to see what would come out of us getting together.
•• ••
This week, BJ the Chicago Kid released the two newest singles from his upcoming album, made in collaboration with renowned producer Yeti Beats and RCA Records. "Forgot Your Name" and "Liquor Store In the Sky," though part of the same project, paint two entirely different pictures of the 38-year-old musician, known for writing about his upbringing in Chicago, his own journey understanding his mental health, and navigating romantic and familial relationships.
Atwood Magazine: Songs like "Liquor Store in the Sky" sounded like it might have been about multiple people. There's a verse where someone's mentioning it could be about your uncle, your cousin. Was that a hard song to write? The subject matter is a little touchier than your other recently released single, "Forgot Your Name." Do you find those difficult or in some ways easier to write?
BJ: There's so much emotion in the ["Liquor Store in the Sky"] story because it's about a friend I grew up with. My oldest brother, Aaron Sledge, was best friends with his brother, Brian. Then we became best friends. But this song was not hard to write. None of these songs were hard to write. All these songs were written pretty fast, because I was on my own, trying to write unapologetically, and trying to write something that would last forever. "Liquor Store In The Sky" is a song title that I've had in my phone forever. I was just finally happy that I heard some music that I felt would match it and match the concept of it. Just like producers have many drum beats on their computer, I have many song titles and inspirational quotes or, just, notes on my phone that inspire the music. "Liquor Store in the Sky" came from that list.
It sounds like this all came about organically. Is there anything you specifically want people to take away? Is there a side of yourself that you're trying to show in this album or is it really just like you said, music that makes you feel good?
BJ: Honestly, this is an experimental album that I'm doing with Yeti Beats. We're inviting all of our friends to the same party. Hopefully, they get to know each other and can start a beautiful relationship that matches what [Yeti and I] did. Honestly, I'm inviting his white friends in the room and he's inviting my Black friends. We're both having fun with our sounds to make one sound.
•• ••
BJ's creative process comes off as somewhat of a fever dream.
Although he is prioritizing balance in his life overall, when it comes to the crunch time of writing and finishing an album, he's often in the studio for days on end, without taking any breaks. For In My Mind, BJ The Chicago Kid's second studio album (released in 2016), he told Vibe that the project was recorded in roughly 30 days, including several nights where BJ slept in the studio.
Atwood Magazine: You recorded about 85% of this project at Royal Studios in Memphis, Tennessee. Can you tell me if you have a relationship with Memphis? What do you kind of think about when you think of that city? Was it a completely random chance that you ended up at Royal Studios?
BJ: I have a connection to Memphis, yes, I'm Black. I still have family in Memphis. My Southern roots go deep on my mother and father's side. But the suggestion of Royal Studios was pure Yeti. He got it, set a vibe that set a precedent of what we were going to make. It was fun and it came out to be an incredibly fun trip.
You recorded 85% of it in, in five days. Is that correct?
BJ: This is very true. I was downstairs, they were creating music upstairs and writing to us as soon as they finished it. They sent it to me upstairs and I would write to it; it became like a factory.
So were you sleeping over at the studio? Not actually, but you know what I mean?
BJ: I mean, I was there past employee time. Of course. I would be there until about five or six in the morning, go to the hotel, take a nap, and come back by one or two in the afternoon and do it all over again. Some musicians will be at home in bed. I'll still be up to maybe about five or six because magic happens outside of the daytime.
Soul music at this time is incredible, because a lot of people love soul music, but they can't create it, they can't make it authentic, they can't make people feel it. Soul music is not something anybody can do. You have to be chosen to do this. You can't just stumble upon creating a soulful song. It's called soul music because it causes your soul to be in it.
If you're not willing to tap into your own soul, the soul can't really rock. I hate to sound like an old guy like that, but this and rock and roll are the only two genres with that level of respect. You can't just jump in it and be a rock and roll star. Soul music is the same thing. It's not something you think you can just do. No, you have to respect the thing.
Even R&B, you can just hop on in it, but not soul music. I thank God for that, because I like being a part of something. Anybody can't just walk in. You know what I'm saying? I'm honored to be a part of something that is so elite. It has to choose you.
•• ••
Considered a fixture in both the Chicago and soul singer/songwriter communities, BJ the Chicago Kid is a frequent collaborator of rappers from Top Dawg Entertainment, lending his voice to some of the world's favorite lyricists: Common, Kendrick Lamar, Freddie Gibbs, and Anderson .Paak, many of whom are also his close friends. Born to church choir directors, and starting his career writing for gospel and R&B artists, BJ the Chicago Kid's voice carries a spiritual weight that remains heavily present in his music.
Atwood Magazine: You mentioned God. How big of a role does spirituality and religion play in your day to day life right now? Is it a big part of your life?
BJ: It's not right now. It's every day, every day. If I don't pray, I will go crazy. We have to deal with people who don't always think what we think, surprises, and other things in this life. We have to stay prayed up. We've got to believe in something bigger and with a high enough purpose. My personal mind might not want to do certain things if I didn't understand the higher purpose, or the bigger plan. You have to believe in something bigger to understand the bigger plan because our personal minds can always bring us back down.
— —
"Liquor Store in the Sky" – BJ The Chicago Kid ft. Freddie Gibbs
— — — —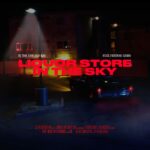 © Micaiah Carter
:: Stream BJ The Chicago Kid ::
---