23-year-old Chance Peña has refined his sound and wants to connect as much as he can with his young fans. The Texan singer/songwriter and producer tells Atwood Magazine about his recent Bonnaroo performance and the inspiration for his new EP, 'Lovers to Strangers'!
Stream: 'Lovers to Strangers' – Chance Peña
---
I think when it comes to recording music, there's such a pressure nowadays for everything to be perfect. And even that, you gotta shake that idea.
Speaking with Atwood Magazine while relaxing on the beach in Florida, Peña looks calm and full of joy.
The Tyler, Texas native has been trying to take it easy after years of grinding in the music industry. At only 23, Peña has already become a veteran of the music world.
Peña started his career playing small shows around his east Texas town, and eventually working his way to the national stage by appearing as a contestant on The Voice.
He is best described by his work ethic, matched by genuine openness to write vulnerable and honest lyrics. While telling Atwood Magazine about the music he's been listening to recently, it's evident that Peña is always trying to better himself and open his artistry to a wider audience.
Chuckling through his answer, Peña tells Atwood, "I've been listening to this guy named Kevin Kaarl. He's from Mexico. You know Zach Bryan? He's like Zach Bryan in Spanish, kind of. I've been trying to learn, because my family is from Mexico and my dad didn't teach me, so I've taken it upon myself to learn. So, I've been listening to his music and then also learning on Duolingo and then talking to my friends in Spanish. So, it's like this kind of trifecta, but I've listened to his music for the last couple weeks pretty heavily. Big Colter wall guy as well recently… He's like 26 but he sounds like he's 80, which is really good. Yeah, his songs are almost like old Western trail songs. It's pretty cool."
His musical style is serene, paired with the feeling of staring out the window of a car, driving away in the rain from a deeply emotional experience.
But, his music also shows that the rain will dry eventually, and the clouds of today can turn into sunshine tomorrow.
Peña's hit song, "In My Room," has over 120 million streams on Spotify.
---
Building off the success of "In My Room," his new EP, Lovers to Strangers, is retrospective and ethereal in the best ways. It's subtle and can serve as an emotional release to those that need it the most. He can put to words the most painful experiences, such as being alone in your room, reminiscing about what was once, while the moonlight dances in the dark of the night.
Peña tells us about the tragic story of "Lovers to Strangers," the title single off his new EP of the same name.
"I was staying with [my friend] in Nashville and I said something like 'if you could have a superpower, what would it be?' You know that whole random conversation? And then I was like, 'I wonder if we could put a superpower into song and it not be corny.' And then we had our session and were hanging out in the studio later that night. I was sitting at the piano and thought of the line, 'if you had a superpower to turn lovers into strangers.' 'I was like, 'we got to do something with that.'"
"It's like, someone kind of threw you to the side and you know, maybe they're almost proud of it in a way, not consciously, but they're really good at fucking you over, for lack of a better term, and moving on and going on to do it to somebody else."
---
Peña makes it clear that you don't have to pretend to be okay; you can yell at the world and cry at the thought of a breakup. His music is the warm blanket that we all need on a lonely and cold night.
"Lovers to Strangers," "break up song," and "Long Lost Lover " do a tremendous job of painting his message of looking inward, remembering the pain, and resolving the outstanding feelings of betrayal.
"I feel like these three songs are somewhat of a continuation to the vibe or story of 'In My Room.' It's just dealing with moving on and coping with the loss of a loved one. I think the most recent song would be 'breakup song' that's on this project, and that was written in October. So, they're all from like, the same six-month span. That's another reason why I'm really excited to get these new ones recorded because these are all probably from the last three or four months. There's one called "long lost lover"; I had just recorded a guitar part for it. Like if you listen to it, you'll hear the three chords come in. I recorded that maybe two years ago and I was going through old files on a computer. I was like, oh, we can do something with this. So, I put down some lap steel [guitar] on it and just started mumbling and the lyrics are what came out."
"And then 'breakup song,' that's when my sister was 16 at the time, she had just broken up with her first boyfriend. And so, I wrote this song and sent it to her and recorded it that night. And I think it's one of my favorites. It's just a nice little easy listen, warm and fuzzy, you know? I think it's a good little batch of songs. I'm excited for people to have them and I'm really excited for what's coming next."
---
Peña has taken the last couple of years working on these few immensely important and personal songs, hoping to perfect them. He understands, however, that there is no such thing as perfecting a song; It's about creating what feels best in the moment.
Speaking about a song that was removed from his new EP, "But I felt deep down, I was like 'it's not ready.' Yeah, that's a weird line to walk because you're like, okay, I love where it is. Is it ready to go? Sure. Or could I spend another couple of weeks on it making it better? But I think that's the artist's eternal plight."
It's also been a while since Peña has been on the main stage, taking a bit of a hiatus to find himself and work on his artistry and his personal journey.
He tells Atwood about the fun he had playing at Bonnaroo recently. It was his first major "name on the poster" kind of festival experience.
"I haven't even been to one to attend as like a fan. I did like a small one in the Catskills, in upstate New York when I was like 18. But Bonnaroo was the first proper, 'name on the poster' kind of thing, which was really cool. Yeah, man, it was something else. I hadn't performed in a while really too. Growing up, I performed a lot of solo stuff. Not many bands shows, maybe one or two when I was younger, and you know, since these last few releases have done so well over the last year, I haven't really performed. So, Bonnaroo was the first time where I was playing songs that I wrote in my bedroom, you know, produced myself, and then people were singing them back to me. Which, I didn't expect at all. I thought maybe some people would know me, but mostly people would just walk up or whatever. But I'd be like, 'this next one's called In My Room' and people are freaking out singing it back to me. It's cool because I hadn't expected it. I don't know, I just had fun and I really loved it. I'd do it again in a heartbeat."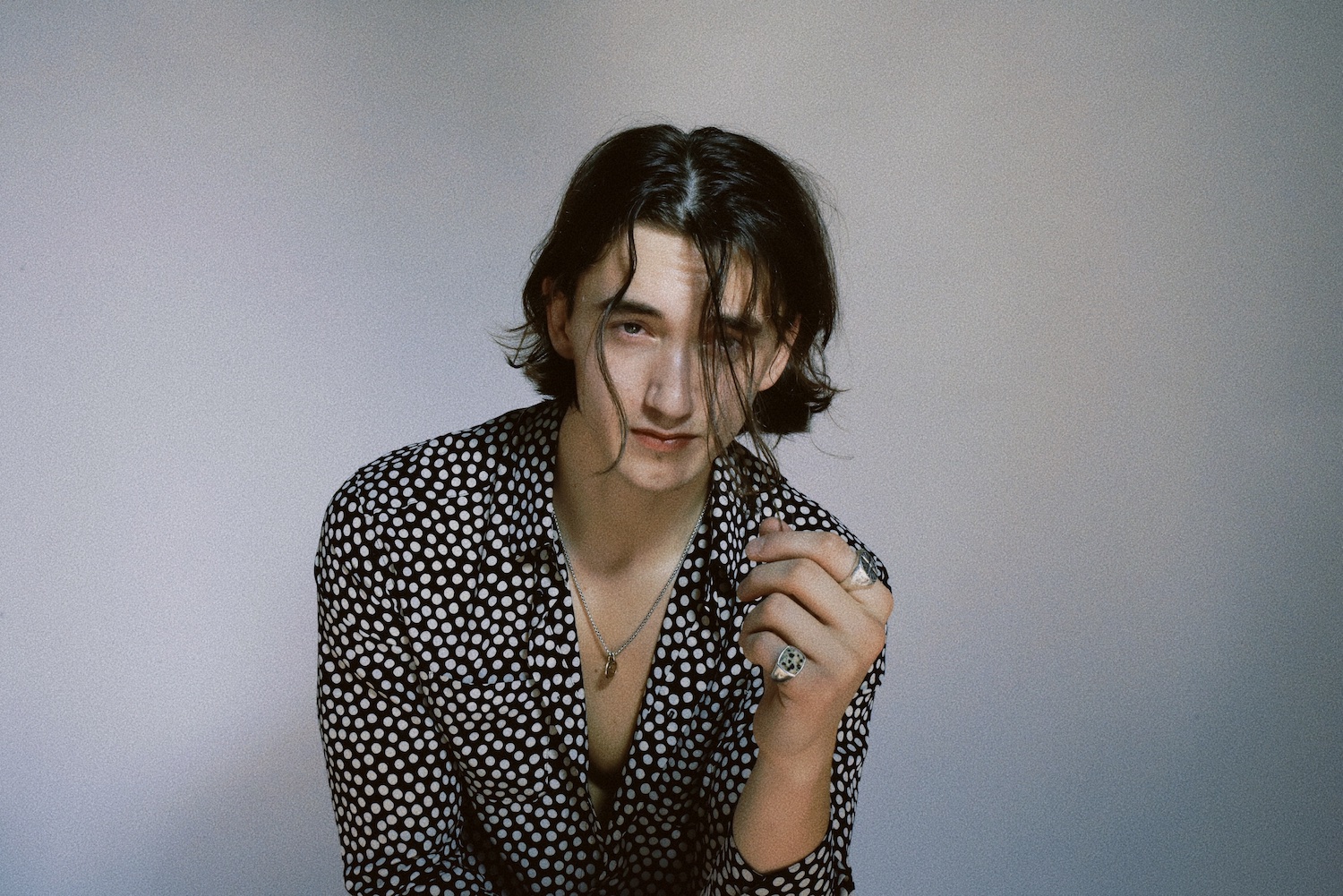 Is it ready to go? Sure. Or could I spend another couple of weeks on it making it better? But I think that's the artist's eternal plight."
Peña says that his sound is usually sadder and slower with some folk-Americana influence, but for Bonnaroo he decided to go for a more "indie-rock" kind of vibe.
"I think it was because like going into rehearsals, we knew we would need a festival sound, like to get people hyped, you know? Because a lot of my music is kind of slower, medium tempo, might want to cry too it," he chuckled, with a cheeky grin.
"We played a lot of new stuff too. I think the only slow song we really did was "In My Room" because a lot of people know that one, I think it's a good one. Yeah, I think the indie-rockiness came from just us having fun. Like everybody's doing their thing, going out there, we'll have a good set, and then hopefully do it again soon."
Peña also made sure to mention the artists that he got to meet and watch as a fan himself at the festival.
Laughing about the surrealness of the experience, "I got asked to be on a panel at the last minute. I walked into the trailer, and the guy was like, 'let me introduce the other panelists.' I walked in there and Young Gravy was sitting right there. So, that was cool! But yeah, after my set, we went and saw Tyler Childers and then we saw Odesza, which was awesome. But that's kind of about it. And then the next morning I flew to New York for a show. But I definitely would like to go back and spend a couple of days hanging out and stuff."
---
Speaking of another major national performance, Peña tells Atwood about his experience as a 15-year-old on The Voice. He claims that this is where his work ethic was refined and tested. He received a "taste of the good life" and wanted to fight to keep it going.
"It definitely opened my eyes to this being something I can pursue, you know, to like get through that gauntlet and realize it's an achievable thing to do music with your life… for me, when I was 15 going on it, and a lot of people I knew at the time, you kind of assume like okay, you're on a giant TV show. You're set. You know, you're good to go. But really, it's just like a taste and it's like okay, yeah, time to start working. You get elevated to this position for a couple of weeks, and then it's almost like a challenge. It's like 'you like this, huh? You want it, you want this? Go work your ass off' And I pretty much said 'challenge accepted.' That's what you gotta do."
"It's the whole cliche like hard work beats talent any day, which I think is true, but if you have both, and you don't let talent make you lazy, then I think you're unstoppable. It's hard, it's hard and talent doesn't make it easier, necessarily. And working hard doesn't make it easy, it's just you gotta love what you do."
You're looking down the viewfinder and you're focused on the moment. Nothing's pulling at you other than what's in front of your eyes
While working hard on his music, Peña still finds it to be his natural stress reliever. He's most happy when he's writing and singing.
"Even though music is my job and my career, it's still a hobby. It's still something I sit down and do when I need an escape or release. Yeah, I'm not always thinking like 'what's the next thing or what do I gotta post about? What am I doing?' It's like, just release."
Besides music, he's found a creative outlet in an old family keepsake as well.
"My grandma gave me her old film camera a couple years ago. That's another one where there's no work involved at all. It's just peace, you know? You're looking down the viewfinder and you're focusing on the moment. Nothing's pulling at you other than what's in front of your eyes. Yeah, that's it, those two things. I grew up exercising, you know, fitness family, so I'll do that occasionally. That's not as much of a release for me that's more of like, let me get my mental health right. But photography and music are definitely my peaceful endeavors."
From his humble beginnings on rural Texas stages, to playing in front of thousands of screaming fans at Bonnaroo, Chance Peña is definitely on the rise. He understands that sheer talent isn't enough, and that the motivation to keep learning and being present for his fans is more important than anything. Stream his new EP, Lovers to Strangers, out now!
— —
— — — —
 © Shervin Lainez
:: Stream Chance Peña ::
---