Christine and the Queens' fourth album 'PARANOÏA, ANGELS, TRUE LOVE' is a detailed exploration of Tony Kushner's 'Angels in America' — and Chris' own journey with self-discovery.
'PARANOÏA, ANGELS, TRUE LOVE' – Christine and the Queens
---
Chris truly is an angel — heaven-sent to the synth-pop music scene. In June 2023, Christine and the Queens released the full-length, introspective/experimental album PARANOÏA, ANGELS, TRUE LOVE.
PARANOÏA, ANGELS, TRUE LOVE is separated into 3-discs totaling 20 songs. The collection features guest appearances from Madonna and 070 Shake and the already-released single "True Love" featuring 070 Shake.
According to a press release, this album takes direct inspiration from Tony Kushner's Angels in America: A Gay Fantasia on National Themes — a play described as a production "about love, betrayal, abandonment, religion, forgiveness, friendship, and the supernatural."
"This new record is the second part of an operatic gesture that also encompassed 2022's Redcar les adorables étoiles," a press release states (via Stereogum). "Taking inspiration from the glorious dramaturgy of Tony Kushner's iconic play, Angels in America, Redcar felt colorful and absurd like Prior sent to his insane dream-space."
During an interview with Pitchfork, Chris explained that he re-visited Angels in America during the COVID-19 lockdown, subsequently ruminating on the role of angels in pop culture. With PARANOÏA, ANGELS, TRUE LOVE, "Chris embarks on a voyage of self-discovery, paving the way for a captivating and introspective musical experience."
Source material aside, the genre varies greatly from fan-favorite tracks like "People, I've Been Sad" and "Christine." Of course, this artist matured since Charleur Humaine — he's looking for inspiration in different places, but still carving time to work with Charli XCX for Crash's "New Shapes."
PARANOÏA, ANGELS, TRUE LOVE included a sample of "Pachelbel's Canon in D" for "Full of Life," as well as an introduction track. It leans into the synth-pop genre, using heavy production elements to create an overarching tone.
Chris is based in France, therefore featuring songs in both English and French. Plus, there are plenty of thoughtful yet always relatable lyrics for listeners to dissect. That's particularly true of the single "To Be Honest."
Broken and yet tender
Always in and always out
Heading to the water
Drowning in what it can hide, hide
Kind of always cautious
Don't you, don't you break my heart
Feeling kind of loveless
Yet always ready to try
– "To Be Honest," Christine and the Queens
Some tracks are more experimental than others, leaving "Track 10" and "Big Eye" for detailed, unobstructed listening. Overall, the collection highlights Chris' creativity and honed production skills. It feels like a milestone, or an expression of freedom so welcomed by fans.
The artist embarks on his world tour in 2023, making stops across Europe and North America. More information can be found on Chris' website, while PARANOÏA, ANGELS, TRUE LOVE is available on streaming services like Spotify and Apple Music.
— —
— — — —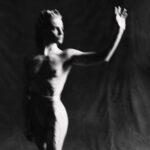 © Jasa Muller
art © Paolo Roversi
:: Stream Christine and the Queens ::
---