History and tradition, sweat and sacrifice: They're the motifs that stand the test of time, and they're the principles upon which Clay Ravens establish their musical identity. From Vancouver, Canada, siblings Justin and Brianne Huntley Smith weave a web of folk and rock, roots and Americana into their debut EP All In, a heavy and wholesome record that echoes with stories past, present and future.
Listen: All In [EP] – Clay Ravens
---
Atwood Magazine is proud to be premiering Clay Ravens' debut EP All In, independently out this Friday (10/27/2017). Featuring the Huntley Smiths alongside electric guitarist Brendan Tydall, fiddle player Matt Cook-Contois, bassist Kelsey Butkus and drummer Tim Lanham, Clay Ravens evoke the sound and fury of the heartland – their heartland:
"We wanted to create a collection of songs that would capture the beauty in gritty Canadian stories of displacement, addiction, and friendship, using a poetic lens," the band shares. "What eventually became the All In EP is an intentional juxtaposition of raw folk and lush indie sounds to support the emotional dynamics of the stories we wanted to tell."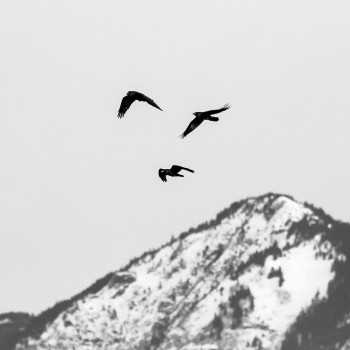 All In is an intensely dynamic fusion of city and country, mixing urban and rural musical elements to create a heavy reflection that folks of all walks of life can relate to and understand. It's not just the band who are "all in"; it's us, the people, who are all in this world and life together.
The song "Draft Dodger" is a poignant, folk rock tribute. "My Canadian hometown was a refuge for draft dodgers during the Vietnam War," the Huntley Smiths share. "Relating the stories I heard growing up to current geopolitical situations inspired me to explore the impacts of abandoning your home due to political pressures. The song 'Draft Dodger' explores the human effects of uprooting yourself and leaving your family for a chance at a better life."
Elsewhere, the band channel vivid emotions into ferocious musical moments. Says Justin Huntley Smith: "'All In' is about diving head first into the risks that could crush me, taking my licks, and screaming for more. It's about jumping full-force down a gravel path to catch something out of my grasp, and being proud of the scars I earned by going for it." A darker song with dynamic and explosive acoustic and electric guitar work, "All In" closes the EP with passion and fury, and it is on that final, crunchy stroke that we know Clay Ravens have shared their truths.
Stream Clay Ravens' debut EP All In, exclusively on Atwood Magazine!
— —
— — — —
photo © Chad Gilmour
:: Listen to Clay Ravens ::