Every Friday, Atwood Magazine's staff share what they've been listening to that week – a song, an album, an artist – whatever's been having an impact on them, in the moment.
This week's weekly roundup features music by Charli Adams, Daði Freyr, Rachel Sermanni, Smallpools, Stone Jets, Halfloves, Squidji & Disiz La Peste, Chappell Roan, Nazanin, daysormay, IAMREBELWILL, Mel Bryant & the Mercy Makers, Alexis Marshall, & Sam Ezeh!
•• •• •• ••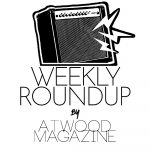 — —
—
:: "Get High w/ My Friends" – Charli Adams ::
An unapologetic escapist anthem, Charli Adams' "Get High w/ My Friends" is as irresistible as it is undeniably intimate. Full of fiery beats and soaring melodies, the latest single off the Nashville-based singer/songwriter's debut album Bullseye finds Adams dwelling in the depths of feeling, embracing reverie with no regrets.
"During lockdown, I had a crew of six girls in my covid bubble that would come over and just go off together," Adams shares. "I share a lot of heavy shit on this album so I didn't want to leave out this part of the story. I'm not encouraging escapism through drugs, it's more about whatever helps you feel more present. Personally, I like doing drugs in the kitchen with my friends. It's one of my favorite pastimes and it kinda kept me going through a really difficult year. It's my 'Put Your Records On' or whatever…it's my 'fuck it, have fun' song."
I woke up again, phone is blowing up
and my head is spinning
I try to pretend that I'm busy when
Mama calls again
she said I'm smoking way too much
I should give it up
I was good at being young now I'm growing up
I don't need a reason
I'm just in my feelings
tonight I wanna dance and get high with my friends
Call up my bitches
rolling in the kitchen
tonight I wanna dance and get high with my friends
Buoyant, pulsing bass lines, hot drums, glistening guitars, and achingly expressive vocals help make "Get High w/ My Friends" an unmistakable enchantment. Adams here takes on a sound akin to that of her favorite band, The 1975 – one whose sweeping sonics immerse listeners as much in a sound, as in a feeling. Unassuming yet indulgent, subtle yet overwhelming, "Get High w/ My Friends" sweeps us off our feet and into a beautiful daydream.
:: "Pink Pony Club"- Chappell Roan ::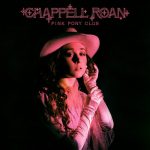 Between the raging global pandemic and the burgeoning calls for racial justice, Pride 2020 took a necessary backseat. It's 2021 now – and while we still have a pandemic and systemic injustices to address – it's Pride again, and I think we could all use a bop or two. So I'm taking this opportunity to shine a light on those pride anthems that (in my "expert opinion" as a member of the LGBTQ community) didn't get enough appreciation last year. One such anthem? "Pink Pony Club."
"Pink Pony Club" was released in April of last year, by singer-songwriter Chappell Roan. The track is about a girl who leaves a small town to go live her truth out in West Hollywood. Her mother may not understand, but that's not going to stop this girl from having fun and dancing it up on stage with drag queens and leather daddies. While the song is somewhat rooted in Roan's own life – as she moved to L.A. from a small town in Missouri to pursue her music career – the lyrics are a clear anthem for the LGBTQ community.
Many members of the community come from families and backgrounds that don't fully understand them. Even Symone, the most recent winner of Ru Paul's Drag Race, came from the deeply conservative and evangelical state of Arkansas. But just because we face adversity doesn't mean we should shy away from who we are or where we belong. After all, Pride itself started as a riot, affirming and declaring our human rights. So whether you're at Stonewall honoring Marsha P Johnson and Sylvia Rivera, or over at the Pink Pony Club with Chappell Roan and Porkchop (?!?), dance it up, fight for progress, and celebrate your authentic self.
:: "Black Window" – Stone Jets ::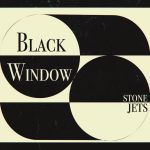 Whereas Stone Jets' last release found them weaving a spiritual song of perseverance and staying power, the London band's latest release is a revelrous celebration: Uplifting and feel-good, but layered in depth at the same time. A pulsing revelry sure to get listeners moving and grooving, "Black Window" finds the duo of Given Nkanyane and Manfred Kloset reckoning with a bit of life's give and take, working through the overwhelming to find some peace and inner balance.
drown it out, declare a drought
now open a window, so where do we go
I don't think of that, there's no tit-for-tat
The choice is yours, so where do we go?
A ray of you comes running through
I don't know what I'm going to do
Even though you don't believe
I like you here with me
Oh no… I need to darken my window
"Blackening the windows to your soul/mind is taking time away from distractors like people and/or things that consume you," Stone Jets' Given Nkanyane tells Atwood Magazine. "This song aims to express the feeling of wanting to close yourself off to everything and find peace of mind, even when everything and everyone around you relents not. The joy in the song is found during the chorus when "A ray of you comes running through and … I like you here with me…". Sometimes the things we like can take over our lives without us knowing, making it harder to focus on anything else. When you get that overwhelming sensation, you just need to darken your window."
Inspiring, soulful, and utterly fun all at once, "Black Window" radiates the kind of euphoric warmth we'll want to play all summer long.
:: "Paradis Bleu" – Squidji & Disiz La Peste ::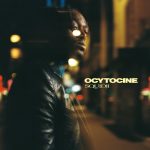 As I finally gear up for my return trip to France this summer, I'm making a heightened effort to entrench myself with as much Frenchiness as possible. Needless to say, that includes indulging in plenty of the nation's glorious hip-hop scene. One of the freshest singles I could find was "Paradis Bleu," a duet between French MCs Disiz La Peste and Squidji. The former, I've known about since my middle school days; the latter, I'd never heard of before and has nothing from before 2018 on his Spotify page.
But so be it… old meets new in stellar style on this song, which sarcastically refers to the home of World Cup Champions Les Bleus as a "paradise." Disiz and Squidji take us on a tour of some of the mean streets of that supposed paradise, which they describe in their native tongues as "violent comme à Kigali, le quartier, la rue et ses bandits." Yet in spite of these hardships, the two are determined to help the youth escape such a landscape by "offering them a palace" and the chance to "quit the streets." Given its tough lyrical topic, the song is impressively melodic, especially in the absorbing chorus sung by Disiz. For evidence of what makes the French hip-hop industry second-to-none-but-the-US in the world, "Paradis Bleu" is totally worth checking out.
:: "Dangerous" – Nazanin ::
Most of us know what it is like to be trapped in a partnership that completely drains us. We also know the satisfying feeling of breaking free and the incredible liberation that arises from that. Nazanin's "Dangerous" is a highly inspiring offering detailing taking the power back. Her strong pop vocals that erupt with fierce passion slide atop a bold danceable beat. After going through a rocky relationship with a narcissist, Nazanin wrote this sassy song.
The NYC based singer-songwriter blends R&B, soul and pop. Known for her lush, sultry tone and bouncing beats, she possesses a compelling charm that hooks listeners. Influenced by pop greats like Dua Lipa and Rihanna, that same confident quality shines in her masterful music. Though she did not have much support to pursue her dream from her immigrant parents, she fought hard to become the stunning musical talent she is today. That determination can be heard in this assertive release.
:: "Ego" – daysormay ::
Canadian trio daysormay deliver a rollercoaster of emotions in their new single "Ego." This cleverly composed track is based around Sigmund Freud's concepts of the id, ego, and superego, with each verse representing those individually. Giving off serious Twenty One Pilots vibes they take inspiration from the likes of Glass Animals, with strong drum patterns, a catalogue of hard, powerful synths and the undeniably, compelling and intelligent lyrics from singer Aidan Andrews.
If you are looking for something a little different to spice up your playlists, then daysormay are your guys. Their new music video for the track is a fun action-packed five minutes! Running around in hazmat suits, the trio tear up an isolated town. Filled with synchronized head-bobbing and unordinary angles, the video is just as whacky and experimental as the song.
:: "Wildflower" – Mel Bryant & the Mercy Makers ::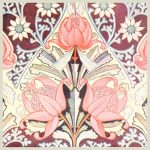 The Americana-tinged punk group's latest single "Wildflower" examines regrets and making sure you still push for the things you're hoping for. Whether vocalist Mel Bryant is waxing romantic about friends with tattoos that they might someday look back on poorly or people frightened of turning into their parents, she still stoically looks on those have tried new things. The sense of self-doubt is reflected in the chorus where she sings about feeling "like a wildflower on the side of the highway."
:: Welcome – Daði Freyr ::
One of my favorite artists at the moment is definitely Daði Freyr. After the incredible (and definitely cute!) track he presented at Eurovision with Gagnamagnið, "10 Years," Freyr recently released the EP Welcome, perhaps a perfect sampling of what the artist is capable of creating.
As the title itself suggests (and as Daði stated), this EP is an invitation to discover Freyr's music and versatility, a friendly welcome to his world. In short, a way to make us all wish that the release of his next LP is just round the corner. How could we not, after all? Just take a look at the dedication and passion he puts into his work, how he carefully puts together the details of each creation as if they were a Lego composition. This man is the brilliant mind we deserve but didn't know we needed.
:: "Hounds in the Abyss"- Alexis Marshall ::
With help from artists like Jaye Jayle, Lingua Ignota, and bandmate John Syverson, Alexis Marshall, vocalist of Daughters fame, presents "Hounds in the Abyss" the first single from his upcoming solo record. Compositionally, "Hounds in the Abyss" is the six minute equivalent to waking up and feeling like every day is the same; everything repeats and none of it is comforting. Rhythmically, the drums are heavy and pummeling, but feel more like a consistent throbbing rather than a beat or pulse for most of the song.
That being said, the drums almost feel like the only instrument for most of the song. At various points they develop and become somewhat industrial sounding and this is amplified by the fact that most of the instrumentation of this song is either very underlying noise, or very present noise. Vocally, Marshall sounds as strained and despondent as usual. His voice cracks in and wails in all the right ways, and much like how the song keeps a consistent pace throughout, so too does Marshall's vocal cadence. "Hounds in the Abyss" is sure to appeal to fans of Marshall and Daughters, the contributors, and noisey, despondent music in general.
:: "Travelled" – Rachel Sermanni ::
The heavy-hearted outpouring of a stirred singer/songwriter, "Travelled" aches with passion and pain: It's the eruption of an inner turbulence we each know all too well. The cinematic "epic at the heart" of Rachel Sermanni's recently-released Swallow Me EP, "Travelled" finds the Scottish folk artist dwelling in a moment of reckoning: Self-described as a "dark night of the soul situation… coming to terms with my choices," the song uses movement and travel experiences to express a moment of stasis; of entrapment; of uncertainty about the present, and insecurity over the future.
It's a dark, dark folk song for those in their darkest hour of brooding and introspection.
I've travelled around, seen many a sight
Held many a gaze flown many a flight
The crows in their murders, the finch in the cage
The robin red breasted, the wren the sage
I've travelled around but I never thought I'd stay
Seen many a sight like a river over clay
Held many a gaze now i cannot look away
"I was staying with the family responsible for the incredible 'Ear-Trumpet-Lab' microphones, in Portland, OR when I wrote this," Sermanni tells Atwood Magazine. "I recorded the demo using all the old time instruments that lay about their house. Fin and I messed with the form a little since that first recording and the evolution & production has brought it to an ever more brooding, deep-dark feel which totally suits the essence of where I was at the time. I recorded the main vocals in my mum's shed in the Highlands when we were visiting during a lockdown reprieve. More and more, I feel like this song depicts a sort of universal shadow of what it is to be Woman."
Released June 2, 2021, the four-track Swallow Me EP was written while Sermanni was pregnant; much of its soul-baring content explores the changes going on in and around her during this time, but nothing comes close to the unparalleled intimate overhaul experienced in the six minutes of "Travelled": A song of mourning and raw reflection that haunts, hurts, and maybe – just maybe helps us on our own journey to self-acceptance, catharsis, and closure.
::"Sapphire Alley" – Sam Ezeh ::
Futuristic yet familiar, "Sapphire Alley" is the ultimate feeling. Sam Ezeh injects the groove, and no one is immune. A wonderful symphony of trumpets, rhythmic guitar, and Ezeh's harmonies makes for an enchanting listen. Ezeh's tone walks a fine line between the past and the present.
Even on my tenth listen, I couldn't fully trace everything I was hearing! "Sapphire Alley" is a sonic boom. With mixes of new age jazz, Brazilian Bossa nova, 60s and 70s funk, Ezeh offers a mix of only the best. The single is perfect for any occasion, though I recommend listening to its mesmerizing hook on your favorite scenic drive.  The work is a testament to Ezeh's writing and musical prowess, which I am excited to hear more of.
:: "Addicted" – IAMREBELWILL  ::
IAMREBELWILL is the ultimate beacon of light. Here to empower the underrepresented LGTBQ+ and POC community, the Toronto artist has dropped the ultimate vibe raiser with his new single "Addicted." This single radiates energy, color and fun. Narrating the retrospective view of a first-time love experience, this single gives off those besotted, romantic vibes, but the ones where you know it's more of an addiction than the real deal.
Exploding in funky bass, charming, fresh synth melodies and hooks that will be playing round your mind all day., IAMREBELWILL's soulful vocals ride effortlessly atop the groovy rhythms bringing a little bit of heat to the dance-worthy tune. "Addicted" is playful, lighthearted and totally feel-good, leaving you with a smile from ear to ear. This is a certified bop, and one you will be thankful I introduced you to.
:: "Life of the Party" – Smallpools ::
Amallpools' new alt-rock jam "Life of the Party" is a must for any summer playlist. The trio has concocted an infectious tune that shows off their signature electrifying melodies and bold arrangements. "So tell me how it's working out? Your ivory tower is gonna burn straight to the ground. Are you the life of the party now?" The boisterous band sings of the sweet karma of those that did you wrong getting what they deserve. Their clever lyrics sung with vehement vocals create the perfect in your face anthem. The quirky visuals filled with oranges are just as unique as the song itself.
The Nashville/Los Angeles group are back with this daring new release. With more edge than past offerings such as their recognizable hit "Dreaming," this new direction captivates with undeniable spirited grit. The song is off their highly-anticipated album, which is set for release in the fall of this year.
:: "Do U Follow Me?" – Halfloves ::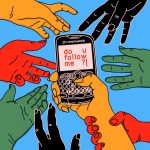 Yes, they're singing "tik…tok…," but don't for a second think that Halfloves are throwing "shade" at any one social media enterprise. The Iowa indie rock band return two years after 2019's album Dazer with a stunningly groovy sonic and a feverish passion, rejecting – or at least, calling out – our screen and social media obsessed lives in "Do U Follow Me?"
"We became haunted and mystified with the motivations of our communications in this age of screens – what was sincere expression and what was based on our 'brand' on social media?" the band's Jeff Roalson tells Atwood Magazine. "Was obsessing over that question a healthy self-reflection or was it self-centered? It's just curious how something as seemingly innocuous as a technology that enables you to share photos of your dog with your family also has this enormous power to subconsciously direct the behaviors of millions and shape the zeitgeist of a culture, transforming the deepest parts of our psychology and sense of purpose. Meaning has become conflated with metrics. We had to ask ourselves, 'Where is this leading us? What are we following?'"
A standout in a sea of mediocrity, "Do U Follow Me?" could very well go viral: The song's deeply hypnotic rhythms and sun-soaked melodies are ready to enchant us throughout the coming hot months – and while the band's impassioned croons of "whatever, whatever" are unlikely to get us logging off any time soon, their critique does remind us to be mindful of how much we value our online, virtual existence, versus our identities IRL.
— — — —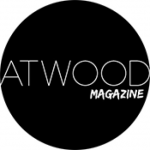 :: Weekly Roundup ::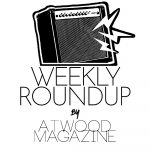 ---
:: This Week's Features ::
---