Warm and wondrous, 'Coalescence' finds Cold Weather Company reveling in a rich array of alt-folk sound as they embrace the world around them and the world within.
Stream: "Golden Hour" – Cold Weather Company
---
These past two years have given us all plenty of time to reflect: On our lives, on our place in the world, on the past, present, and future. Who are we; who do we want to be? Where are we now; where would we like to be, in a year, in five years? Fittingly, Cold Weather Company's fourth album – written and recorded during the COVID-19 pandemic – contains a treasure trove of intimate reflection. It's undeniably a record of the times, and one that approaches some relatively intense subjects with a calm and centered disposition. Warm and wondrous, Coalescence finds Cold Weather Company reveling in a rich array of alt-folk sound as they embrace the world around them, and the world within.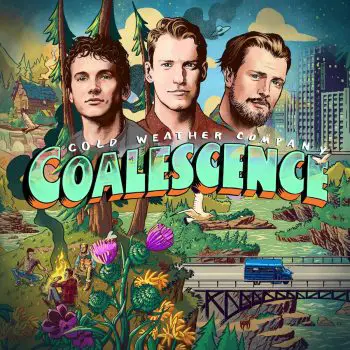 It'll never be too far, it'll never be too far
Opened eyes to see
You're drawing up a dream
Your character moves me
Lives instilled from stage to screen
Lines to build a world serene
Your care ushers a new green
No matter where you are,
It'll never been too far to be here
A staircase to the stars
They'll never be too far
Your climb endears
Released October 15, 2021 via Deko Entertainment, Coalescence is a dramatic world bustling with acoustic charm and electric drive. Cold Weather Company shine with radiant light as they rise and fall on an LP originally split into three parts, each representing a different conceptual facet. It's a majestic return for the New Jersey-based indie band, who have long identified in the alternative folk space – and after three full albums released over the past six years, the trio of Brian Curry, Jeff Petescia, and Steve Shimchick sound better than ever. Coalescence arrives two years after their third LP Find Light, showcasing a broad swathe of sound that comes to life via compelling arrangements, creative layering, and dazzling harmonies. It's a refreshingly immediate album that dwells in tender depths and soars to sweet heights: Dynamic and serene all at the same time.
"Coalescence was a winding journey of a recording project that ended up all being about parts becoming a whole," Cold Weather Company tell Atwood Magazine. "Tracking took two years, thanks mostly in part to the pandemic, and at first we only planned to record and release an EP. As the songs piled up, and the clock kept ticking, we realized we had another full album on our hands. In many ways, the album told us what it wanted to be over the course of its making, and we tasked ourselves with following the creative rabbit to fruition. The more we wrote, and the more we analyzed our own concepts, the project seemed to want to be a complete album. With unique writing input from each of us, there's rarely a shortage of ideas and melodies to expand upon while writing."
"This album represents and celebrates everything that has brought us to this point. The tiny choices made and faces met along our journeys all come together in some way or another in the music and art. Like streams meeting to form a river, and rivers meeting at the sea, we're often at our best in moments of coalescence. Even though this album features more sonic experimentation than our previous albums, we feel it offers a little bit of something for everyone. We've been proud to be able to incorporate three distinct songwriting styles along with a myriad of influences and ideas, and believe that the album serves as a good representation of our journey so far as a band along with a look at where we may be headed next. The album is an opportunity for us to say that after eight years as a band, we're continuing to expand upon our sound while pursuing a direction that feels genuinely 'us.'"
Diving even deeper, the band discuss the album's writing process. "Each song was written and recorded on its own time, with its own personal meaning to the writer of the lyrics. Despite this, when it came time to order the songs, a larger meta-narrative emerged, and each song had a specific place in the puzzle."
"Part one found each song representing the transitional periods between the seasons of a year. "Golden Hour" captures the magic of spring moving to summer. "Let's Go Home" sees summer heights fall to autumn lows. "Woburn" sheds its leaves in search of new growth as fall fades to winter, and "Haven" sees the birth of that new growth while carrying the lessons from the year before."
"Part two's song grouping was inspired by growth rings on trees. "Movement" celebrates the constant effort put forth by anyone or anything seeking strengthening or betterment. "Token" finds itself in a brief moment of stagnation, internally analyzing rather than outwardly growing. "Awakening" sees that inward journey turn outward again as the tree grows on."
And lastly, "Part three is an investigation of plant roots, which wander blindly through the soil seeking connection and foundation. "Tessellation" zooms out to see the seemingly separate become one, as the geometries of nature overlap. "Memory Grave" warns against self-isolation and over-investigation. Coalescence directly references the root concept in its opening verses, and then relates the idea to our story as a band."
---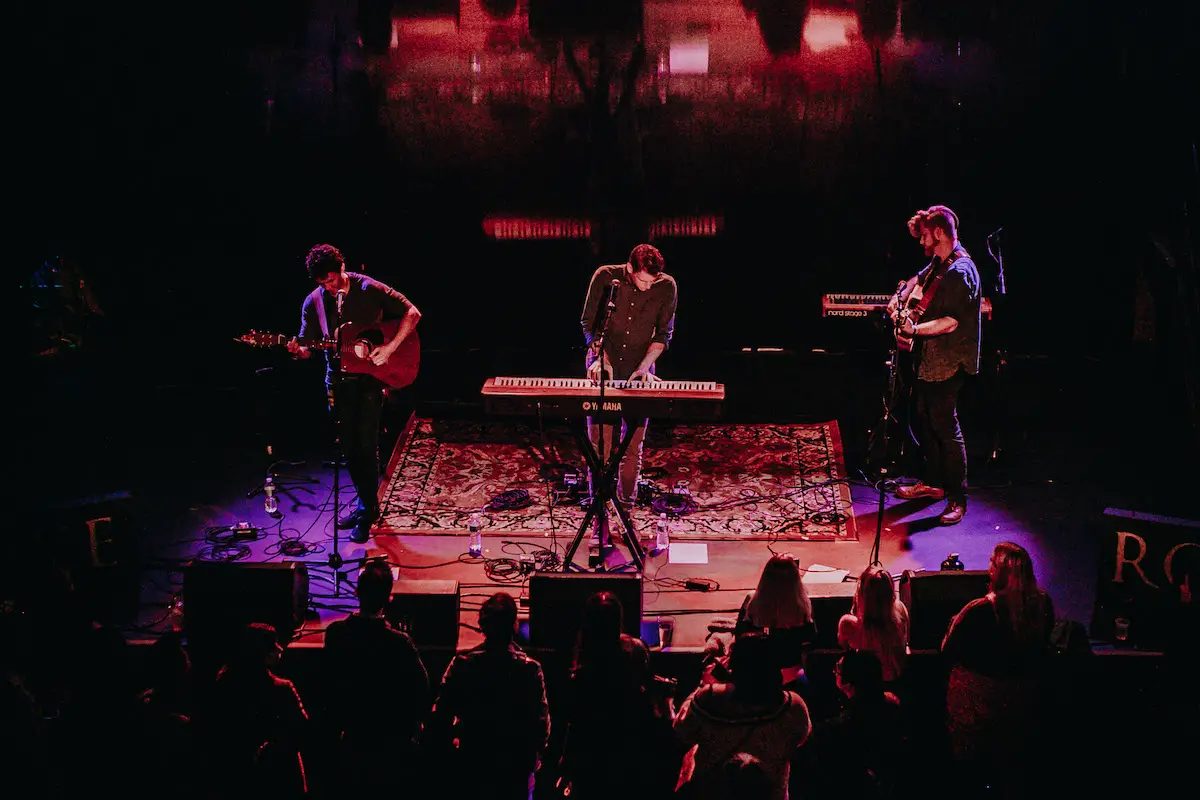 Highlights abound throughout this immersive journey that holds nothing back: From the aptly titled lead single and album opener "Golden Hour" to the stirring, elegant finale "Awakening," Coalescence exposes us to a sweeping array of aural color palettes. There's the gentle "Let's Go Home" and the intimately brooding "Haven"; the groovy "Woburn," with its glistening instrumental guitar work that burns bright, full of unspoken emotion.
The record's expansive second single "Movement," which premiered on Atwood Magazine earlier this year, offers a particularly strong moment of inner and outer resonance. A song full of charm, folk soul, and utter passion, it's an epic eight-minute odyssey beaming with love, empathy, connection, understanding, and positive messaging.
"I'm especially proud with how "Movement" came together," Steve Shimchick says. "The song was one of the earliest we started working on in early 2019, which gave me ample time to work on string and horn accompaniment. Hearing it turn into the real thing and develop, thanks to our friends Jen Ho (violin), Gavin Hsu (cello), Frank Rein (horns), Matt Cicalese (bass), and Zach Jones (drums), was surreal. This was also our first time splicing in audio from others that didn't count as group vocals. It was an incredibly meaningful process for me to be trusted to listen through dozens of personal stories and struggles from our listeners and include snippets in the final product. Even though you might not be able to decipher each voice, I don't think the song would be what it is without them."
---
Shimchick also cites a few of his favorite lyrics on the album – lines that speak to the thoughtful and emotional explorations of self we feel throughout Coalescence: 
"Like a river that lost the sea, I will carry you with me."
"We all come and go, but that's not to say there aren't many who stay and make waking, waiting, working always worth it."
"There's a catalyst to every canvas as you brush past better days and breaks of bliss, you persist."
"Wasting hours in greener pastures, counting flowers on distant shores, but what are dreams anyway?"
"Hope is an ocean, and right here, I'm floating."
Whether you're seeking instrumental bliss or lyrical poetry, folk beauty or indie rock verve, Coalescence is here to be a new home.
Cold Weather Company's music is deeply reflective and takes on such universal topics as purpose and identity, our life's meaning and being present in the moment, but just as you can get lost in these cerebral topics, you can equally lose yourself in their enchanting forest of sound. The music in this record is colorful and creative, catchy and cathartic.
"We'd hope that listeners feel we're incorporating some of their favorite styles in a way that feels unique, and that they're able to be introduced to moments that are maybe out of the style they'd normally listen to," Shimchick shares. "If you mainly listen to more traditional folk, ideally there's a moment that catches you and is from the more experimental side of the album, and if you're used to listening to more upbeat rock, ideally there's a moment that gives you pause to reflect for a little, and everything in between!"
"Having the whole pandemic allowed us to continue to adjust and tweak different elements, worrying less about a particular deadline and instead making sure we felt each song had what it needed. This was our first time releasing an album with full, 'coalesced' visuals to complement each song as well (thanks to Joe Ruff and Haley Potter), so we'd hope that listeners take a look to find the Easter eggs throughout the artwork and videos."
Experience the full record via our exclusive stream, and peek inside Cold Weather Company's Coalescence with Atwood Magazine as the band goes track-by-track through the music and lyrics of their fourth full-length album!
— —
Stream: 'Coalescence' – Cold Weather Company
:: Inside Coalescence ::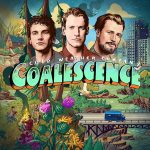 — —
Golden Hour
The structure of "Golden Hour" continued to solidify for nearly two years before the lyrics were ready. It wasn't until early 2021 that the lyrics came together, thanks to being able to witness the determination of the talented friends in our Cold Weather Collective. Through chronic injuries as well as various hardships that stemmed from the pandemic, these friends continued to create and motivate not only me but each other, so it seemed fitting to dedicate the song to them and build the story around their passions. – Steve
Let's Go Home
Saying goodbye to someone you care for is never easy, and neither is sharing a wavelength of frustration and sadness that cause you both to say, "Let's go home". This song was written over a few months during a very transitional time, and each verse captures a different stage of the process of parting ways. It wrestles with mixed and fluctuating thoughts and feelings, attempting to rationalize, organize, and package up a chaotic spiral into something manageable. Writing this song helped me through a difficult time, and I hope it can be helpful and relatable to those out there who may be currently experiencing something similar. – Jeff
Haven
Sometimes we're most honest with ourselves in short bursts. Feelings that stew for years can distill in minutes if we let them. "Haven" was conceived and written in less than an hour during one of the most difficult times of my life. It explores the duality of my own character and decisions, playing devil's advocate with myself, generally finding answers to be fluid and somewhere in the middle. – Brian
Woburn
"Woburn" is a really special song for us. We did our best to convey our emotions primarily through our instruments, with minimal words added to help set the scene and showcase the fusion of similar life scenarios two of us were experiencing simultaneously. The song's writing process began during down time in our hotel room in Woburn, during a weekend trip of performances in Massachusetts. – Jeff
Movement
This song stemmed from some aptly timed readings around the concepts and handling of patience, progress, regrets, and stress. The writing process led to us asking our community to send audio responses answering a prompt about what was keeping them from making progress. Those responses were key in shaping the song's overall direction, but especially the second 'movement' where the recordings are spliced in. Everyone experiences the above concepts differently, and has different goals to reach, so we wanted to include pieces of as many stories as possible. – Steve
Token
"Token" is part of the same story as "Let's Go Home," reflecting on the same situation months later. In many cases, moving on from something difficult is not just a simple clean cut. Regression takes place along the journey, and inevitably during the coping process, we can find ourselves lying to ourselves, putting up a front that says "I'm completely fine." Overall, the song was an outlet for the frustration of still holding on deep down- still keeping both a metaphorical and literal token from the past.. – Jeff
Coalescence
Likening our story as a band to the tale of Don Quixote, "Coalescence" takes a semi-comedic narrative voice as it plots our origins. From breakdowns in our vintage Bluebird Microbird school bus to shows in Acadia National Park, the song romps its way from past to present as a self-aware origin story that never takes itself too seriously. – Brian
Tessellation
This song was written in 2019, but it first debuted during our pandemic Cold Weather Collective Zoom Open Mics. The idea in mind was that the support and advice from friends, including those overseas, plays a huge role in working through difficult situations. It's not perfect, of course, but we're lucky that social media allows one to stay connected to those friends in times of need, a feeling that the pandemic only magnified.
Memory Grave
"Memory Grave" defines the mind as a mental theatre, with the stage and show representing our lives, and actors on the theatre's stage representing the people in our lives. For each year you age, you move back a row, growing wiser as you begin to see the bigger picture overall, with less focus on individual details. The song examines how people who come in and out of your life are essentially filling "roles," and how you also fill roles in other's mental theatres, lifelong or temporary. It also makes sure to note that though people come and go, there are of course those who stay and make rising in the morning more than worth it. The chorus hones in on some of those who leave your life (i.e. the story in "Let's Go Home" and "Token") You have a choice to "love your love away," as in, be grateful for the impact they had, the times you shared, and overall assess it more philosophically- or, to "haunt a memory back to its grave", burying those feelings, and angrily moving on. I liked the concept of haunting a memory back when one haunts you, fighting back in a way, which was the original idea for the song. – Jeff
Awakening
Bringing any creative pursuit to fruition takes countless hours of unseen work on the part of the artist, during which time all creators have to find and hold faith in their project, despite sometimes being the sole holder of a vision. Self-actualization follows a similar path, I think. "Awakening" is my own attempt at mapping out my pursuit of passion. – Brian
— —
— — — —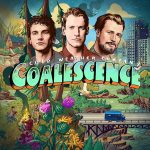 ? © Jeremy Berkowitz
art © Joe Ruff
:: Stream Cold Weather Company ::
---