You'll get out what you put into listening to Curli.'s debut single "worth," a song that's chill, summery, and an unfiltered clapback on modern times. 
— —
It's May, which means it's officially time for music writers worldwide to overthink what the definitive summer song of 2019 is going to be. The fans can feel it, too. With the first day of warm weather, you can almost hear the people cry: Bring on the summer bops!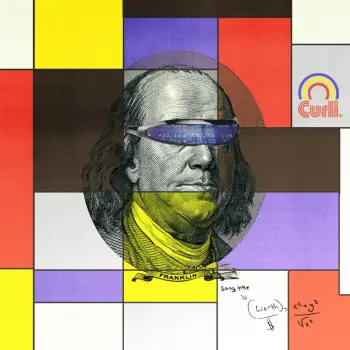 The last thing you want to read is another article nitpicking summer songs, so I'll ditch the overused analytical skills after I point out that summer songs don't have to be the musical equivalents of beach reads. Which is good news for the first song in the unofficial Smart Summer Song Olympics (that is, if you're willing to add it to your playlist after listening. Which we think you will.)
Without further ado, we'd like to introduce Curli. to the world with his debut single "worth," which Atwood Magazine is proud to be premiering today!
A bit of dirt on the artist before you start listening: Curli. is led by multi-instrumentalist Kam Lee. To quote his bio: "A product of the night, Lee was raised in a cave with outdated tech amongst a colony of bats. Years ago, the cave was destroyed by a menacing, masked escapee from the Arkham asylum. Broken but not defeated, Lee sought solace and was drawn to the bat-like skyline of Nashville, a city known for [its] rapidly increasing population and paddle taverns." "worth" is Curli.'s first single, and, in spite of its all-lowercase spelling, or perhaps because of it, "worth" is a song with two sides: chill on the surface, but an "influx of unfiltered content" on "an endless news cycle" and "one's personal struggle to make a buck," according to the artist.
Stream: "worth" – Curli.
---
We could dive into a commentary on economics, or the relentless news cycle, etc., but…the song doesn't really make you want to, necessarily. The synth-laden vocals and dubbed-in trumpets make for an 80's pop feel, summery without feeling sugary. It's not explicitly angry as much as it is just a laid-back complaint with a bit of bite about stuff like your rent being so high and bitcoin bros on their Bitcoin Trader App not helping. Unless you want to listen carefully, that is. The flashy album art does the same thing: it could look like Duchamp took on Ben Franklin instead of the Mona Lisa and superimposed it all over a Mondrian study*… or just some graffiti in the mall bathroom circa 1980-something (or, alternately, that Saved by the Bell pop-up). Like deconstructing the album art, you'll get out what you put into listening to "worth." And the whole thing is just so catchy that it doesn't really matter whether you're there for the surface-level tune or whether you're in it for the commentary. You'll have a good time either way.
Hey!
What's the money worth?
Come on! Oh!
What's the money worth? I say
Hey!
What's the money worth
And your crypto-currency won't pay my bills, no! 
Hey!
What's the money worth? You know!
Oh, it's just guns & pervs
Come on! Say!
What's the money worth?
And your crypto-currency won't pay my bills, no!
Ironically (or not), the song is worth exactly the effort you put into listening. But wait, you say, isn't that the truth for most music? Exactly, kid. Exactly.
So whether you're in the mood for bopping your head along to a catchy tune, bashing all that's messed up in this cultural moment, or both, you'll want to give "worth" a spin. We dare you not to end up humming it later in the day. And be sure to keep an ear out for more by Curli.—we have a feeling he's going to be making a splash in the indie pop scene.
Stream: "worth" – Curli.
— —
— — — —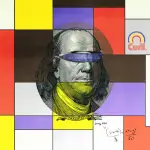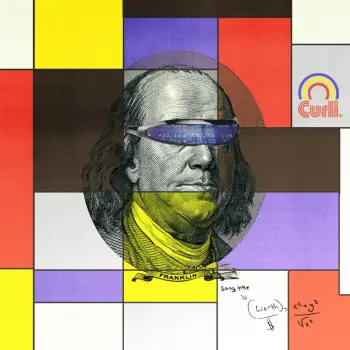 ? © Curli.

*The author doesn't want to come off as (too) pretentious here, she just loves art and visual culture, thinks art shouldn't be elitist and inaccessible, and wants to use her art history minor for something!