Start the countdown
Abandoned town, it's a porter party
Last couple hours taste so sour
Like a bitter oligarchy
– "Porter Party," Nuke Fun
You would probably expect a band called Nuke Fun to be explosive, but casual; intense, but not overwhelming; laid-back, but also serious. If so, then you'd be right on all accounts: Emerging out of Buffalo, New York this past year, indie rock five-piece Nuke Fun are a fabulous juxtaposition, fusing crunchy garage rock with heavy alternative and early punk influences to produce a fresh sound and funky, good feelings.
Consisting of Chris Greco (vox), Kyle Eberth (keys), Connor Andrew (guitar), Matt Deierlein (bass), and Marcus Ryan (drums), Nuke Fun began as an escape from life's doldrums and a means of keeping friendships alive. "Nuke Fun was a way for me to set time aside work and law school and spend time with my friends and have fun," bassist Deierlein shares. "Next thing I knew, we were setting a day of the week to meet up with everyone. It was a perfect way for me to budget my time so I have those small moments of pleasure in my life."
Yet somehow, the small moments have grown larger as Nuke Fun burst out of the bedroom. Released at the end of 2017, Nuke Fun's debut EP Porter Party (yes, that's it's real name; they're pretty into puns) offers a promising sneak-peak into the New Yorkers' high-energy, no-holds-barred approach. Title track "Porter Party" sets the scene with a stimulating mix of electrical sounds and heavy-hitting, hi-throttle electric guitars. Greco's cascading vocal line is instantly memorable, a continues rhythmic pulse that immediately sets Nuke Fun apart.
Visions of a livin
I cannot afford the gimmick
Gimme gimme everything
I never knew I needed till I had it
Slip and slid, dip and dive
Spiritual suicide
No matter how you try, sit and cry
I rely on my lies
– "Porter Party," Nuke Fun
---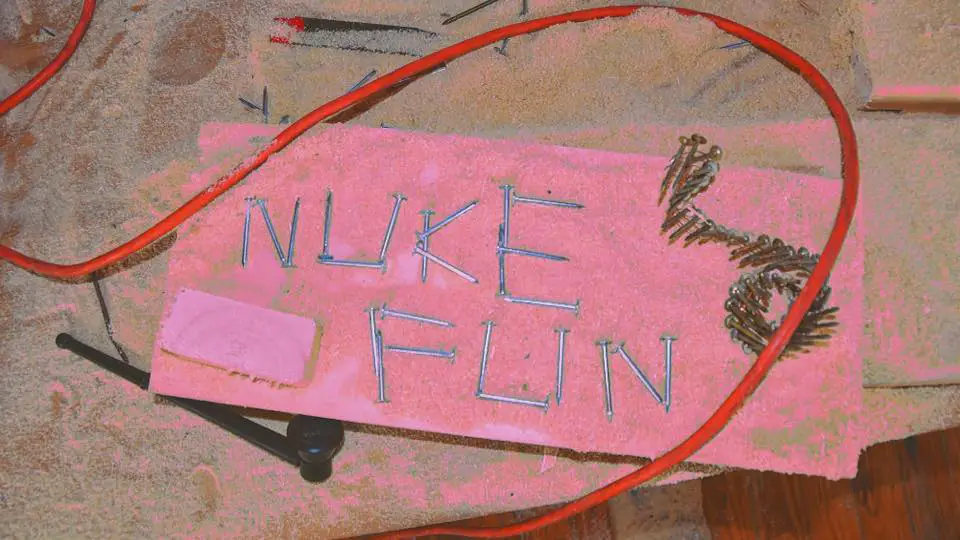 This kind of music is a refreshing change of pace from the standard rock and alternative canon, something new and exciting. And while the EP's title track truly shines high above the rest, the remaining three tracks display a wealth of creativity and a band willing to explore. "Alley Cat" and "Imagine Us" integrate certain hip-hop elements that remind us of the time Guns N' Roses threw rap into some of their later songs. Hint: They're not the standouts. Despite so many attempts to blend these genres, the music world is very much at odds over whether rap and rock live together in perfect harmony – and Nuke Fun, despite giving it a valiant effort, leaves us still at odds. Of note, however, is the synergy between bass and guitar in these tracks. Nuke Fun definitely know how to energize, as can be felt in the record's closer, "Imagine Us."
I'm drinking with the devil
Dancing with an Angle
Stuck in a triangle of anger, again
And you got your new trap song
In this car we a ride along
Drinking that drink lukewarm till we be gone
And we freeze to life lessons
What to do with those lemons
Peace'd out to adolescents we asking nah
And this dagger has an anchor
In unanswered, answers
What feelings have manners
Imagine us
– "Imagine Us," Nuke Fun
The melodic "Nobody's Driving" is something of a melodic half-anthem, a full embrace of Nuke Fun's pyrotechnics that proves them to be more than a one-trick pony. Guitarist Andrew shines in his manipulation of his instrument, both sonically and harmonically: He holds listeners attention up to the very end. "For me, I needed this group to work, and everyone is needed to make Nuke Fun work," Andrew says. "I feel that comfort when I'm with them to bring out my best. Nuke Fun is the biggest project I've been a part of that gives me an awesome opportunity to do something different with the guitar."
Nuke Fun's emergence has been slow – a testament to the fact that for most of its members, this is their side gig. Still, they've managed to earn quite the following in a short time, and the band have their sights set on recording their full-length album in 2018. We, for one, cannot wait to hear more from this exciting entity. Experience Nuke Fun for yourself via the stream below, and peek inside their Porter Party EP with Atwood Magazine as the band provide a track-by-track take on the music and lyrics of their debut!
Listen: Porter Party – Nuke Fun
:: Inside Porter Party ::
— —
Porter Party
"Taking place in a dystopian society… I was trying to focus in on the dream; what people consider to be success and to be so unattainable. Hopelessness feeling. Where you come from. How much money you have. The song is very anti-materialistic. All of this pretty much building up to the end of the world. And there is a party of the select few who would enjoy the end of the world." – Kyle Eberth
Alley Cat
"Alley Cat is about how we feel about big businesses, and how they can control their workers. It's about how people are afraid of those 'back alley' criminals, but larger companies can be a much bigger threat. Some of the actions taken are a form of 'back alley criminality', but within a bureaucratic system. Workers and people are just a currency for them, a very subtle and manipulative form of killing peoples' spirits. I (Connor) originally fed the idea of the song to Chris with just the title and what I thought the song could be, as well as the musical composition, and Chris developed those elements and turned them into what the song is today. The song states exactly how we both felt about the subject." – Connor and Chris

Nobody's Driving
"The song is kind of an outburst of frustration for the lack of independence found in a large part our generation. People have no sense of responsibility and rely too much on the words and actions of other people and blindly accept it instead of questioning it. This, of course, isn't about this entire generation, but a majority. I wrote the lyrics to have more subjective interpretations. This was one of the hardest songs that I've written solely because of the dark tone the song gives out and the more complicated chord progressions. There is no validity nor gratification, just yourself and whether or not you choose to take the drivers seat." – Connor
"I'm not much of a lyricist, but when I first heard it, it had a nostalgic feel. To me it's about remembering the fun you had with friends when life was more reckless and you didn't have much to worry about. In a world full of responsibilities, the song is a call back to when I could just be with people and act stupid. Even though life is serious, and I very much do take it seriously, it reminds me to make sure to set time a side to spend with my friends and be a little wild. The chorus is that recklessness, just goofing around and not thinking about what we're doing. For always trying to take responsibility and taking things literally, the song is also a reminder to not be so literal. Sometimes you just need to take those leaps without looking." – Matt
Imagine Us
"The song is about making mistakes, going out and doing things that are harmful but also an experience. When I picture it, I feel intoxicated, I'm not happy but I'm not sad. I'm just kind of in a limbo of my age; this limbo stage is impermanent. During the verses, I explain things that have happened to me but also experiences people could have in general. It's a story of that weekend, with someone stuck in his or her head. A party addict, a nightlife addict. Goes to a transition of party to adult. When you're all intoxicated and full of yourself. You're drunk by the end of the night and you wasted all this time just to say how you want to better yourself. It's ironic because you're stuck." – Chris Greco
— —
— — — —
photo © 2018
:: Stream Nuke Fun ::