My Darling Annie, what have we done?
Oh, how sad love breaks: It hurts for something sweet to turn bittersweet; for beauty and warmth to sour and cold. In the moment, our feelings are a jumble, a mess of warmth and joy and tension and excitement; fear and confidence swim in the same pool. Afterward, what's left behind? hunter & wolfe's poignant "Dear Annie" indulges in the rawest feelings of heartbreak, painting a painful and vivid portrait through raw lyrics and hauntingly delicate music.
My Darling Annie,
What have we done?
I'm still pickin' up the mess we made
It's hard to believe that you're letting me go
And the world it still turns when I'm away
Listen: "Dear Annie" – hunter & wolfe
[soundcloud url="https://api.soundcloud.com/tracks/348535299″ params="color=ff5500&auto_play=true&hide_related=false&show_comments=true&show_user=true&show_reposts=false" width="100%" height="166″ iframe="true" /]
---
Atwood Magazine is proud to be premiering "Dear Annie," the third single off hunter & wolfe's upcoming EP Late Then Never. The Brooklyn-based duo of Michael Maffei and Sundeep Kapur, hunter & wolfe have divided their time between breathtakingly sweet acoustic work and lavishly emotional indie rock sounds for the better part of 6 years. Their forthcoming work is no different; singles "All the Vultures" and "No One Really Wants Me" have each displayed a different piece of the dynamic duo's personality, the former a driving and intimate rock song, the latter a slower bluesy number whose title speaks for itself.
"Dear Annie" is the tear-jerker acoustic track that will sweep you off your feet and leave you breathless.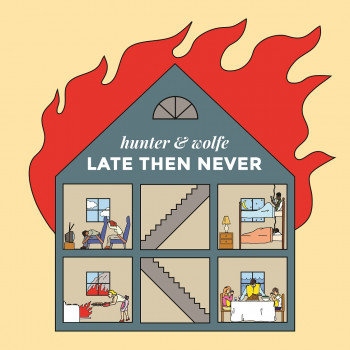 When I told you I loved you
Well I thought that it might be true
Oh, I thought that it might be true
My Darling Annie,
I know you're gone but I'm still
thinking of the words to say
When I told you I loved you
Well I thought that it might be true
Oh, I thought that it might be true
Soft, tender, and incredibly poetic, "Dear Annie" hits the listener like a wrecking ball. Its delicate form emotes the sheer, utter grief with which it is delivered. "'Dear Annie" is an open letter written somewhere between the sadness and resentment of losing someone," reflects Michael Maffei. "It's about how the pain of loss disappears with time, but the good parts do, too."
But things never go quite the way that you plan
I'm tryin' to hold you as close as I can
Time takes you away from me
And nobody know all the trouble I'm in
I feel like a wolf in this city of wind
I know that it's over, where do I begin?
Well, she looks a lot like you
"Dear Annie" is the melancholic, therapeutic closure on a love the narrator never saw ending. It's perfect in every way – intimate and distant, warm and cold. It's the beautiful and tragic goodbye one never wants to say, but sometimes has to, against their own will, in order to pick up the pieces and move forward.
Best that you listen to this song with a box of tissues.
— — — —

photo © aymann ismail
:: Listen to hunter & wolfe ::