Indie folk band Darlingside dive into their uplifting, energizing, and inspiring fifth album 'Everything Is Alive,' a cathartic and vulnerable indie folk album embracing the magic, the wonder, and the sheer beauty of being alive.
for fans of Young the Giant, Fleet Foxes, Bear's Den
Stream: "Darkening Hour" – Darlingside
---
Darlingside's fifth album opens with a blessing: "May you drift in the current of the day you're swimming through," Harris Paseltiner sings, his voice a beacon of tenderness and warmth over cool, percussive guitars. "May you know that you are nobody else but you. In the evening you may find the night, but in the morning, may you get the green light." It's a prayer for spiritual renewal; for all of life's little fresh starts and big new beginnings; a song to open the heart and stir the soul.
It's a powerful offering of unfiltered humanity, and it's the perfect way to start a record full of such intimate, special moments: Energizing and inspiring, Darlingside's Everything Is Alive is a cathartic and vulnerable indie folk album embracing the magic, the wonder, and the sheer beauty of being alive.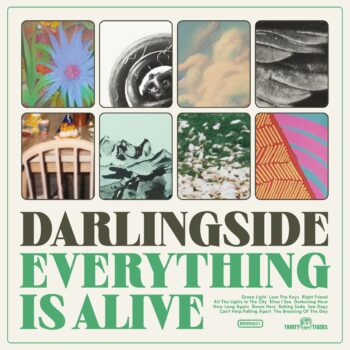 May you find that your god is
Only human kindness
And may you see that the concrete
Is no less divine than this
Oh you have seen that the good days
Come and that they go too
And you may find all the heartache
Passing to and from you
Is passing to and from you
Please and thank you
Bless you to a
Hundred may you live
Please and thank you
Bless you to a
Hundred and again
– "Green Light," Darlingside
Released July 28, 2023 via More Doug Records and Thirty Tigers, Everything Is Alive is tranquil and uplifting, emotionally charged and sonically stunning. Borne out of the past few years' isolation and disconnect, loss and longing, the follow-up to 2020's Fish Pond Fish finds the Boston-based band of Don Mitchell, Auyon Mukharji, Harris Paseltiner, and David Senft looking inside and rising up toward the light for redemption, salvation, and reconnection – the people, and to the world, they've come to cherish over the years.
Atwood Magazine praised Fish Pond Fish as a connective triumph upon its release, calling it "a fresh and moving breathe of life that inspires and uplifts, energizes and delights." Everything Is Alive moves at a similar pace to its predecessor, with perhaps a little more weight in its words – an understandable change, given all that we've gone through, as individuals and as a society, over these past three and a half years.
"Fish Pond Fish was our first record with Ben Burns on drums, and that excellent collaboration continued through into Everything Is Alive —we're jazzed to have Ben with us in the touring band now!" Darlingside's Don Mitchell tells Atwood Magazine. "Both albums featured a mix of hi-fi studio tracks with lo-fi and bedroom-tracked elements. Fish Pond Fish was finished during the beginning of the pandemic and Everything Is Alive began during it, so I think isolation and a search for meaning found its way into both."
"Fish Pond Fish was written mostly in person and very collaboratively, whereas Everything Is Alive began with remote writing and we consciously tried to hold onto some of the personal idiosyncrasies coming from four distinct singers and songwriters."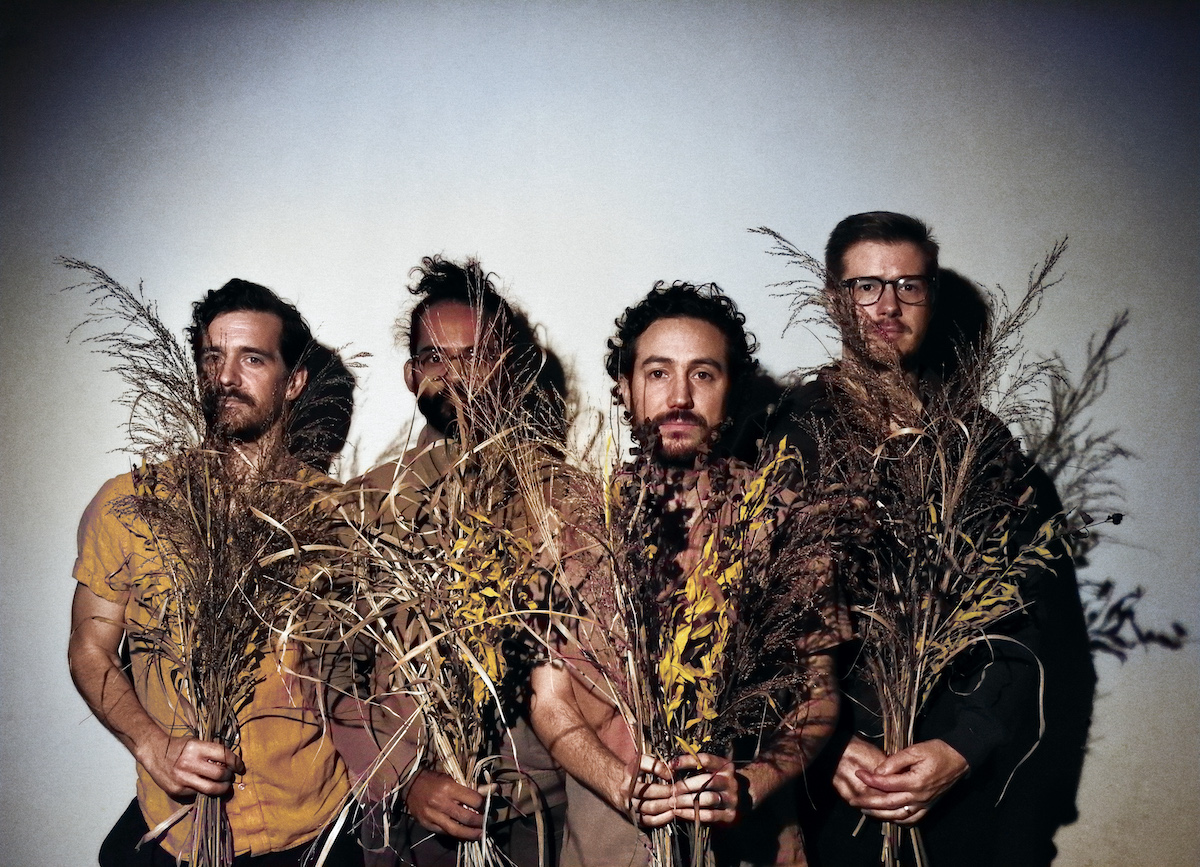 It's easy to see and hear the through-lines between Darlingside's fourth and fifth albums, but the growth – both musical, and human – between the two is just as obvious.
While there's no doubt that parts of this album see the band's members processing their own traumas in real time, the music itself is seductively serene: The exact opposite of whatever turmoil they might have felt (or still feel) inside.
"We began writing this record while we were spread across the country due to life and also due to a global pandemic that some readers may have heard of," Mitchell says. "Early in that writing process, we did a livestream show from my living room where we shared first drafts of songs with the audience online and also with each other, neither of which we had really done before…we quickly decided that that approach (less editing, less harmony, less comfort) was something we should try to apply to the whole album."
"The vision was letting the edges show through wherever we could. On previous recordings, we built a unified sound from the four of us singing together almost all the time—even the songwriting came from a kind of group voice. So this time around we decided to work against those well-worn paths of ours, to shake things up and try to get to a very honest, personal place in the writing and the performances."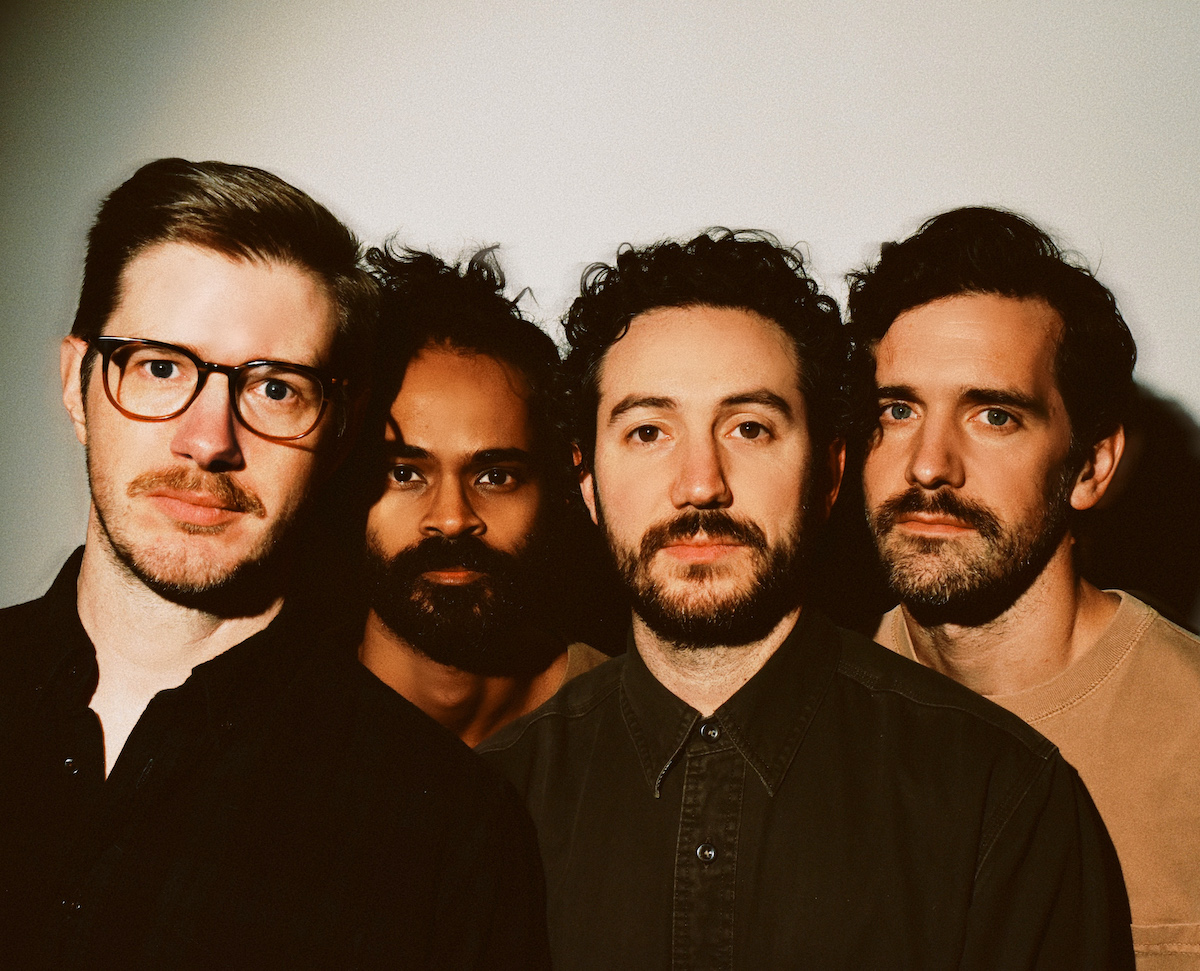 "One thing that shifted partway through the process was we found out Dave wouldn't be able to be in the live band for this record release tour," Mitchell adds. "That inspired us to lean further into collaborating with other vocalists like Molly Parden, Deni Hlavinka, and Caitlin Canty, all of whom will be singing with us on tour at times!"
Mitchell describes this album as "cathartic, vulnerable, and alive." The album takes its name from a line in the song "Sea Dogs" – one that stood out to everyone, and tied the album's themes together under one unifying umbrella:
When up in the clouds are sea dogs
And kites and big white basketballs
The backyard is thickening
How is it everything
Everything is alive
Alive, alive
---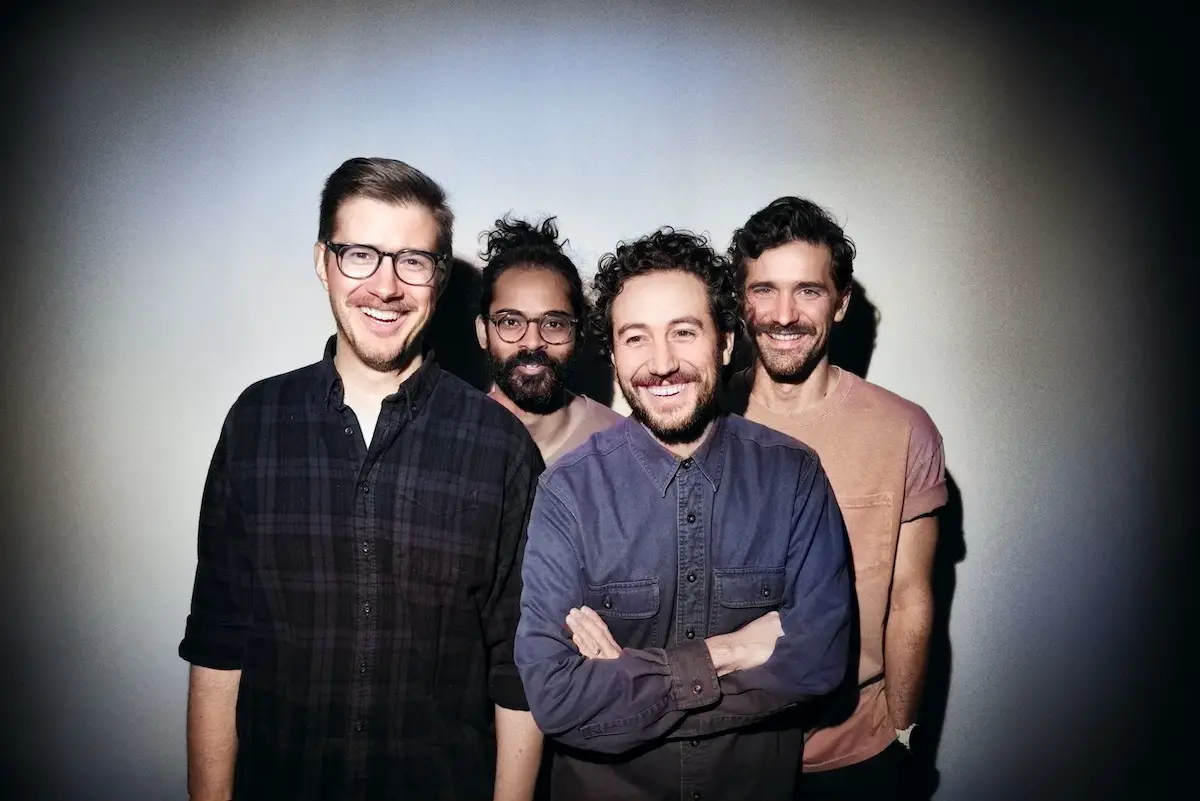 Highlights abound throughout Everything Is Alive as Darlingside embrace the softer, folkier side of their artistry.
From the smile-inducing "Green Light" and the harmony-drenched "Eliza I See" to the visceral tender tempest "Darkening Hour" (an instant standout), the friendship ode "Right Friend," the breathtaking "How Long Again," the enchanting reflection "Baking Soda," and the lilting lullabies "Sea Dogs" and "Can't Help Falling Apart," the four-piece craft a gorgeous, cinematic journey for all lost souls looking to come back home. These songs are a refuge; a sanctuary; an oasis of reckoning and rediscovery.
Just as the album started in a blessing, it ends in one with "The Breaking of The Day," a delicate piano-driven serenade:
May the road rise to meet you
And every horror have its season
They said it won't be easy
And we lost the taste for trying
No more yours and no more mine then
No war and no environment
There we go ago again
It would've been a lifetime
Everyone under the table
See you on the other side
If there should be one
And anyone to find
Half a world away the night sky is rearranging
We pull ourselves together at the breaking of the day
---
Everything Is Alive is a new journey for Darlingside, insofar as it's their first time shining both as individuals and as a group.
This approach has added a new realm of possibility to their artistry and sound, and it's one they hope to explore more as they move beyond these songs and into their next chapter.
"It may sound like a cop-out, but I'm honestly really proud of the work as a whole and the way it represents each of us as individuals while still having shared identity and energy," Don Mitchell smiles.
"These songs represent some of our ups and downs and the mundane/profound areas in between – I hope that listeners resonate with that journey and find ways to make their own meaning in relation to the music. I feel a great relief in having songs out in the world where we can no longer control how they're felt and understood, and they're free to become their own thing."
"Through this album process I think we've gotten better at trusting our instincts and plowing forward without as much need for confirmation that we're on the 'right' path!"
I've been trying to let go of some things
Won't let go of me
From the dream into an unmade day
Pin the leaves up in the tree again
It was easy then
There was time to burn and clear it all out
There was time to lie and let ourselves down
Before the darkening hour
But in the darkness I can see myself
In the outline of the shape you left
So how do I stop short of passing everything on
Do I forgive something I can't remember all of
– "Darkening Hour," Darlingside
And yet, there's no denying that Darlingside are without a doubt on the right path. These songs ache, demanding listeners' undivided attention through haunting, heartfelt poetry, stunning harmonies, and warm, wondrous sonics that hit hard and leave a lasting mark.
Experience the full record via our below stream, and peek inside Darlingside's Everything Is Alive with Atwood Magazine as the band goes track-by-track through the music and lyrics of their beautiful, soul-stirring fifth album!
Everything Is Alive is out now on More Doug Records / Thirty Tigers.
— —
Stream: 'Everything Is Alive' – Darlingside
:: Inside Everything Is Alive ::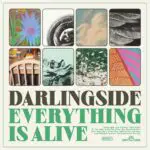 — —
Green Light
When we hit writing season during the pandemic, I was struggling with feeling stuck and cooped up at home—I was at a low point for my mental health with a growing sense of hopelessness. At this time, I remembered a Wikipedia article one of the band members, Auyon, had sent out a few years back called "Response to Sneezing" about how people respond after someone sneezes in different languages around the world. This lyric set started as a bunch of blessings to sneezes and eventually grew into a sort of note to self. In this note, I was trying to stop retreating into myself; and instead, to reorient towards real human connection with family and friends, to see the small but tangible glory of nature that was directly out in my yard, and even to try to see value in boring things like sidewalks and rust. I was trying to flip my mindset from feeling stuck to being able to move forward and see openings in life. – Harris
Lose The Keys
Starting from a blank page can be incredibly hard, which is why I think we've always gravitated toward collaborative exercises to jumpstart the creative flow—the prompt I was handed for a "Couplet Storm" writing exercise was: "Before you know what kindness really is/ you must lose things…" (Naomi Shihab Nye, Kindness)
So I started to freewrite about all the things one can lose: "A set of house keys, a marble, a parent, a plot/ It could be anything; it is the losing that counts." Dave added a rhyme scheme and passed along this first stanza: "Lose the keys, the marbles, lose a parent/ lose the count, lose the plot/ it's the losing that counts, is it not?" Auyon wrote the verse melody to Dave's verses (which continued on in the vein of a caustic guide to self-help/self-sabotage) and by the time it got back to me to add a chorus it felt like the words had practically written themselves: "I would take a win right now." – Don
Right Friend
This tune began for me as the decoding of a beautiful-but-rambling memo of Harris' from a rehearsal, wherein Harris had smashed together lyrics from Don and a melody from Dave. It embodies the "telephone" game that we often play by handing things off to one another. For my part, I kept the chorus lyrics as Harris had them, and then adjusted the verses to set them in New England, where I've just begun to enjoy the winters, mostly because I recently learned how to ice skate. – Auyon
All The Lights in the City
Harris wrote the melody and the chorus lyric ("All the lights in the city make my head go dim") about ten years ago when we were all living together in Northampton, MA. I've always loved the idea so much, but I found it very hard to find words that worked well over the verses. When I finally found a set of words—also written by Harris, also about ten years ago—which fit the verses perfectly, it was one of the most satisfying moments I've ever had as a songwriter. The freewrite was a beautiful collection of vignettes and reflections about domestic partnership and all the Very Big Decisions™ that one makes in life, chief among them the decision of where to live, and how challenging but beautiful it is to answer those questions with a partner. – Dave
Eliza I See
My daughter was born at the beginning of the pandemic. This song reflects on the morning hikes we took up Prospect Hill together to explore, watch birds, walk the streets and intersections up into the woods, and look down on the houses and the city of Boston. It deals with the joy, but also pain, that comes with change, and the excitement of gaining something new while necessarily losing something at the same time. This feeling is especially pronounced for me with my daughter because she changes so quickly. – Harris
Darkening Hour
This song was a huge anomaly for me in how quickly it went from nothing to something. The first seed of an idea was (pardon the music theory nerdery) pivoting from a minor 5 chord in the verse to a chorus that begins with a major 5. But as I started writing words to this rather cerebral idea, I stumbled into a very emotionally charged, uncomfortably dark place that in the past I think I would've steered away from. But in the spirit of this album (especially having seen the trust my bandmates had been putting in themselves and the group) I decided to lean in and see what would happen if I wrote my way through it. – Don
How Long Again
This song came out of a "melody telephone" exercise that we did in July 2019, which yielded the melody and the words "how long, how long again" and "I go back on again". The El Paso Walmart mass shooting happened less than a month later, and the Virginia Beach mass shooting had happened a few months prior. So mass shootings were on my mind when I returned to work on the song, and indeed the mood of the melody and those words all seemed to be pulling the song toward dealing with gun violence. In the end it became a meditation on how we cope and respond to violence and tragedy more broadly, both as individuals and as a society. – Dave
Down Here
In one of the wilder writing exercises we did in preparation for this album, each of us wrote a short screenplay (rights are still available for purchase!) that was then sent to another band member to generate some melodic content. The whole package was then sent around once more to get converted into a completed tune. I landed up with Harris' screenplay and several minutes of Don's melodies, which I cut up and massaged into the bones of this song. (Harris' original screenplay is very much worth reading—it centers on a conversation between a talking rock and a man who's eaten too many chips with his in-laws.) – Auyon
Baking Soda
Much of the specific imagery in this song was drawn from a brief stint I had in Texas over a pandemic winter. The idea of weather being all that's left in a place was fun to think about—while weather is usually only a point of conversation when it's notably good or bad, it's weirdly comforting to me that some version of it is around us all the time. Although the song is chiefly about a break-up and missing a partner (as told through the Venn diagram of discombobulation, memory warping, and the emptiness of the Great Outdoors), the weather theme weaves in a post-apocalyptic note that feels appropriate to these strange and worrisome times. – Auyon
Sea Dogs
This song reckons with the sometimes-paralyzing fact that every living thing will die one day. But in the chorus of this song, the opposite comes true—the clouds change and come to life as sea dogs, monsters, a blowing kite, bouncing basketballs. So while all living things will certainly die, all things, even dead things, are alive, dynamic, and shifting and changing if we look closely (or differently) enough. – Harris
Can't Help Falling Apart
I chose to finish this song for a songwriting deadline we had, on a week that happened to coincide with when I realized I couldn't continue touring with the band anymore. Working on the song may have even helped me come to the realization. In any case, I genuinely felt like my life as I knew it was falling apart. The song also really wasn't coming together and I was very stressed about the deadline, and it basically turned into this horrible "method" songwriting experience where I completely fell apart in the process of writing a song about falling apart. A turning point came when I started working from a freewrite that Don had written in 2019, which finally set the song (and me) down the right path. – Dave
The Breaking Of The Day
I started writing lyrics over a piano recording Harris made and since the tune already felt a bit like a hymn, I thought it'd be only fitting to co-opt the first line of the Irish Blessing/ Parting Blessing we had sung together in our college singing group: "May the road rise to meet you…" After a couple pseudo-hymnal phrases, I let my existential dread about war, climate change, and school shootings basically write the first verse and chorus for me! For the second verse, Harris took over with a paraphrase from Ralph Waldo Emerson's Circles (1841): "The eye is the first circle and the second a horizon" that he extended into his own feelings about circles and islands, which of course then led me right back into rising sea levels and more existential dread to round out that second verse! Circles, indeed.
— —
— — — —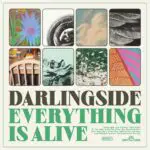 © Shervin Lainez
:: Stream Darlingside ::
---