Mentored by Pete Wentz, Daisy Grenade's Dani Nigro and Keaton Whittaker dive into their cheekily titled debut EP 'Sophomore Slump', a dynamic release of youthful energy and edgy bubble grunge with a pop punk twist.
Stream: "Baby Blackout" – Daisy Grenade
---
If misery loves company, why won't you spend some time with me? Sneak in movies to the dead mall, God, your silence makes us so small in my memory…
"Damn, I'm a head case, doc gave me a new face. Even my problems got problems," sing a feverish Daisy Grenade at one point on their debut EP. "Baby blackout and fix them; in conclusion, where's my drink been?" It's an explosive conversation starter, and just one of the many exhilarating, hair-raising moments on the Brooklyn duo's five-track introduction. A dynamic release of youthful energy and edgy bubble grunge with a pop punk twist, the cheekily titled Sophomore Slump is as electric as it is emotive: A truly thrilling set of songs brimming with infectious passion and zeal.
Purple teeth, purple liquid courage
Deserve a Purple Heart
I want to swim inside your salty eyelids
Just like a shark
Damn, I'm a head case
Doc gave me a new face
Even my problems got problems
Baby blackout and fix them
In conclusion, where's my drink been?
I was born in my skin
I'm just waiting for it to kick in
Say we let love loose like dogs
Baby full of stitches, full of glitches
They're too dull to cut us
Released April 22, 2022 via MYSF Records, Sophomore Slump hits hard and leaves an instant mark.
Since debuting earlier this year, Daisy Grenade's Dani Nigro and Keaton Whittaker have quickly established their Brooklyn band as an undeniable artist-to-watch, sporting a "manic pixie dream tumblr girl" aesthetic that translates into combustible, eruptive songs full of both unfiltered punk spirit and raw lyrical and sonic vulnerability. Working with mentor Pete Wentz ("THE emo prince of our generation," they say), Daisy Grenade is a refreshing bright spark on the alternative landscape: A young, fast-rising band with a searing and irresistible sound.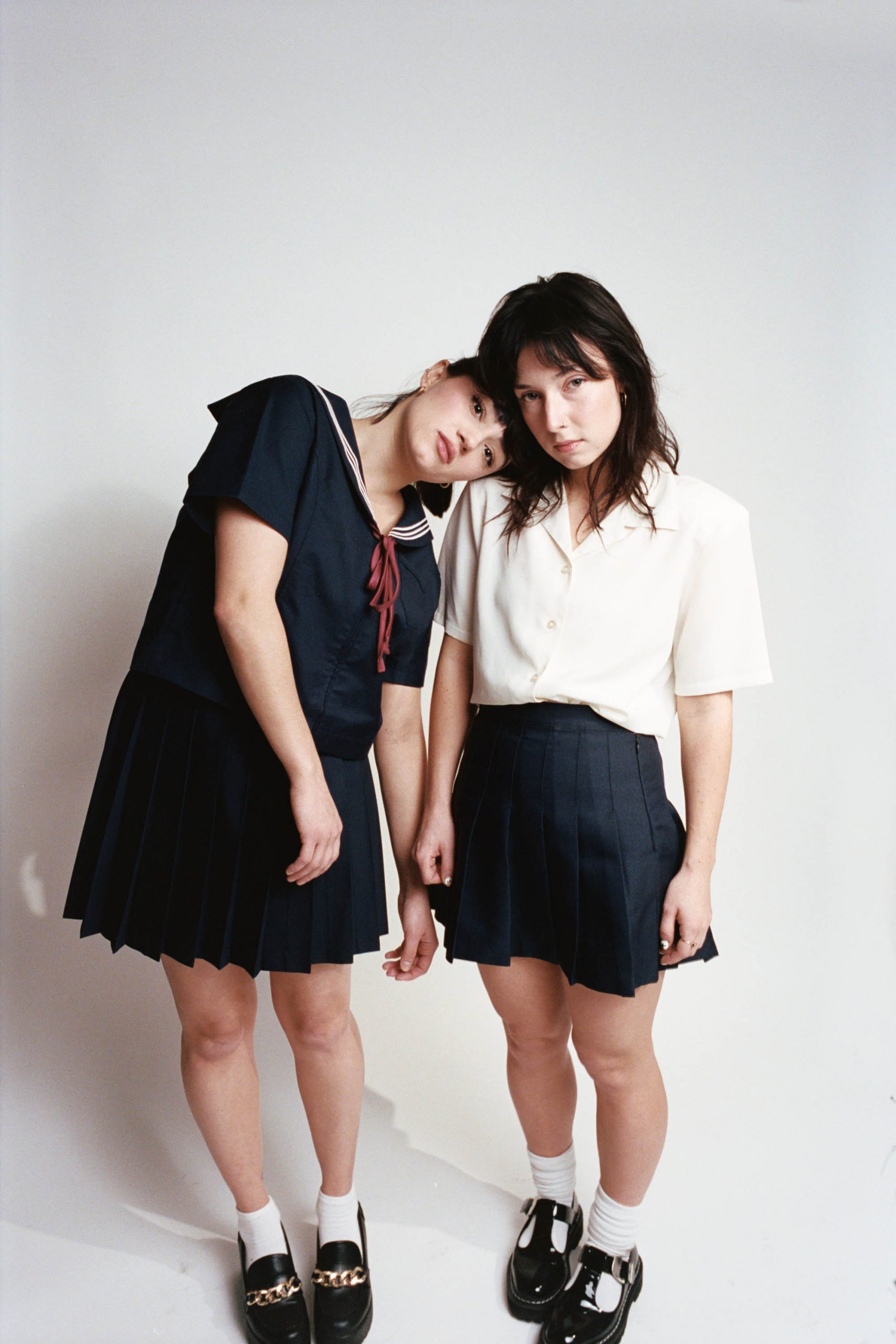 "This record is so close to our hearts, because all four of these tracks (excluding "Baby Blackout") were among the first written for this project," Keaton Whittaker tells Atwood Magazine. "When Dani and I started Daisy Grenade (FKA Make Your Son Famous), we had essentially no idea what we were doing. We just started writing, and with the guidance of our incredible manager Hannah Klein, our mentor Pete Wentz, and Alex Suarez who produced this record, we sort of stumbled into the vision of it. We realized what it was as we began laying down tracks with Alex. It became clear that even though we were sitting on nearly 30 demos, we wanted this record to be super raw and personal, so we ended up using some of those first songs we ever wrote together. It's a very, very special and personal record."
"We definitely had an idea of the general vibe, but we certainly honed in on what this project was actually about as we were recording, again with guidance from Suarez, Hannah and Pete," Dani Nigro adds. "All of the songs we were writing had this wonderful '90s grunge nostalgic element to them, while also incorporating some newer sounds to keep it fresh. Once we realized the little blend we were creating, we focused on really accentuating that on the record. Mostly, we were focused on keeping the record authentic to us and where we were when we first started out the project so we have a solid base to grow from."
"I think it's a really great example of who we are at our core as musicians and artists," Nigro adds. "We truly had no idea what we were doing and were just writing songs because it felt good and because we wanted to with no ulterior motive in mind. It's raw, it draws on a lot of personal experiences from the both of us, while also taking artistic liberties to create moments in the songs that exist outside of reality. We're both also actors, so we enjoy creating these fantastical worlds that still pull from our personal truths."
Bleach the words 'til they're all unwritten
White it out 'til it all seems like just a blur
Shatter promises you whispered in my ear
And maybe tomorrow I could feel better
Better
Fade away any leftover trace of
The warning signs that you were always a little too you
Cut out my dreams of your face through the night
And maybe, maybe I'll get over you
I want my sleep back
My love to keep back
Run out of take-backs
You're a memory I'd like to forget
(Oh, shoot, I want a double dose, ooh, let's do that, okay, cool)
– "MILF," Daisy Grenade
---
There's an uncanny, radiant spark to Sophomore Slump's songs that help all five feel simultaneously intimate and larger than life.
"It's funny because it's our debut EP, so to be ALREADY in our Sophomore Slump – it's funny, you get it," Whittaker says with a wink. "Secondly, Daisy Grenade is the second iteration of this project, as I mentioned earlier, we used to be called Make Your Son Famous (RIP) so we were in our Sophomore era. Thirdly, a lot of the themes of the record are these adolescent fears coming back around into adulthood, and we wanted a title that sort of encapsulated that feeling. Lastly, we liked the subtle Fall Out Boy nod!"
"Baby Blackout," the band's debut single and a gift song from Pete Wentz, is one of the EP's instant standouts, but all five tracks shine with their own vivid charm and churn. Opener "MILF" sets the tone with a driving beat and cinematic, soaring melodies. "Say It" is a radiantly irreverent existential crisis dressed up in delightfully volatile pop punk tones: "I'm dying to dive in, so give me anything but the skin I'm in," the duo sing with a heavy thirst. "Tell me what you want me to say and I'll say it!"
As for their own definitive favorites, both band members have their own highlights: "I am clinically and chemically addicted to Dani's vocal performance on 'Borderline,'" Whittaker says. "I feel like every time I listen to it something new shines through. It's so full and round, while still sounding like it could break in every moment. That is definitely a favorite of mine, I also love the marching band breakdown of 'Real Horror Show.' Suarez killed that! Personally, my favorite lyrics have to be, 'I'm floating past you, belly up no life preserver. Doing the backstroke through tent city; I win the race!' out of 'Real Horror Show.'"
Meanwhile, Nigro shines a light on the slow-rising anthem "Borderline": "As to not include the entire bridge to 'Borderline,' my favorite lyrics would have to be, 'God, your silence makes us so small in my memory.' Lots of "s" sounds – Shakespeare would be proud. There's also this incredible energy and like, electricity? in Keat's voice the second 'Say It' starts, and every time I hear it it just makes me want to jump up and down. I also do a pretty darn good impression of it."
"She does," Whittaker agreeds.
---
Sophomore Slump is a seductive, stunning success – not to mention an indisputable triumph for Daisy Grenade.
"I hope that people feel seen," Keaton Whittaker shares. "I hope that they know it's ok to be 25 and still have absolutely zero idea who you are. I also hope they feel like they got to know us both a little bit, that's really important to me. Creating it literally changed my life, it helped me actually find myself. I feel like this past year of diving into this project and into this record has truly given me one of the greatest gifts, agency and individuation. I truly feel like I'm getting to share a newer, fuller version of myself through this music, and I hope that resonates with people."
Experience the full record via our below stream, and peek inside Daisy Grenade's Sophomore Slump EP with Atwood Magazine as Dani Nigro and Keaton Whittaker go track-by-track through the music and lyrics of their debut!
— —
Stream: 'Sophomore Slump' – Daisy Grenade
:: Inside Sophomore Slump ::
— —
MILF
Dani Nigro: This song happened because Keat texted me out of the blue one day, "MILF; Memory I'd Like to Forget," and I was like, "Wow that's good. That should be a song." So I sat down with my guitar and found this little repetitive chord progression that I liked, and just started messing around with some lyrics until we came together to finish the song. We all have a MILF, you could say, so we hope this one is relatable in some way.
BABY BLACKOUT
Keaton Whittaker: Baby Blackout is our little prize. We were gifted this song by Pete Wentz, as it was a demo from a different project that never got released. It was a really fun process to be able to figure out what our version of this was going to be. We went through two different versions before we came to what you hear on the record, and we're extremely proud of what we landed on.
SAY IT
Dani Nigro: I do this thing like once a month where I sit in my room and I'm like, "What am I doing, who am I, what is my purpose." Which, um, I think is called an existential crisis!!! And we can all relate to that to some degree. This song ended up being about how I'm in my late 20s, still kinda feel like I have no clue who I am in this world, and how sometimes it seems like the easy fix would be for someone to come up to me and be like, "This is you. You are this."
BORDERLINE
Dani Nigro: The majority of this song was written while sitting in a 2nd grade classroom in 2020 where I was teaching and bored out of my gourd. It's entirely made up, which seems to shock some people when they hear it. It draws on a lot of personal feelings and thoughts, but the story is not something that's ever actually happened. I was picturing it like a movie in my mind as I was writing, and the lyrics just followed. It was kind of like an acting exercise for me, and it feels like one every time we perform it. I <3 this song.
REAL HORROR SHOW
Keaton Whittaker: "Real Horror Show," for me, is my way of coping with some really nihilistic depressive thoughts about the state of the world. I was walking through Brooklyn the morning after a really bad rain storm that literally killed people and ruined houses, cars etc. I was so shaken that I was just going to work like everything was normal again, and I wanted to literally scream at everyone like "OPEN YOUR EYES WE'RE ALL GOING TO DIE!!!" Instead I just wrote "Real Horror Show."
— —
— — — —
? © Alex Brown
:: Stream Daisy Grenade ::
---