The National dealt with writer's block and internal uncertainty – and they're absolutely not strangers to either – but came out the other side a better group as a result with their ninth studio album, 'First Two Pages of Frankenstein.'
'First Two Pages of Frankenstein' – The National
---
Each album by acclaimed indie band The National is a definitive statement, a snapshot of a moment in time, a carefully considered portrait of love, loss and the anxieties that swirl within an oft-troubled mind. There's also a touch of optimism and poignancy, and each release by The National also has a certain elegance to it.
To drop the needle on a new LP is to be wowed by poetic lyricism, lovely piano, a dash of searing guitar and soaring drums, and a distinctive sonic world few other bands (period) can match.
This attention to detail naturally takes time, and it often follows that each album by the Ohio-born rockers goes through a long gestation process – sometimes, a process that can feel a bit too long and arduous, especially to dapper lead singer Matt Berninger.
This was the case with much of First Two Pages of Frankenstein, released April 28th on 4AD – four years after the beautiful and dramatic I Am Easy To Find.
That album saw the band bringing other voices into the fold in a major way, working with a famed team of rotating female vocalists and bringing on acclaimed director Mike Mills to serve as a creative advisor of sorts.
And Frankenstein isn't short on collaboration, either – appearances from Sufjan Stevens, Phoebe Bridgers and the world's biggest pop star (you know the one) dot the record.
And yet, there are moments that harken back to 2013's Trouble Will Find Me or even 2007's Boxer, when the band was just a group of guys recording in a garage studio in Brooklyn. It's a push-and-pull between what the band does best on its own, and when a helping hand works even better than expected.
That push-and-pull works to stunning effect on album opener "Once Upon A Poolside," a dramatic mission statement that, as Berninger says, nods to the worries he experienced writing the album's lyrics and returning to live shows. Even after running into writer's block, the opening track contains some of the best lines ever put to paper by Berninger.
He sets the tone before a National show as the "walk-on's almost over," with an expectant, reverent crowd often waiting on pins and needles to greet the band (if you know, you know).
As if in a callback to 2007 classic "Brainy," where Berninger sings of dragging around from the end of a lover's coat for two weeks, he notes, "I'll follow you everywhere, while you work the room, I don't know how you do it, tangerine perfume." It's one of the most simple, yet striking lines he's ever delivered, and that's certainly saying something.
With a restrained feature from Sufjan Stevens and an exceptionally sweet-but-sad piano line, it's hard not to see the song serving as a show opener on the band's upcoming world tour.
---
The album doesn't stray too far from moody territory from there, leading nicely into the simmering "Eucalyptus," which boasts a restrained but memorable performance from drummer Bryan Devendorf.
Berninger muses about moving back to New York, about reinventing himself again, about splitting up records from the Afghan Whigs and Cowboy Junkies, perhaps even urging his bandmates to "take it, 'cause I'm not gonna take it," while a touch of distorted guitar wails along in the background (somewhat reminiscent of 2013's "I Need My Girl"). 
What about the rainbow eucalyptus?
What about the instruments?
What about the Cowboy Junkies?
What about the Afghan Whigs?
What about the Mountain Valley Spring?
What about the ornaments?
What if I reinvented again?
What about the moon drop light?
You should take it
'Cause I'm not gonna take it
You should it take it
I'm only gonna break it
And it, too, is such a distinctive song that it would come as no surprise to see it slotting in nicely as the second song of an upcoming live setlist. The National know how to set the tone onstage, often kicking off shows with three or four new tracks before settling into time-honored classics like "Bloodbuzz Ohio."
---
Yet another single follows "Eucalyptus" – it's somewhat curious that the band released two of the album's first three songs as singles, but "New Order T-Shirt" deserved its time in the spotlight. It's a flickering, nostalgic love song of sorts, harkening back to Berninger's pre-9/11 days in New York City with vivid flashes of memory.
I keep what I can of you
Split second glimpses and snapshots and sounds
You in my New Order t-shirt
Holding a cat and a glass of beer
Of these memories, Berninger keeps them close ("I carry them with me like drugs in a pocket") – perhaps too close or too anxiously, but close all the same. We should all be so lucky to have memories of loved ones that grow and shift with us over the years, like faded Polaroids in an old photo album that's never far out of reach.
In "New Order T-Shirt," there's a sense of nostalgia for one's past lives, the person you were and the person you've become now – it's practically a thesis for any number of songs by this world-beating band.
And beyond that, it's one of the LP's strongest tracks, as are Frankenstein's other singles (more on this in a moment).
---
"This Isn't Helping" was trotted out in live shows last summer as the band returned to the road, a snapshot of a time Berninger felt gripped by depression. It features a mournful piano and a twinge of distorted guitar that turns the song from a quiet ode into a bit of a dramatic belter.
But this isn't helping at all
It only makes me wanna get further off
This isn't helping at all, this isn't helping
Of course, indie luminary Phoebe Bridgers delivers her contribution with a quiet understanding, a natural pairing that makes one wonder why Bridgers hasn't worked with the full band frequently before.
Both Berninger and Bridgers have a knack for intensely affecting lyrics targeting the human condition, and this track – plus Bridgers feature "Your Mind Is Not Your Friend" – epitomize the best of both writers.
"Your Mind Is Not Your Friend" in particular serves as a somber reminder that sometimes, the greatest enemy is inside yourself – and it's hard to escape when it feels like that enemy is winning.
Of the album's four feature tracks, one might say that Bridgers outshines even Taylor Swift, who appears on "The Alcott," which has the flow and feel of a Swift track, rather than a typical NTL song.
"The Alcott" is an abrupt change of pace from "Alien," which sets a skittish drum machine behind Berninger as the singer says he'll "go outside, cry and come right back in/drop down like an alien." That track seems like a callback to 2017's more experimental LP Sleep Well Beast, and it's a candidate as a sleeper album favorite for this writer.
It functions as poetry in motion in typically impressive Berninger fashion ("I'll find you something fun to wear that goes along with all your feelings"). Berninger sings of a hazy, soapy dream, of feeling like an alien in his mind and body, and likely struggling to relate to others as a result. Who among us hasn't been there before? Suitably dramatic indeed.
"The Alcott," on the other hand, was a song cemented in quick order by Swift, who helped Aaron Dessner finish the song almost immediately, and it shares some common DNA with Swift-meets-The-National track "coney island," off 2020 Swift album Evermore.  It's perhaps the album track that's the most light on its feet sonically, a touch lighter than some might prefer to hear from the famously brooding band.
One imagines that Swift is destined to appear onstage with the band at some point – perhaps this August at Madison Square Garden – to give the track its live coronation.
---
Lest we forget, the kinetic "Tropic Morning News" closes out the album's first side (along with "Alien") before Swift leads us into side 2 (on vinyl, at least).
"Tropic Morning News" appeared to become a fan favorite as the band toured last summer, with plenty of classic "The National DNA" to go around – the track's soaring lead guitar even feels reminiscent of something you might find on 2010's High Violet.
I was suffering more than I let on
The tropic morning news was on
There's nothing stopping me now
From saying all the painful parts out loud
And like the best tracks from The National, it grapples with a fraught relationship, the kind that simmers quietly with anxiety and unspoken struggles. Suffice to say, it's a highlight of the LP, and an instant classic.
---
But like other records by The National, when the band finds a thing it can do well – baritone poetry atop intricate guitar work and either stately piano or a strong percussion offering – they tend to stick to it, as with "Grease In Your Hair" and "Ice Machines." Berninger is once again at the top of his game lyrically on these two songs, although the album itself is packed with remarkable, memorable lines on end.
You could make the case that "Grease In Your Hair" is the finest track on the album, with a sturdy drum beat that calls to mind 2019 The National epic, "Rylan."
It's also got the potential to become an intense live offering, one that delivers the requisite catharsis fans have to come expect (and absolutely need) on tour from the band. Here, Berninger wages war with himself: "I have no more feeling for it/I have no more frame of mind."
And if ever you've desired to shout some lyrics back at Berninger, pick your poison – "Grease In Your Hair" is packed with shout-along-worthy lines aplenty, and a precise guitar riff atop Bryan Devendorf's drums does the trick nicely, too.
Down we go on the grass
Magnets make machines go crazy
I used to know you well
You give me such a future feeling
---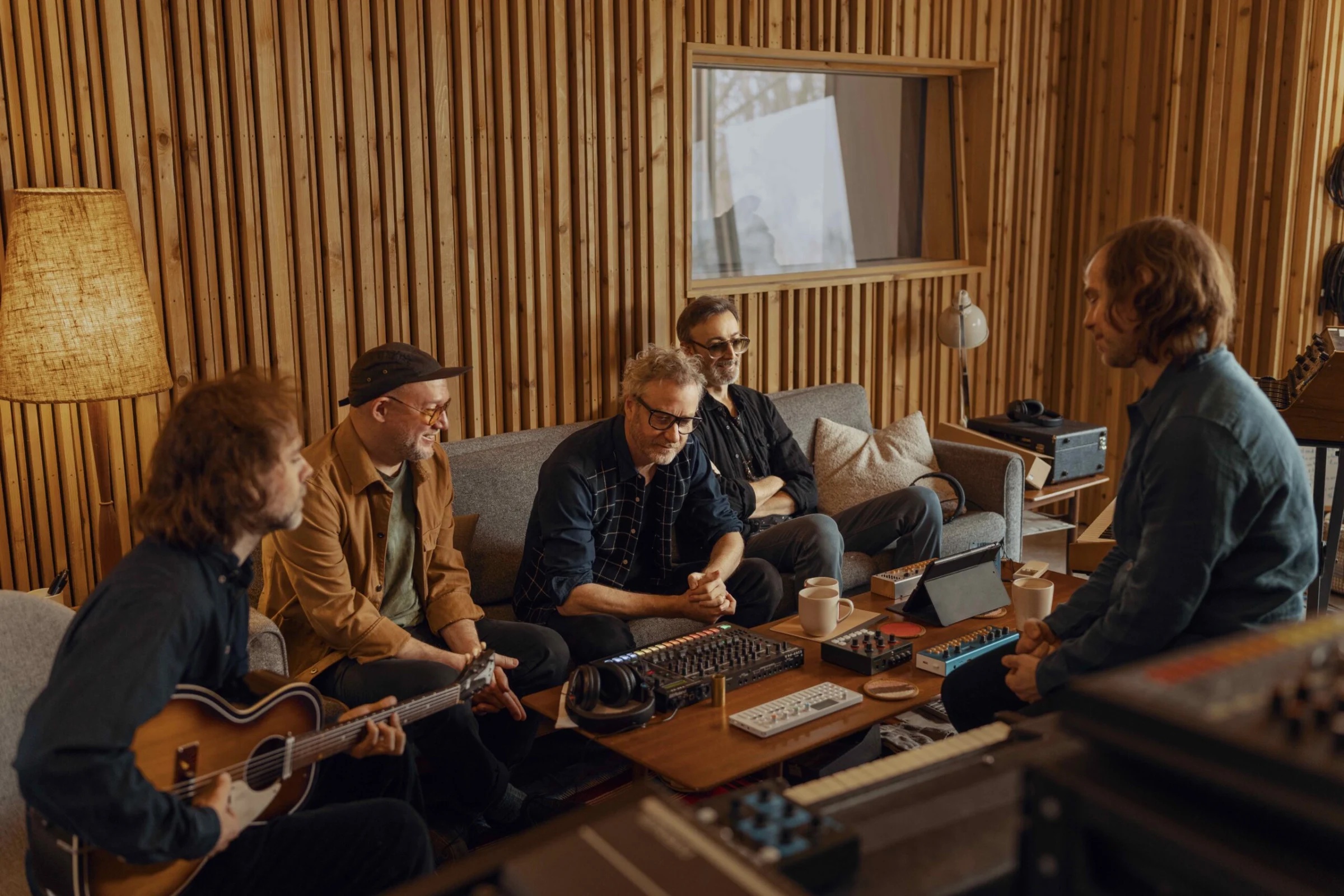 "Ice Machines" sees Berninger painting a vivid picture of "Cartoons from a television, whistles from the street," blinking lights, ringing doorbells and pounding walls, beset by the process of wandering halls aimlessly.
Just as with "Slipped," off Trouble Will Find Me, Berninger laments everything he seemingly can't do right ("I don't know what to say to people, it only makes things worse.") And if solutions are in sight, they're certainly not easy to find  – again, who among us hasn't been there before?
Not to be outdone,  The National assuredly know how to close an album (witness the weird, fidgety nature of the title track off 2017's Sleep Well Beast or doleful Trouble Will Find Me album closer "Hard to Find"). In that regard, "Send For Me" surprises in more ways than one.
For starters, it's a genuine love song, with its fair share of tear-jerking romanticism in spades.
If you're ever in a gift shop dying inside
Filling up with tears
'Cause you thought of somebody you loved
You haven't seen in years
Berninger closes the song with the refrain, "Send for me, whenever, wherever," and it's almost as if he's singing directly to the listener: Whenever you feel lost, whenever you need catharsis, perspective, a sliver of hope and perhaps even a touch of nostalgia to set you on the right path, send for one of the finest bands in the history of American rock music.
They'll heed the call, and you'll be well on your way.
— —
— — — —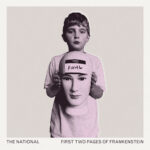 © Pentagram / John Solimine
:: Stream The National ::
---