Darren Jessee (of Ben Folds Five and more) captures the heartbreak, longing, and loneliness of saying goodbye to the one you love in his bittersweet breakup ballad, "Letting You Go."
— —
There's no emptier feeling than having words left unsaid; of yearning to share yourself with someone who is no longer available to you. Love is fickle, but it's also pure: There is no right time for a breakup as long as one party is still in love, making that hollow emptiness inside an all-too-common aspect of many an ill-fated relationship. A bittersweet breakup ballad, Darren Jessee's "Letting You Go" captures the heartbreak, longing, and loneliness involved in saying goodbye to the one you love.
when you're making your way
when you think to yourself you got it made
you're a good looking girl
with access to everything
look at you go
letting you go is trying
look at us now
look at us now we're dying
Listen: "Letting You Go" – Darren Jessee
---
Atwood Magazine is proud to be premiering "Letting You Go," the tearjerker second single off Darren Jessee's debut solo album, The Jane, Room 217 (out August 24, 2018 via Bar/None Records). Hailing from North Carolina, Darren Jessee has over 25 years' experience in making and sharing songs with the world: In addition to being a founding member of the band Ben Folds Five, Jessee has released his own music under the moniker Hotel Lights since 2004. He is also a full-time member of Durham band Hiss Golden Messenger, he played drums in support of Sharon Van Etten's 2014 record Are We There, and he contributed to The War on Drugs' Grammy Award-winning 2017 album A Deeper Understanding – to name a few of the many notches in his belt.
Still, there's something extraordinarily special about The Jane, Room 217 – and it goes well beyond the fact that this is Darren Jessee's first album as a proper solo artist. A quiet record that has, and will continue to be described as "breathtaking," The Jane, Room 217 is intimacy incarnate: Little separates listener from artist in these songs as Darren Jessee bares his soul, surrendering his emotions in an utterly beautiful display of musical vulnerability.
Following on the heels of June 2018's dreamy lead single "Anything You Need," "Letting You Go" is a powerfully poignant sophomore offering. Like most of the songs on The Jane, Room 217, "Letting You Go" is a minimalist acoustic song bolstered by an emotive string arrangement that comes courtesy of Spacebomb's Trey Pollard (Natalie Prass, Helado Negro).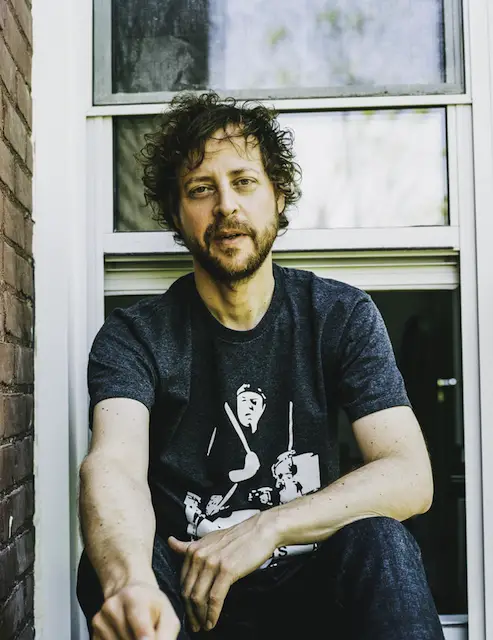 Jessee describes the track as "more sparse and yearning" than his previous releases, noting how he's interested in recordings that aren't easily classifiable in a genre. "I'm bored by music where genre specific rules are applied, especially in acoustic music," he tells Atwood Magazine.
watched you get on a plane
cause we're getting ourselves straight
don't you take it too bad
i always knew i was your mistake
look at you go
letting you go is trying
look at us now
look at us now we're dying
letting you go
letting you go is trying
look at us now
look at us now we're lying
Emotion is a better classifier than genre when it comes to songs like "Letting You Go" – which is just as special a song for listeners as it is for its songwriter. "The way the bridge falls apart into the sad keyboard hook gets me," Jessee reflects. "It was the first song I recorded for The Jane, Room 217. I wanted a Darren Jessee record to sound like nothing else, to be one consistent vibe, and also tell a story."
Despite having only two songs released so far, The Jane, Room 217 is already shaping up to be quite a moving, majestic record. Nobody cries gracefully, and Darren Jessee didn't set out to sugarcoat life: Rather, "Letting You Go" presents the raw pain and bitter taste of moving on. Jessee's naked acoustic guitar sounds like it's being played in our laps, whilst the artist sings his truth directly into our ears. Jessee's voice, a near whisper at times, rises and falls in waves of emotion: He sings the chorus, "look at you go…" in a delicate falsetto that feels as fragile as his broken heart.
vaya con dios baby
the river flows on
i hope you find it lady
everything you want
but damn i've thought about you lately
trash out on the street
mexican car stereo beat
don't you take it too bad
things I thought I'd never say
"Letting You Go" is the kind of song that hits on the first listen and leaves an instant mark. Its melancholy is infectious; its lyrics immediately transport us to another time and place, inviting us to revisit to our own moments of heartbreak and loneliness. "It's hard for me to talk about love and not be direct," Jessee explains. "I use conversational language because that how lovers talk to each other."
In other words, "Letting You Go" are the words Darren Jessee left unsaid.
When asked what he hopes others feel like when they hear his latest song, Jessee responded, "Like wanting to talk to everyone you've ever loved after a break up." Stream "Letting You Go" exclusively on Atwood Magazine, and dwell in a moment of true heartbreak with Darren Jessee!
The Jane, Room 217 is out August 24, 2018 via Bar/None Records.
— — — —
Connect to Darren Jessee here

? © 2018
:: Stream Darren Jessee ::