Listen to the brilliant shimmering epiphanies of Depeche Mode's 'Memento Mori' – an album for the ages – and find inspiration in your own darkness; in the inevitable mortal descent through your time on planet Earth.
Stream: 'Memento Mori' – Depeche Mode
---
Depeche Mode, to me, can best be considered through a vignette from my own life.
It was the spring of 1988 as the world had been gripped by the revolution of DM's 1987 album Music For The Masses that catapulted them onto the global stage from that day of reckoning in Los Angeles through DM 101. In my early college years it was a time of new love and friendships, and a wonderful era which is so very close to the fabric of my being. I can still hear the whisper of my lover and the echo of my dear friend in this very moment as we knew that Depeche Mode expressed all that was and remains in our souls.
In that spring of 1988, I recall a late afternoon in May as the song "Never Let Me Down Again" bounded from our college dormitory window as Sabina, Joe, and myself rejoiced in all that is DM. We were so very young and we had found love and friendship in the most ultimate way as Depeche Mode deepened how we could communicate and understand each other. In a manner of speaking, DM have also created their own cultural language that have bonded people across nations and cultures. Decades later and through Depeche Mode, we remain inextricably connected to each other. The three souls that we are, were always on the margins of society and DM created a vehicle in which we could acutely feel a sense of imaginative and real belonging that was undoubtedly transnational and cosmopolitan. How could one be in the world in another way.
I also recall the endless evenings of young love, when Sabina and I became entirely enraptured in the ambience of Black Celebration as that would set the mood for many a glorious night, ensconced in our own private emotion in that small dorm room which appeared as paradise on planet earth under the slivers of moonlight. Depeche Mode rejuvenated our beings again in the college days of 1990 with the scintillating wonders of Violator which became the only album to be played in our late nights with our close friend Dominik, and throughout our renowned house parties with the international crowd from around the world. We were on the margins of the world in upstate New York, but Depeche Mode made us feel at the center of everything.
My own fascination with Depeche Mode began early in life, as one of the only artists that could portray what I felt inside and outside of myself.
They have been there in providing the continual soundtrack of friendship, love, loss, mourning, death, and as well liberation, joy, and inspiration as we stand amidst the dark and enlightened corridors of mind and existence.
From the throes of teenage angst, the wonders of college life, the uncertainty of middling life, and unto the weird vantage point of latter years (while the teenage self still seethes hidden within the guise of age), DM have accompanied me throughout the trajectory of life in providing a silken and unsettling level of how I can inhabit my own cosmos with my close friends and lovers throughout this journey.
As Martin L. Gore writes in "My Cosmos Is Mine" in Memento Mori:
"Don't play with my world
Don't mess with my mind
Don't question my space-time
My cosmos is mine"
---
I sit in my darkened candlelit room as the entire splendor of Depeche Mode's 15th studio album Memento Mori (released March 24, 2023) unfolds before me, and I am breathless as my being becomes subsumed by the brilliance and beauty of all that is DM in the dusk and late night hours as I search for meaning. I am lifted and transcended beyond myself in this LP while I am tethered to the monkey of Caroline, as Caroline knows "how fragile we are." You do need to look out for Caroline, as Gore and Butler situate in the song "Caroline's Monkey":
"Caroline's monkey claws at her back
Colder than winter
Darker than black
Caroline's monkey is hungry again
Running with scissors
On needles and pins"
---
Depeche Mode, the global pioneering band of synth-electronica, are indeed hungry again,
and they have returned with an LP of monumental stature in creating a wide-ranging feature that is surely one of the most remarkable albums of our given era and one that will remain timeless much like Black Celebration, Violator, Music For The Masses, Songs of Faith and Devotion, and the often overlooked majesty of Ultra. The relentlessly beguiling panache of this work marvels in the intricate and spellbinding vision, lyricism, and harmonic uncentering of music through Gore and Gahan, accompanied by James Ford and Marta Salogni through their seamlessly intense finesse in production and mixing. This sparse quartet creates a tightly wrought vehicle of ultimate precision and clarity of all that is Memento Mori.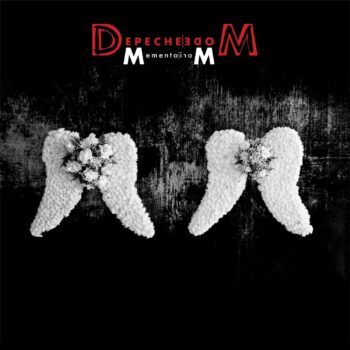 This is an album that cavorts through time and memory in capturing the human experience, the malaise and beauty that haunts, the tremors of mortality, the inspiring delights and tensions of being, and our reeling unknown wishes. Depeche Mode is perhaps one of the only bands that can portray the mortal malaise and the tensions of life and make it entirely palpable and real — in a way that is translucent, so very heartfelt, and tangible. Their insight on the human condition in the sphere of music is possibly with no other, apart from our dearly departed Bowie.
This LP is also a brand new type of venture for DM, as for the very first time Martin L. Gore collaborated on songwriting with none other than Richard Butler — the vocalist of The Psychedelic Furs. This collaboration lends a differently textured dynamism to the songs "Ghosts Again," "Don't Say You Love Me," "My Favourite Stranger," and "Caroline's Monkey." Given the stunning caliber and stature of these songs which are destined to become a phenomenon ("Ghosts Again" already certainly is — see my review, "The Sublime Reveal of Depeche Mode's Joyfully Melancholic 'Ghosts Again'"), this would be a collaboration that inspires one of continuity for the ages. "Caroline's Monkey" is a wondrous creation and from my perspective the sleeper surprise hit on this album in how it unsettles on needles and pins.
There is also a new level of positioning in this album through such a track as "People Are Good" which could catapult itself on the global concert performance stage in a heartbeat, and let's just hope that Caroline's Monkey can make her way to that stage as she is that beguiling alter ego that needs to be seen and heard. Perhaps we are seeing the dawning of new classic DM tracks.
As the title of the LP suggests, this is an album that is weighted with the feeling of mortality, loss, and grief through how it is imbued with the spirit of founding bandmate Andy Fletcher who passed last year, as we watched another angel die.
In this feeling of the album, it is of course only fitting that Gore and Gahan co-wrote "Wagging Tongue," as the song invokes:
"I won't be persuaded
Kiss your doubts goodbye
Everything seems hollow
When you watch another angel die"
---
Yet, Depeche Mode survive and they enable us to perceive the glimmers of luminescence within our own tragedies.
We indeed recall the reflection, "In Memoriam: Tribute & Lament for Andy Fletcher, Depeche Mode."
This is also a record that creates a flawless vision of the format and meaning of the album and its significance amidst our derivative streaming of one-offs. From start to finish in reflecting on the spellbinding precision of such tracks as "Don't Say You Love Me" and "Before We Drown" one becomes distinguished in the immersion in the concept of Memento Mori as it creates levels of remarkable insight on the filigree of being in the world. Amidst our own failures and missteps, DM have always been about getting the balance right in our existential recesses of mind. What they as band intensely succeed in uncovering are the unconscious and repressed desires and tensions that we hide in making those feelings popular at the margins of culture which is an immensely rare phenomenon. Depeche Mode's Memento Mori is quite like a psychoanalytic mirror of the self that unearths the levels of lack that we all inhabit.
In this stunning atmosphere of the LP, Martin L. Gore delivers one of the most phenomenal vocal performances of his life on "Soul With Me," which shines as one of the highlights on this album, while Dave Gahan closes the album through his own magnificence in the hymnic "Speak To Me." For Gore and Gahan, these are their own individual anchors that are holding the sway on their latter day magnum opus as it swirls around our beings and minds. We have been gifted with a work with these two musicians reaching incredible new heights in their craft and partnership while the bedrock had fallen apart through the untimely passing of Andy, and the most remarkable aspect is that they have seen forward in only enlightening us throughout time. This is indeed an astonishing resurgence of another form of black celebration amidst the shadows of mortality as Depeche Mode stand before us in seeing the world through their eyes.
Listen to the brilliant shimmering epiphanies of Depeche Mode's Memento Mori – an album for the ages – and find inspiration in your own darkness in the inevitable mortal descent through your time on planet Earth.
— —
— — — —
 © Anton Corbijn
:: Stream Depeche Mode ::
---