Soulful LA pop artist Dror's unstoppable confidence is visualized in his dynamic new single and music video, "Bloodline."
Stream: "Bloodline" – Dror
---
The confidence that comes with knowing what you want in life and deciding you are going to dedicate every single thing to achieving that something is a confidence that is unmatched. There is a laser focus, a north star to point to for all decisions and an ease to the fight. Dror wraps this confidence up with new head-turning, heart-pumping single and video, "Bloodline."
Atwood Magazine is proud to be premiering the single and video for Dror's new single "Bloodline." A fresh face in the LA pop scene, Dror is the project of Houston-born artist Jonathan Dror, who introduced himself just two years ago through debut single "Tryna Be."
"Bloodline" is Dror's second single of 2020, following his moody January release "Love in the Dark." In his words, "This song is about having one's mind made up on something and going after it fully. Whether it's chasing a dream, or something you believe in and think is the right thing to do, it's important to always stick to your gut and live for something, no matter how crazy the ride can get."
As a getaway car drives through the desert Dror's sharp, cutting vocals paired with high, pulsing piano keys set the tone for the confident dream he is setting out to chase,
I got a Glock on my chest
it's locked and loaded
Run for your life, cause I'm bout to blow it
Don't you see, this is my destiny
Another day and somebody got the best of me
I prayed all night
But found there's nothing inside
It's alright, it's okay
Don't worry mom cause I'm on my way
His eyes deliver the same amount of confidence that his lyrics do as he sings them with swag straight into the camera. He's all in no matter what – there is no mistaking that.
Now it's going down, down
Get in for the ride
You can come along if you're
ready for a crime Down, down
Get ready to fight
There's no looking back
I'm just looking for a good time
Don't know if today I'm gonna die
One thing that I know is that tonight
It's going down, down
I'm ready to fight
Cause baby I'm looking for a good time
The ease in which he fights off the people who are in his way parallels his dedication towards achieving his goals in music so effortlessly. While not abrupt, the metaphor of the video is clear and understood – from the visuals to the story, which is what makes it a video worth watching in a sea of videos that often take away from the true meaning of the song.
As Dror explains, "My favorite musicians are ones that create a vibe and world all their own. While music and lyrics are my initial outlet to express myself, I also enjoy digging deeper into the other aspects of the artistic process. What I wear, how I move, what I stand for, and even the colors and textures around me are all things I'm conscious of when creating. They're an extension of myself and an important visual component for me to pair with my sound.  'Bloodline' is about someone having their mind set on something and not letting anything get in their way. The song is captivating and cinematic, so I wanted the visuals to match. With this being the first music video I filmed after moving to LA, the release is both a nod to old Western films, and also a statement that nothing will stop me on this musical journey."
The pulses matched with the spikes and dips of his precise and traveling vocals continue to take you on the journey. The bridge slowly breaks, showing a more vulnerable side of Dror before he continues to embark on his journey,
This is how the story goes
Thought you witnessed but now you know
Just keep walking along,
there's nothing to see here today
Should've never committed your crime,
You'll regret messing with my bloodline
This is long overdue, but now it is time to pay
The chorus closes out the song as Dror comes out victorious – something we had no doubt of given the confidence and the bravado of the song.
Dror is dedicated, unique and from what we can see, he has far more stories to tell.
"A lot of my new music this year feels stronger and bolder. I'm combining the retro vibes that I love with elements of my Texan and Middle Eastern roots to create art that feels more representative of me than ever," says Dror.
We're looking forward to hearing more. Stream "Bloodline" exclusively on Atwood Magazine!
— — — —
Stream: "Bloodline" – Dror




— —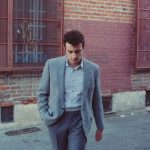 ? © Yarden Lior
:: Stream Dror ::
---