On her latest single "He Knows," Deanna Petcoff's past selves serve as a sort of emotional atlas, helping her chart a path that avoids relationship regret and journeys beyond heartache.
Stream: "He Knows" – Deanna Petcoff
---
Ever wonder what a female Young the Giant sounds like? Meet Atwood artist-to-watch Deanna Petcoff, a talented singer/songwriter hailing from Toronto's diverse music scene. At the age of 13, before most of us could even get past the 250 pound bouncer at the venue doors, she was rocking out at gigs with her all-girl fronted band Pins & Needles. Now venturing forth into her solo career, Petcoff's sound has matured past uncomplicated, sunny grunge rock into something more operatic, emotionally rich, and thematically focused.
Atwood Magazine is proud to be premiering "He Knows," the most recent single off of Petcoff's forthcoming debut album Fake Plant due this fall. With the help of drummer Julian Psihogios and producer Iris Waters, Petcoff has finished the final chapter of her upcoming project—but ironically, there is no conclusion with "He Knows." Although the song traces her feelings following the end of an "emotionally exhausting relationship," Petcoff remains unsure of how to feel: she exists in a liminal space between anger and intimacy, nostalgia and optimism, channeling the devastation of disconnecting with a lover.
This morning, I missed you so much
That I watered dead plants
Dressed up on my limb for nothing much
Now I'm limbering up to deal with the day
Stretching my muscles to avoid the pain
Oh this morning I couldn't do much
I avoided my calls but stayed close to my phone
Just in case you want to keep in touch
"I have always viewed songwriting as a diary," Deanna Petcoff tells Atwood Magazine. "Since I was very young, if I had something I was working through, it came out in song. I haven't ever had something as huge as "He Knows" pour out of me. I wrote this song sitting in my garden, after a long and emotionally exhausting relationship had finally come to a concrete end. I didn't regret anything about it and had learned so much about myself and was ultimately happy with the result but was devastated that the reality I thought I wanted to live in was no longer an option. I struggled with two opposing thoughts, that I was embarrassed and lonely and angry at him, and the other that I missed him so much it hurt."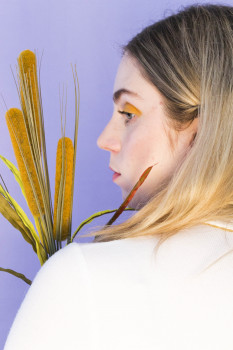 She continues, "The beauty of this song though, was I wrote it without a guitar. It was such a little lonely, small thing when I first wrote it, and compared to the anthemic, passionate song that it has become, that first recording of me, in my garden, on my iPhone, really encapsulated the fear that I felt. It was just the vocals that I sent to my producer, and then to my team. While this song is so personal to me, it became such a collaborative effort with my team and their voices were not used to skew or dampen my message but used to amplify it. A lot of people who I really care about have touched this song in one way or another, and that has made this song mean so much more to me. Yes, sometimes I hear it and I think of the boy I wrote it about, but I also think of my producer, Iris Waters, and working out the arrangement and discussing that feeling of pain and excitement that comes with this sort of an ending. I think of Julian Psihogios, my drummer, and finding just the right build to encapsulate the cathartic ending. I think of being in the studio with my best friend sitting next to me while I lay down the vocals and I think of crying on the phone with her when it all started. I think of showing the song to my manager Collin, and how instantly he understood it. I think of my partner who I love with an all-consuming love, I think of all my past partners, I think of my future self and all the loves and losses she has had and will have. All these people have made this song so much bigger, given it so much more life than I ever thought was possible."
"The song that was once a representation of a small girl, pining after a boy who doesn't want her has grown to be a representation of a yearning, a wishing, a power of a woman who wants a man so much that it consumes her, and I think that is so much more accurate to love and heartbreak than anything I've written before."
And oh you made me a fool of me
Cuz I can't seem to function the way I should be by now
Didn't think you mattered that much to me
I guess you found out by now
I guess you found out by now
Last night I stayed inside
I avoided my friends
Cuz you're one of them
And I couldn't bear to play it straight
Pretend its cuz I had a long day, or whatever people say
The exhilarating chorus and ambient textures of "He Knows" compliments the wistful attitude of Petcoff's lyrics perfectly. "Oh this morning I couldn't do much," she sings in her sultry voice. "I avoided my calls but stayed close to my phone / Just in case you want to keep in touch." Anthemic and forlorn, the contradictions of "He Knows" shows Petcoff finding strength in despondent emotions, using music as a way to sledgehammer her uncertainty and anxiety. This is most apparent at the end of the song, where the gauzy sounds of willowy guitars and shuffling percussion are suddenly amplified tenfold, pumping muscle into enchantingly chaotic chorus. Flexing her inner strength, Petcoff becomes almost euphoric, her voice soaring to its dramatic apex, far beyond the constraints of her past. Here, Petcoff is free — and so are we, even if it is only for a moment.
Stream "He Knows" exclusively on Atwood Magazine!
Stream: "He Knows" – Deanna Petcoff
— —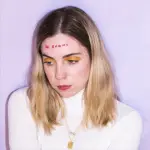 © Sabrina Carrizo-Sztainbok

---
:: Stream Deanna Petcoff ::