When the heart is misled by the prospect of love and the head says, 'I knew it wasn't real,' Sydney Franklin and Luke James Shaffer's "Blood in the Water" lends a strong united voice to the ache.
"Blood in the Water" – Sydney Franklin & Luke James Shaffer
[soundcloud url="https://api.soundcloud.com/tracks/610232853?secret_token=s-1nVTF" params="color=ff5500&auto_play=true&visual=true&hide_related=false&show_comments=true&show_user=true&show_reposts=false" width="100%" height="300″ iframe="true" /]
---
In Sydney Franklin's 2018 debut single "Make It Hurt," her gutsy soulful vocals made it clear: She's no average savage. Confidently reaching deep into smooth blue notes is a specialty Franklin continues to treat listeners to in her latest single "Blood in the Water," premiering here on Atwood Magazine.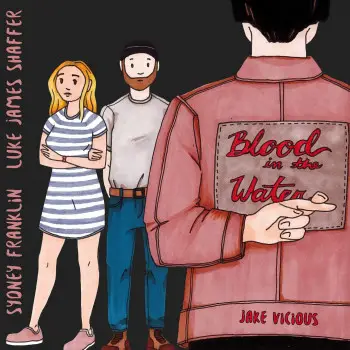 As powerful as it is vulnerable, "Blood in the Water" is a collaboration between Franklin's take charge vocals and the folksy heart-filled stylings of Luke James Shaffer, who also debuted in 2018 with his EP, Volume One. Produced by Jake Vicious of D.C.'s House Studios, "Blood in the Water" is an assemblage of artistic styles and life experiences, telling the tale of a heart mislead by love and a head that says, "I knew it wasn't real."
"Blood in the Water" is also a step towards healing, as the sharing of these heartbroken realizations helps to reach out a knowing hand towards those who are suffering in dark. bewildered silence.
Only when we learn about other heartbroken survivors does the shame and isolation of emotional distress begin to morph back into the possibility of love.
According to Shaffer, "Blood in the Water" sings the song of "past and present dalliances" in matters of the heart: Dalliances that go from willingly hazy denial when "something seems off" in a relationship, to heartbreak when "‪you take a step back and actually look at the situation," and realize … it's broken.‬‬‬‬
You been pulling farther and farther
But behind your shoulders
You been crossing your fingers
And I never knew
Just what you'd say
To my face
It's getting hard to tell
What's been going on
In your corner
Through these head spinning lyrics, Franklin explains to Atwood Magazine that she is pointing to the confusing emotional contortions of "a relationship where one party is told … to believe and trust in the other person even when things weren't adding up." As happens in relationships all to often, one partner isn't a partner at all. They are revealed to be dishonest "about their words and actions… they essentially had their fingers crossed behind their back." It's a story of the most scarring kind of pain.
We been debating
how to make this happen
It's a two way not a one way
Ignoring all the signs
and I just turned a blind eye
And I never knew just what you'd say
To my face
There's blood in the water
It's through their definition of the idiom "Blood in the Water" that we know how real Franklin and Shaffer's understanding of heartache really is. An idiom that is commonly understood as an expression of inevitable vulnerability, "Blood in the Water" can also be understood as an expression of the inevitable tragedy that only vulnerability can invite. It's only when a heart has been crushed by the destruction of a painful relationship, that walls deploy at the first sign of trouble. A wounded heart is programmed to protect against further assault.
Therefore, when Franklin and Shaffer harmonize into an epic swell at the chorus,
There's blood in the water!
they are sending out a powerful warning call to those who cannot risk any further anguish. It's a reminder to the survivors that they need not traverse dead end trails any longer. When we protect each other, the sting of heartache can change into the emotional relief of being understood and held by a good friend. "Blood in the Water" lends a beautiful voice to an ache familiar to most and will leave each listener feeling that they are in good company.
Stream Sydney Franklin and Luke James Shaffer's new song a day early on Atwood Magazine!
— —
"Blood in the Water" – Sydney Franklin & Luke James Shaffer
[soundcloud url="https://api.soundcloud.com/tracks/610232853?secret_token=s-1nVTF" params="color=ff5500&auto_play=false&visual=true&hide_related=false&show_comments=true&show_user=true&show_reposts=false" width="100%" height="300″ iframe="true" /]

— — — —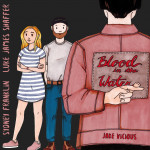 ? © Edward Benitez
:: Sydney Franklin ::
:: Luke James Shaffer ::