London's Night Flight soar in their new EP 'White Noise', a captivating record filled with light, nuance, and reflection that majestically bridges the alternative rock and indie folk worlds
for fans of Flyte, The War on Drugs, Fleet Foxes
Stream: 'White Noise' EP – Night Flight
London's Night Flight are a band worth putting on your artist-to-watch list right now: With an ear for sweet melodies, smart lyrical sensibilities, and a warm sound that bridges the alternative rock and indie folk worlds, Night Flight are poised to take off in a big way. The British band soar in their new EP White Noise, a captivating record filled with light, nuance, and reflection.
Released March 27 via CRC Records, White Noise arrives as the follow-up to Night Flight's 2018 self-titled debut album – another listening experience we wish we'd had on our radar much sooner. An ambitious undertaking in spite of its relatively short breadth, White Noise finds the four-piece of Sam Holmes, Dan Webb, Harry Phillips and Oliver Halvorsen expanding their sonic palette with the help of producer James Mottorshead. A colorful mix of guitars, keys, feverish percussion, and buoyant harmonies offers a warm wash of sounds and that elevate the most innocent track into an enveloping musical journey.
White Noise feels like that powerful moment when a band reaches the next level of their "full potential."
It's not only a special moment for us listeners, but also it's a new peak for Night Flight's musicality – highlighting the magic they can bring to life when given the time, space, and tools. Citing a range of influences including the likes of The Beach Boys, John Martyn, Big Star, and Curtis Mayfield, Night Flight manage to create a sound that is special to them.
"There are moments on it that feel darker than anything we've done before," songwriter and frontman Sam Holmes notes. "The production is still considerate of the songs, but there's more imagination. Hopefully the music conveys the range of emotions felt in moments of high change; loss, nostalgia, self-doubt and positivity."
Listening to all these jejune words
Trying to do me but the lines unrehearsed
Don't listen to the white noise
I just want to be loved
If love is still blind
and perplexing the tricks of my mind
in the end I am holding my own
to the black swan marauding the flight I am on
---
The title track and EP opener "White Noise" sets the tone for today's iteration of Night Flight: A transformative acoustic guitar and piano-driven track complete with a stirring Mellotron-based breakdown (reminiscent of The Beatles and Led Zeppelin's finest moments), "White Noise" is imaginative, illustrative, and mesmerizing: A creative masterpiece that beckons us to join the band in diving deeper into ourselves.
"I think that although the songs first take form on an acoustic guitar and then we subtly build around that as a band, we're also really influenced by records with big production," Sam Holmes tells Atwood Magazine. "So being in a decent studio with a good amount of gear meant we could see what else we could bring to the songs and so there's a lot of organs and keyboards involved, certainly chasing some Strawberry Fields moments with a mellotron. Songs like 'Rye' and 'David' are well within our comfort zone of being fairly sparse and acoustic led, whereas the rest of the EP reflects a different side to our tastes and is a bit of an experiment in seeing how far we could push ourselves and our musicality."
Holmes himself describes Night Flight's sound as "alternative indie" – "it's vague enough to cover the basis of what we do," he explains. "Happy sad!" White Noise goes on to incorporate a range of musicality and styles in its twenty-minute span, with songs like the beautiful acoustic ballad "David" and the utterly gorgeous "Mexico" contrasting with the more psychedelic, dynamic two-part "ATM / Delusions."
From disillusionment and isolation to recovery and self-reflection, White Noise invites listeners to connect and disconnect all at once.
It's a welcome chance for us to engage with ourselves and our surroundings – to dwell in moments of nostalgia; to think a little more critically about life and being; and to let sweet, effervescent rock pour over the senses.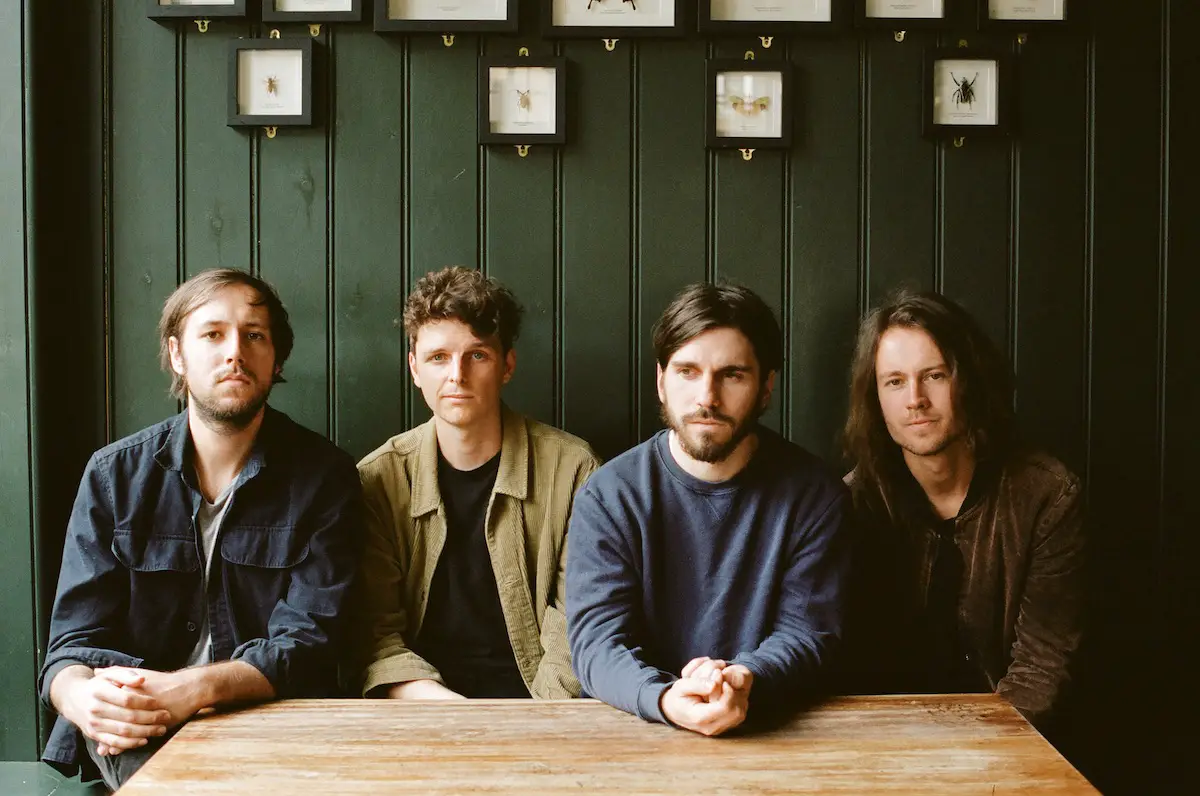 There's a lot to love throughout White Noise, and the best way to feel that magic is to press play and let the music speak for itself. Experience the full record via our exclusive stream, and peek inside Night Flight's White Noise EP with Atwood Magazine as the band goes track-by-track through the music and lyrics of their latest record!
Night Flight's four members also shared their own favorite aspect of their new music: Dive deep into your new favorite British band below, and listen to the White Noise EP, out now!
Sam: It's a tough one, but I think I'm going to have to go for Harry's solo on "Mexico." The concept of the solo feels like it's dying in mainstream music but combining Harry's part of melodic 16ths with an electric drill really hits the spot for me.
Harry: I really enjoyed being right opposite an Iceland for the duration of recording, not a shop I'd really explored much before and I was blown away by some of the confectionary…not to mention the prices. A highlight of recording for me was Sam playing organ on White Noise – the organ is connected to a huge rotating speaker in the same room and there's a switch to control whether it spins fast or slow, so as Sam was playing along to the track I was speeding or slowing it down during the song alongside him which felt very mechanical and like a real throwback to how I imagine classic records have been made. That was a trip, and watching Dan record drums for Rye was also really inspiring – so tasteful!
Dan: Watching Harry develop and record the intricate picking part for Rye whilst in the studio was magical plus Sam's vocal on David is so subtle and beautiful, he totally nailed it.
Ollie: For me it has to be when we were creating the choral cannons at the end of White Noise.
— —
Stream: 'White Noise' EP – Night Flight
:: Inside White Noise ::
— —
White Noise
This was always meant as the opening salvo of the EP. We knew before we tracked the song it would be quite grandiose for us, compared to our first record. The original outro was almost Steely Dan-like in its arrangement before eventually morphing into the Beach Boys / George Harrison finale we have now.  
David
"David" began as an intimate acoustic demo that transformed into our favourite track on the record. Some stunning production from James Mottorshead as we went for a sparse and real melancholic arrangement. Some beautifully tight drums that burst out into a thunderous outpouring at the end too!
Mexico
Starting out life as a guitar riff that we played around with for a number of months, it eventually spawned into an R&B inspired song about nostalgia and wanderlust. We recorded Mexico, along with most of the EP, at Livingston Studios in Wood Green .
Rye
This one was born out of Sam's solo writing sessions down in, would you believe it, Rye and it was one of the very rare occasions where we just built on top of his original demo recording, mainly because we felt like we'd just be chasing the intimacy that he'd already achieved if we re-recorded it from scratch. We added the finishing touches to that one at Lynch Mob studio. 
ATM/Delusions
Although split into two tracks on the EP, it was actually written as one complete song and felt like the perfect answer to the questions and musicality posed with opener White Noise. The production from start to finish encapsulates where the band is at musically in this EP.
— —
— — — —
? © CRC Records
:: Stream Night Flight ::
---