As intimate and lush as it is cinematic and dynamic, Luna Li's debut album 'Duality' truly embraces its name as a record of reflection and reverie, contrast and coalescence.
Stream: "What You're Thinking" – Luna Li
---
Luna Li's debut album is an enchanting world unto itself: A space where light and dark overlap, where fantasy and reality collide, and where escape and indulgence become one. As intimate and lush as it is cinematic and dynamic, Duality truly embraces its name as a record of reflection and reverie, contrast and coalescence. Whether you come to dwell in its depths or bask in its welcoming warmth, Luna Li's record is sure to leave listeners refreshed, enlightened, and inspired.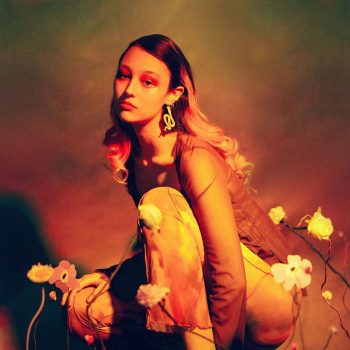 When you're with me
I just breathe so quickly
The sky is low and things are changing
Can you help me figure out my feelings?
'Cause clarity is not in love with me
Not in love with me
Not in love with me
Oh, we're not in love
Can you help me figure out my feelings?
We're not in love
– "What You're Thinking," Luna Li
Released March 4, 2022 via In. Real Life Music, Duality is the long-awaited debut album from alternative artist Luna Li. The musical project of Korean-Canadian multi-instrumentalist, songwriter, composer and producer Hannah Bussiere Kim, Luna Li has established herself over the past five years as a harbinger of radiant psychedelia-soaked pop and rock sound. Her music is complex and layered, and while no two tracks ever sound the same, her full-length LP is remarkably a cohesive experience.
"I'm really proud of Duality as my debut album," Kim tells Atwood Magazine. "I think it shows my creativity and love for the unconventional mixed with a pop sensibility. Getting to use my classical background and play strings all over the record feels really special to me too. I chose the title 'Duality' because it was really fitting not just to the music, but to my identity as well. My producer Braden noticed that each song on the album didn't just have one feeling, there was always some kind of opposing force introduced in the lyrics or melody, so that's where the title stemmed from, but the term Duality also applies to my mixed Korean and Canadian heritage, as well as learning how to blend background in classical music with a more pop sound on this album.
The songs never quite have only one feeling. Each song has some element of light and dark — where there's happiness there's still uncertainty; where there's anxiety there's also beauty; and where there's tension there's freedom.
The adventure between Duality's rousing, radiant opener "Cherry Pit" and its elegant, cathartic closer "Lonely/Lovely" is intoxicatingly immersive: Highlights include the gorgeously glistening "Boring Again" featuring Jay Som, the woozy fever dream foot-stomper "Silver into Rain" (featuring Beabadoobee), the lilting and uplifting "Afterglow" (a buoyant daydream manifest in song, if ever there was one), the pure euphoric release "Flower (In Full Bloom)," the unapologetically feel-good mantra "Alone But Not Lonely," and the astral,  introspective "Space."
As a lyrically forward artist, Luna Li offers four of her favorite lines on the album from the songs "Afterglow," "Flower," "Silver into Rain," and "What You're Thinking":
If I ever met you in my dreams, or on the street
I would not say hello
I'd catch you in the afterglow
– "Afterglow"
You said you'd be my love and you said you'd be my flower
But the sun would never shine on a garden grown for power
– "Flower"
I'm too young for my age
Too shy for the stage
Too careful to be brave
– "Silver Into Rain"
Clarity is not in love with me
Not in love with me
We're not in love
– "What You're Thinking"
---
Ultimately, Duality is a breathtakingly beautiful journey of contemplation, connection, and emotional release.
Charged and charming, Luna Li's songs invite listeners into a space of warmth and wonder, where we can dive deeper into ourselves and think a little more clearly about our surroundings. In holding nothing back from her art, Hannah Kim enables us to hold nothing back from ourselves. Whether you lose yourself in the kaleidoscopic guitar lines of the aptly-titled "Magic" or the cascading orchestral arpeggios of "Trying," Duality promises to move the heart and stir the soul.
"In creating this record I feel like I've really found a place for myself in the world," Kim shares. "My early twenties were really a time of figuring out where I belonged and this is it. I hope that listeners will feel inspired and feel that they have a place for themselves in the world as well." Experience the full record via our below stream, and peek inside Luna Li's Duality with Atwood Magazine as the artist goes track-by-track through the music and lyrics of her debut album!
— —
Stream: 'Duality' – Luna Li
:: Inside Duality ::
— —
Cherry Pit
"nostalgia, summer, psychedelic"
This is a song about nostalgia and leaving safe childhood spaces behind. It's about growth and all the excitement that comes with it.
Boring Again
"chill, hazy, sunset"
I wrote this song at sunset about good times coming to an end. Kind of like the way the orange sun was setting in my room that day.
Afterglow
"dreamy, feel-good, soft"
This song was about a friendship that fizzled out without coming to a definitive end. It was just over one day without us even really realizing it.
Trying
"restless, cinematic, anxious"
This is about dealing with mental health and anxiety while being in a relationship, and trying to figure out how those two things can coexist in a healthy way.
Flower
"dance-in-your-bedroom, evolving, euphoric"
"Flower" is about a toxic relationship where one person is there to use and benefit from the other person. It's about setting boundaries and breaking things off that don't feel quite right.
Alone But Not Lonely
"fun, funky, uplifting"
I wrote this in my cockroach-infested apartment when I had first moved out of my parents' house. I was feeling quite lonely and wrote this song as a mantra to pull myself out of bad feelings.
Silver Into Rain
"reflective, soaked, sweeping"
One spring it rained for 7 days straight in Toronto, and it was really getting to me. I felt like the rain had infiltrated every aspect of my being and I had to get it out into this self-deprecating song.
What You're Thinking
"punchy, nighttime-drive-vibe, fervid"
This song was about a disagreement that I had with a friend. I tend to avoid conflict and wasn't used to being confrontational with friends, and I felt very anxious and in my head about it, so I got it all out in this song.
Star Stuff
"western, rock n roll, strong"
I had a negative experience a few years ago dealing with someone who was being discriminatory. The song started using that as fuel but then it morphed into this other message "We're all made of star stuff", a quote from Carl Sagan. I loved that idea, that we're all literally made of the same stuff at the end of the day. We're not all that different.
Magic
"enchanting. wandering, epic"
I got really into the podcast Song Exploder a couple years back, and wrote this song after listening to the Moses Sumney episode where he breaks down how he made Quarrel. I was on the subway in the winter coming home at night listening to the episode, and I just felt this intense inspiration walking through the snow from the station to my house. When I got home I just started writing and ended up with this song.
Misery Moon
"quiet, pondering, inverted"
This was a late night interlude I made, about feeling sad but in a magical way.
Space
"shimmering, contemplative, hallucinatory "
I wrote this song about being in an altered state of mind, when other people's energy changes the way you think. You're in a very self aware, awakened and perceptive state.
Lonely/Lovely
"orchestral, beautiful, glistening"
This was my ode to my classical background. I've always wanted to write for an orchestra and this is my very small version of that, only the parts are just layers and layers of the same three people playing all the instruments.
— —
— — — —
? © John Li Wang
album art © Felice Trinidad
:: Stream Luna Li ::
---